Streaming is an action that has become quite popular lately. The platforms that host them have significantly increased their users and that is why there is a good chance that you are interested in doing a live with your Mac. In this article we explain everything you need to know to do these live shows on Twitch, YouTube or Facebook Live.
What you should know before you start streaming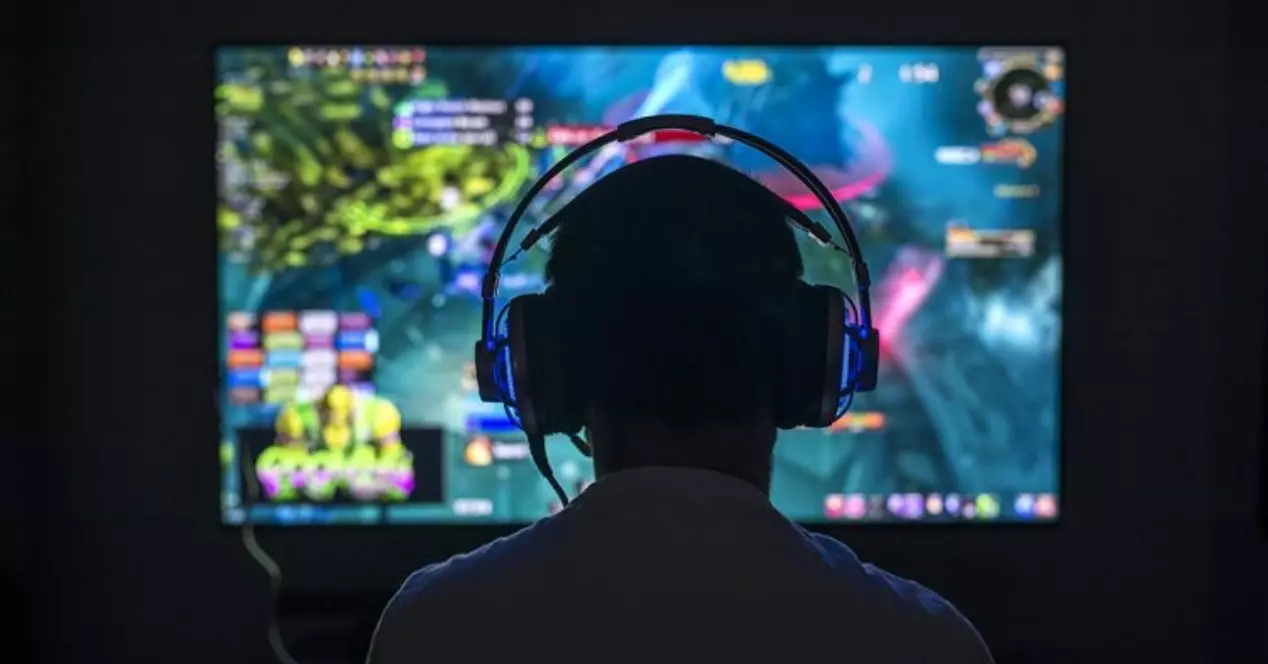 It should be borne in mind that in order to stream, a prior installation process must be carried out. It is not only useful to open the computer and press a button to be already live, but below we will tell you everything you must take into account before making your way to becoming a true streamer.
Requirements that you must meet
To stream you don't need to have absolutely top hardware. Everything will depend on the program that is going to be used as a means of communication with the server itself. In general, it must be taken into account that these types of programs need to encode the information and this is done on the CPU and also on the integrated GPU that you have at that time on your Mac.
In this case, it is important to note that you must have an adequate CPU, recommending in this case to have an M1 chip to be able to perform these tasks. This is because an Intel processor can produce a higher generation of heat causing different problems in the long run. In addition, it is also recommended to have a Mac that has good ventilation to be able to counteract all these problems.
The programs you can install
In order to broadcast content, it is logical that a specialized program should be used. Unfortunately in macOS the number of these programs is not very abundant compared to Windows where there is a greater amount of this transmission software. Likewise, below we show you the most interesting options today.
OBS
This is one of the most famous programs that is used to broadcast on the main streaming platforms such as Twitch or YouTube. It offers all the tools that are necessary to be able to capture the screen and also the sound as well as integrate many other functionalities. But the most interesting of all is that it has open source and is completely free, making it the best option that can exist in macOS.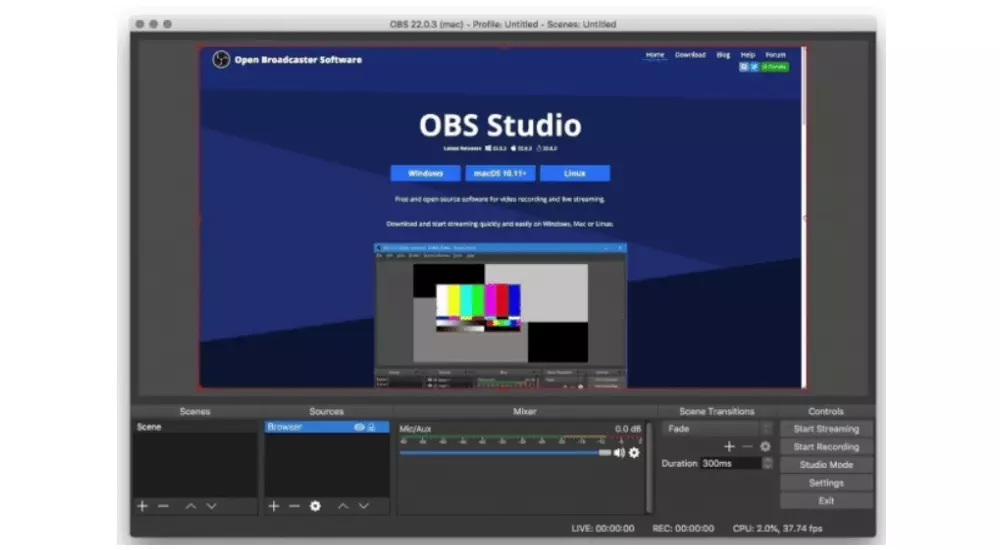 With a single transmission key you can broadcast your content regardless of where you are registered. As we have commented previously, the program is prepared to carry out different live montages so that you have the most personalized experience possible. However, it does have a "serious" problem with the interface it uses as it may seem quite old. In these cases, some skins can be installed, such as StreamLabs.
Vmix
Live broadcast and production software designed for multiple platforms. It stands out above all Facebook Live, YouTube or Twitch. It has all the necessary tools to be able to make different transitions in a safe and comfortable way. In addition, the interface is quite attractive and allows you to have many options always on the screen to edit the way in which you are transmitting the different content.
Likewise, different transmission skins can also be installed so that it can be displayed on the screen. That is, if you want a specific painting to appear around your cameras, it is possible to do it comfortably. You can even design it yourself in Photoshop and quickly include it in your scene. And speaking of the scenes, you can customize them to your liking and include all the multimedia elements you need, such as a screen capture or another element such as a webcam.
What you should know about the transmission key
Keep in mind that to stream you must have a transmission key. This is one of the most important codes for any streamer since it is responsible for connecting the software you are going to use with the platform on which the live will be viewed. Normally this is a broad and complex key that you should not memorize and that always remains hidden and that should not be shared for the world.
When a live show is going to take place, you are not required to log into Twitch, YouTube or any similar platform. The identification and connection system is the alpha numeric key that provides the service and that will make the connection with the server. That is why with this password anyone can broadcast on your channel without you finding out about anything, it being really important that it is always kept secret.
How to get it
The big question you can ask yourself is how you can get this key. The process varies depending on the platform you have chosen to be able to do your broadcast like Twitch or YouTube. In general, this is a key that, as we have commented previously , is hidden . On all platforms you will always be asked to identify yourself in order to access it and by default it will be hidden. This is designed so that you simply copy the key and paste it in the transmission program without you being able to finish seeing it yourself, thus guaranteeing privacy. Likewise, at all times, the option to revoke the transmission key will be given and another will be offered in the case, canceling the previous one if it has been stolen or hacked.
Depending on the platform you use to stream, the location of the key may vary. In general, it can be found within the platform configuration in the section dedicated to transmission. But as we say, everything can vary between all the platforms that exist today to make this type of content.
Preparing everything for the broadcast
When you have the downloaded programs, you have to start preparing the corresponding broadcast so that everything comes out correctly. Here are the points that you should keep in mind if you use macOS so that you do not have problems and know how to control the problems that may arise.
Grant all permissions
One of the differences that can occur with Windows and that you always have to keep in mind is privacy . In Windows the fact of having permissions is not as important as if it happens in macOS where it is much more evident that this is a completely mandatory step. That is why when starting the program it is important to grant all the required permissions for it to work properly. We refer to the camera and microphone permissions. In the event that they are not granted, the specific streaming program will not be able to be used correctly.
It is also important that when recording the screen the necessary permissions are granted to be able to apply all the functionalities of the program. Likewise, when installing, you will probably also be asked to accept some permissions because it is a developer that is not trusted by Apple itself. But as we say, this is the most differential that you will be able to find with Windows to be able to start directly on your favorite platform.
Reviewing the scenes and what you are capturing
Once you have the broadcast key entered in the streaming program, it is time to prepare all the scenes you want to have on screen. You should know that within a scene you can have very different elements to change throughout a broadcast. This is very similar to what you have on a television where the graphics change through transitions.
As we have mentioned, in each of the scenes you can have different elements. The most common is to have an input for the image of your camera and also the sound system. Streaming systems allow you to always choose what type of microphone you have connected to your Mac, you can quickly choose. You will not even be obliged to make use of the webcam that you have integrated since you can also connect another camera that has a higher image quality.
Likewise, if you are a person who is going to broadcast some type of video game, you must capture the screen of your Mac or that of another monitor on which something else is projected. This is something really important and it is also integrated into the scene itself. Likewise, it is always possible to dedicate yourself solely to broadcasting only your face speaking to your audience, which is something that has become popular lately.
When you have all these parameters configured it is time to start the live show and for everyone to see what you are showing on the screen or also through the camera itself. During this process you can always have a window with the broadcast chat. In this way, it will be much easier for you to interact with your entire community without leaving the streaming tool itself.
What problems can arise?
Keep in mind that when you are trying to stream on macOS, some problems may arise that end up causing you to not be able to perform this action correctly. The most common problem may be related to the hardware itself that is being used. Depending on the Mac you are using, you may end up noticing an increase in the temperature of the hardware in the long run, and also a slowdown.
Keep in mind that when you are streaming, you are using quite a lot of the CPU and also the GPU. These components are used to be able to process the image that is being captured to send it to the servers. Likewise, it should also be taken into account that if you are playing while you are streaming it is possible that the Mac does not have the ability to do both tasks simultaneously. That is why the limitations of the hardware must always be taken into account to be able to carry out this type of task, since there is generally no dedicated graphics card.
In a second point, the compatibility limitations that may arise should be highlighted. While in Windows these programs have been able to adapt very well, in macOS this has not happened. This is because a Mac is not designed for the gaming world as if it happens with a PC, so there is not much variety of software and it is more limited. In addition, those that can be installed may end up causing some relevant incompatibility.