Spending a fortune on an iPhone and having the screen smash can produce anything but a pleasant feeling. That is why it is recommended as far as possible to use a good screen protector . In this article we collect several so that you can protect your iPhone 12 , regardless of which model it is. Therefore you will find compatibility for iPhone 12 or 12 Pro, such as 12 mini and 12 Pro Max.
Ceramic Shield isn't everything on these displays
You probably already know, but if not, we would like to highlight one of the star features of the iPhone 12. On the screen of any of the four Apple devices we can find a material called Ceramic Shield. This is a compound of several materials that, according to Apple itself, is harder than the vast majority of metals. An arduous process to improve the opacity of the ceramic is used for its manufacture, mixing different types of crystals that provide a special hardness to the screen itself, without losing brightness or quality of colors.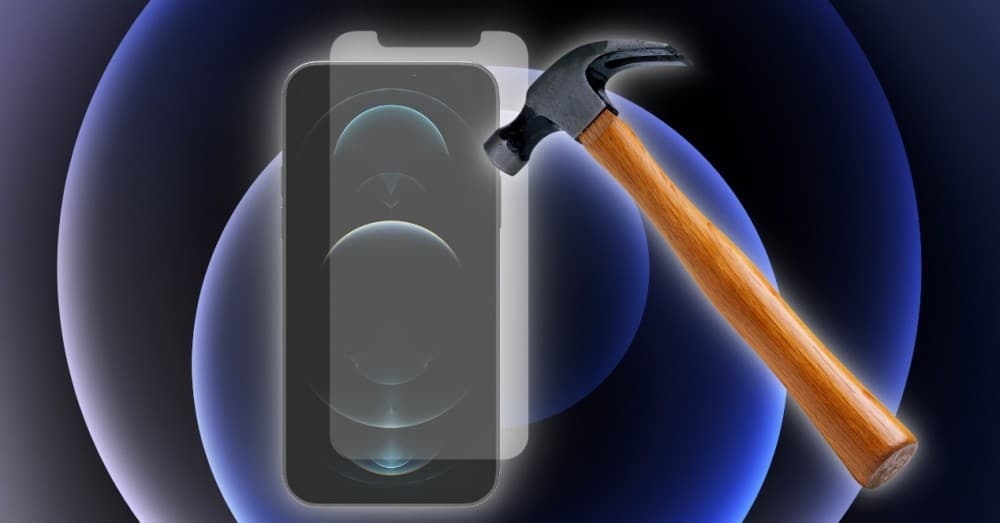 However, this on paper sounds very good and we do not mean that in reality it does not fulfill its mission. However, this material is not indestructible and can be affected by falls or blows against certain materials. Hence, we emphasize the importance of protecting the screen of your device against possible breakage.
Protectors compatible with iPhone 12 and 12 Pro
Both the iPhone 12 and iPhone 12 Pro share screen dimensions of 6.1 inches. That is why the following protectors that you will find are compatible with both models. Although only one of the two models is specified in some, we attest that it works in either of them. If your iPhone is a 'mini' or 'Pro Max' we advise you to jump directly to the following sections.
Pack of 5 LK protectors
This brand is probably the most appetizing when it comes to getting something cheap and without losing too much quality in protection. It is clear that its resistance will not be as high as other protectors that we will see below, but it may be more than enough. There are 5 tempered glass protectors that guarantee that the screen of your iPhone 12 or 12 Pro is not easily scratched.
BANNIO 2 Antispias
If, in addition to protecting your screen, you want to prevent anyone who is next to you from seeing what you are doing, this pack of 2 protectors is ideal. It has a complete coverage that protects the entire screen against bumps and scratches and as for the tinting of this, it must be said that it is not noticeable at all when viewed from the front, so you will continue to enjoy the experience of brightness and brightness from your iPhone.
Spigen AlignMaster
Not only does the well-known brand Spigen sell quality iPhone cases, but they also offer screen protectors like this one with a really robust design to ensure good screen protection. In addition, this version includes a bumper that helps to position the protector correctly, so that even if you have no skill to place it, it will be perfect and without bubbles.
AloMit with camera protector and case
This is one of our favorite pack in this compilation, since it not only incorporates a guarantee that the phone will not be scratched on the front, but it also offers protection for the rear cameras and even includes a comfortable transparent case. It is available in two versions because in this case there is a difference between the 12 and 12 Pro due to the double and triple cameras respectively that each of them have.
Crystals for iPhone 12 mini
The smallest of the iPhone 12 family is not exempt from scares regarding bumps or scratches on its screen. It is true that being more compact makes it easier to carry it with comfort, but if you are not attentive you could suffer the occasional scare. Therefore, these protectors will help you to guarantee that this impact is less.
EGV screen protector
This tempered glass is perfect for the iPhone 12 mini. It has a really efficient material in order to protect the device and also has a high transparency of 99.99% that guarantees that you will not lose screen quality with its use. Its price is also quite affordable.
ESR Case + Crystal
You may have ever heard of ESR, as it is one of the most popular brands of tempered glass and iPhone screen protectors. In this case, it includes a useful bumper to place said glass as well as a transparent cover that will protect the back of the device. All this at a really round price, so that protecting your iPhone is not expensive.
Camera protector and case from Alomit
As with previous iPhones, this brand also sells accessories for the 'mini'. The materials are identical, guaranteeing protection to the device in its front part, in the double rear camera and even the edges and rear chassis because it also includes a really light, but tremendously protective transparent case.
IPhone 12 Pro Max Screen Protectors
The giant Apple phone is possibly the one that needs the most protection. Not because its materials are bad, on the contrary, but because being so robust it makes it more uncomfortable to carry and therefore has a greater chance of going to the ground or suffering spectacular blows that leave a signal on your screen. These protectors will help you avoid these mishaps.
NEW'C with 9H hardness
This pack of 3 protective glasses will give you greater security when taking your iPhone with you. Although it is not indestructible, it provides great reliability due to its construction materials with a 9H hardness certificate. It is also ultra slim and hardly changes the visual experience when you have the phone in front of you, so it is more than recommended for your device.
BANNIO 2 pack
This custom-made protective glass for iPhone stands out for its 9H glass hardness certificate. Although it is not unbreakable, we could say that it is one of the most resistant on the market. It comes in a pack in which you can find 2 crystals compatible with the iPhone 12 Pro Max. It also stands out for being one of the easiest to place and does not leave annoying bubbles on the screen.
AloMit Protector 12 Pro Max
This phone could not miss the AloMit brand glass that includes a cover and protectors for the triple camera. In this case, the latter is also especially striking, given that the lenses of this terminal being larger are more prone to damage. Its resistance to bumps and scratches is guaranteed.