If you've had a problem with your iPhone or iPad , you've probably heard the word restore or format on more than one occasion. This is a really basic process when it comes to servicing these two computers in order to solve most problems. And it is that before going to Apple or an authorized technical service, it is always best to restore your equipment. In addition to the fact that the process is the same on both devices.
How to know when to format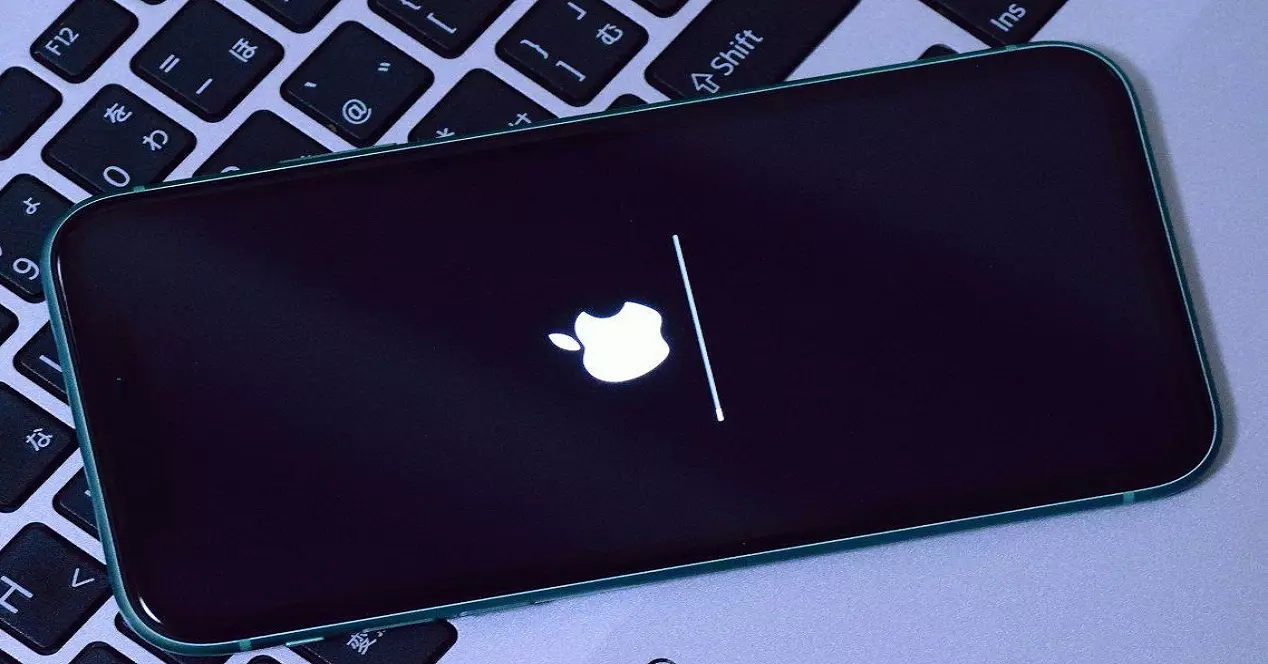 There are many situations in which you will have to face the restoration or formatting of the operating system. Obviously, it is not a process that will be carried out every day, due to the time it takes to erase all the information and do the reinstallation. The most common situations in which you will need to format are as follows:
When the iPhone has a failure : it is a reality that iOS or iPadOS are stable and advanced operating systems that aim to squeeze the power of the hardware. But of course, it is not a perfect operating system, since there is none that meets that characteristic. Faced with different important problems such as the slowdown of the interface, the presence of a bug, among others, you can opt for the restoration in order to solve it.
When you want to sell it : the situation can occur in which you acquire a new device, and you need to sell the previous model. The recommended thing, of course, is to delete all the personal information that you have stored in order to safeguard your privacy. The restore process removes all linked accounts, including banking or Apple Pay information.
You want to start from scratch : on many occasions you may find that you have a large amount of data on your iPhone or iPad, by way of applications or custom settings. That is why it can be interesting to format the computer for personal taste, to be able to start completely from scratch by installing the necessary applications. It is certainly a fast track cleaning that can be used in a comfortable way.
Apple Releases Large Versions of iOS : When Apple releases a major update to its operating system, which may be a generational change, it is always advisable to perform a fresh install. In this way, the new generation of operating system is started completely from scratch, to guarantee the fluidity of the system.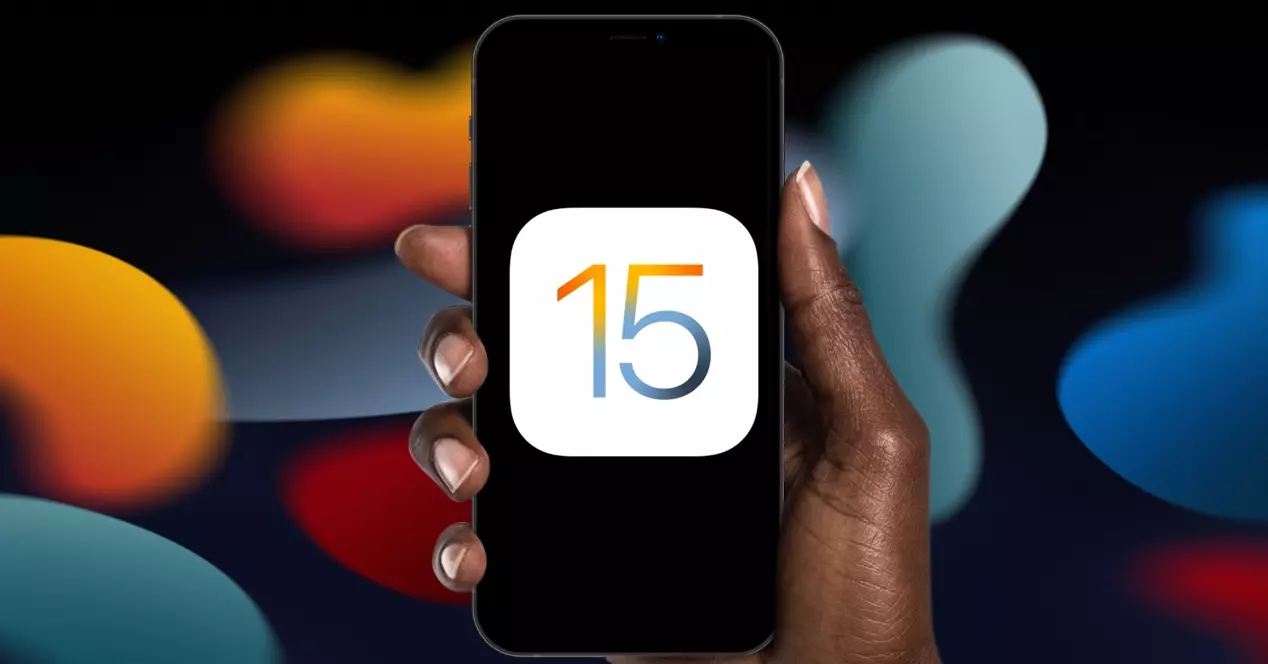 Steps prior to formatting
Although it may seem like a really simple process, keep in mind that restoring an iPhone or iPad has different critical points. With this we mean that you always have to follow a series of tips before starting the process as such, in order to avoid the loss of information or the failure of the process.
Implications it has
When you talk about restoring an iPhone or iPad, you have to take into account the consequences that it can have. In these cases, what is going to be practiced on the device is a permanent erasure of all the information it contains. That is, the goal you finally have is to have a device as if it had arrived as new and you have it in the box. This is really important, because if you have important contact information or photos stored locally, you will end up losing it.
But it should be noted that there are some relevant exceptions. Some of this data contained in the mobile or tablet is synchronized with iCloud. That is why when you log in again after formatting the device, certain information can be recovered, as long as the same Apple ID is used. In this case you can find basic information such as photos or even contacts. Where you should put the focus above all is on those local files, as they will disappear completely.
Backup copy
While restoration is generally a process that rarely fails, nothing is perfect. There can be different situations in which the whole process is aborted and that forces you to start from scratch, or that you simply have to go back. Faced with these problems, it can end up causing an information leak, and that is why if you do not have all the files synchronized in iCloud, you will have to make a backup copy.
In these cases, we always recommend backing up the data on Apple's own servers. This is obviously going to require that you have spare storage contracted, in order to store all your documents or photographs. This is a process that can be carried out on a Mac or on a PC comfortably through the synchronization program that can be iTunes or the Finder itself. But the most comfortable thing can be to make the copy through the settings of the iPhone or iPad. To do this, you simply have to follow the following steps:
Connect the iPhone to the Wifi network.
Go to Settings> Tap on your name> iCloud.
Tap on iCloud Backup.
Tap on Back up now.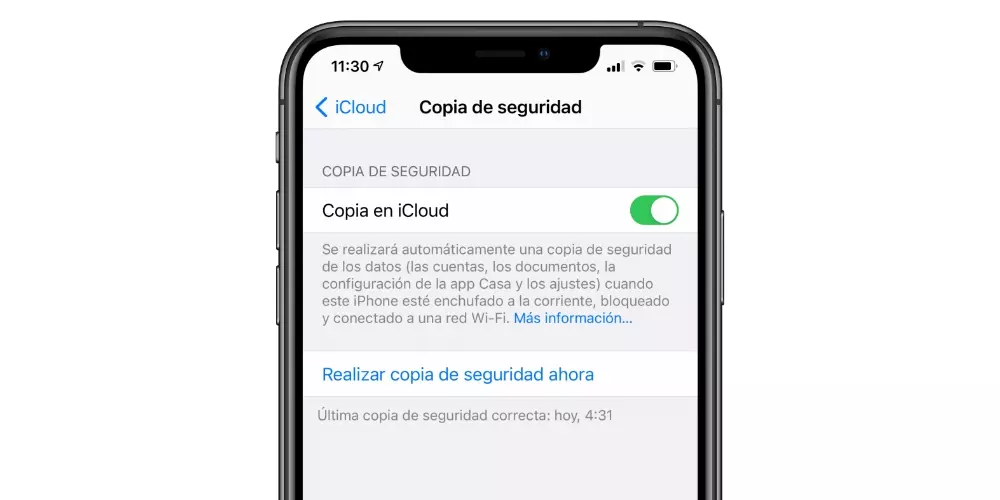 Disable Find My iPhone / iPad
One of the essential requirements to be able to restore both an iPhone and an iPad, is to deactivate the tracking system through the Search application. This is something that Apple establishes as an additional security measure. By forcing this system to be deactivated, it is prevented that anyone outside the computer can restore it to eliminate all traces. In this case, the Apple ID password will always be required to be entered and the owner will be notified via email. To do this, simply follow the following steps:
Open Settings.
Click on your name at the top.
Tap on Find my iPhone / iPad and then tap to disable the option .
Enter your Apple ID password.
Press Deactivate.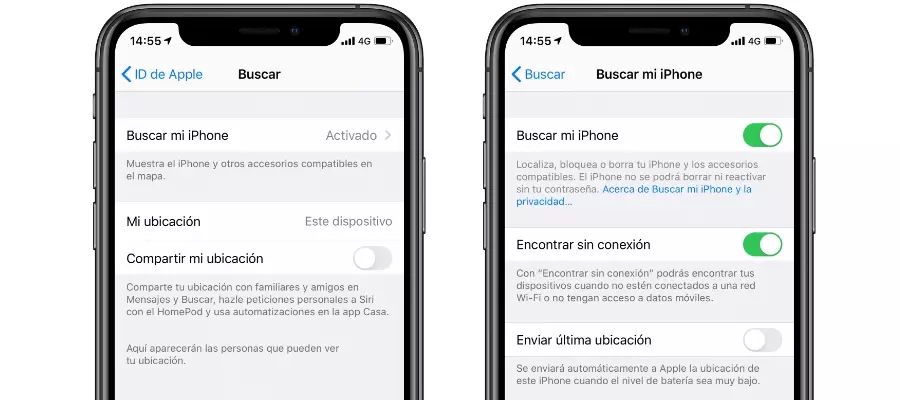 Good internet connection
When you want to restore your iPhone or iPad, you have to reinstall the operating system. A copy of this information is not found natively in the storage of the equipment, and that is why it must be downloaded from Apple's own servers. Given this situation, it is logical that you should always have a stable and quality internet connection.
Having a fast internet connection is always important so that the process does not take longer than necessary. Keep in mind that servers always have a fairly low bandwidth, and that is why it can take a long time to download the operating system that can weigh several gigabytes. Likewise, it must be stable and private to allow all the information to be downloaded safely, and without losing any type of package that could affect the subsequent process.
iPhone charging or with more than 50%
It is a fact that restoring an iPhone or iPad requires a great deal of power. We refer to a process in which information is erased and reinstalled from scratch. This also occurs when information is simply being overwritten. To avoid failures, the equipment cannot be switched off at any time. The fact that the battery runs out in the middle of the restoration process can end up causing a fatal failure causing the equipment to malfunction.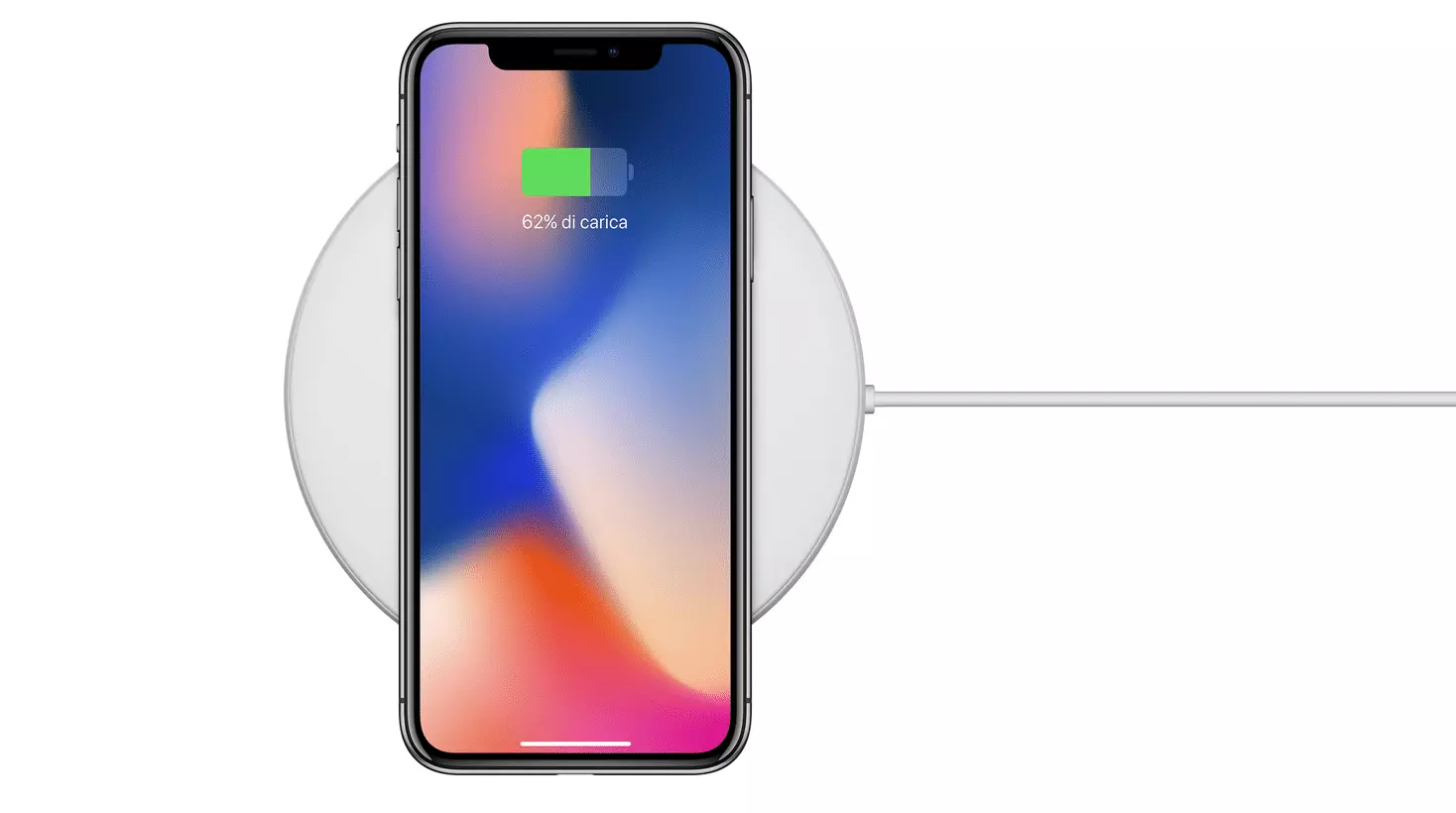 That is why it becomes an obligation to have the iPhone connected to the power at all times , or with the battery at 50%. This is recommended, but reaches the point that it is an urgent condition. In other words, the system will not let you start the restoration if either of these two battery conditions is not met.
Restoration process
Once the considerations that we have discussed throughout the article have been taken into account, the restoration can be carried out. There is more than one method to be able to leave both the iPhone or the iPad as new. Next we will tell you the different ways in which you will be able to face this process.
With a Mac
One of the most common methods that can be given is with a Mac. It can become quite common that if you have an iPhone you also have a Mac. If this computer has the software version macOS Catalina or later, the process will be done through the Finder. Although at first you may think that it is dedicated to file management, you will also be able to carry out the restoration process. To do this, simply follow the following steps:
Connect iPhone to Mac.
Open the Finder window.
Select the device in the left sidebar of the Finder window.
Make sure to disable Find My iPhone / iPad
Click General and then Restore iPhone / iPad.
Click Download and Restore.
Enter the access code.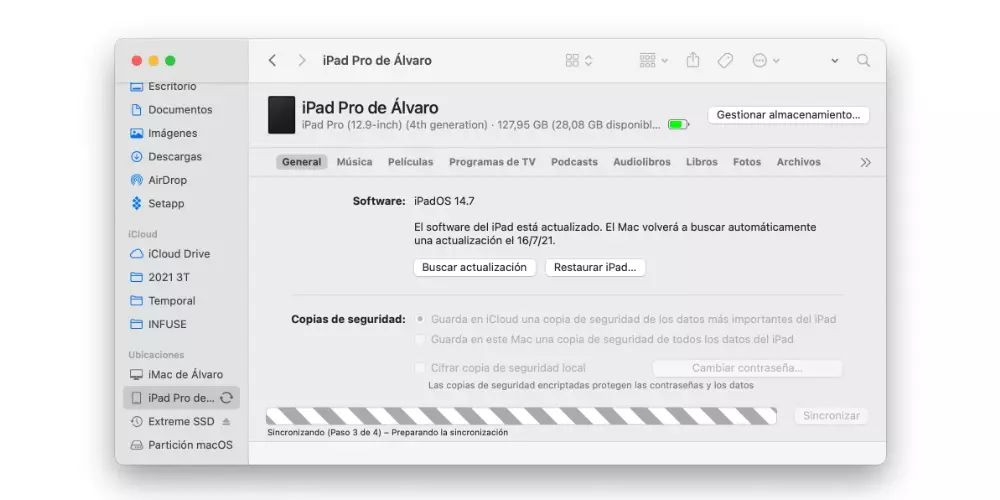 On older Windows or Mac computers
In the event that you have a Windows computer or a Mac that has macOS 10.14 or earlier, you will have to use the iTunes program. This is software that is restricted to these conditions and that provides very specific tools. It enables users to transfer photos, make backup copies, and also fully restore the operating system. In this case, you must follow the following steps:
Open iTunes on your Mac or PC.
Connect iPhone or iPad via cable to computer.
Click the device button on the top bar of iTunes.
Click Restore iPhone.
Make sure to turn off Find My iPhone.
Click on Download and restore.
Enter the access code.

From the device itself
It may be the case that you do not have a computer at hand, neither Mac nor PC. That is why you can always choose to format the computer from the configuration itself, although it has differences of relevance as we will see below. What is achieved in this case is to have a really simple system to be able to start from scratch with your device. To be able to carry out this operation, simply follow the following steps:
Connect the iPhone or iPad to the electrical current and to the Wi-Fi network.
Access Settings.
Click on General.
Scroll to the bottom and tap on Transfer or Reset.
Enter the unlock code, or Apple ID password.
Confirm that you want the device to be erased.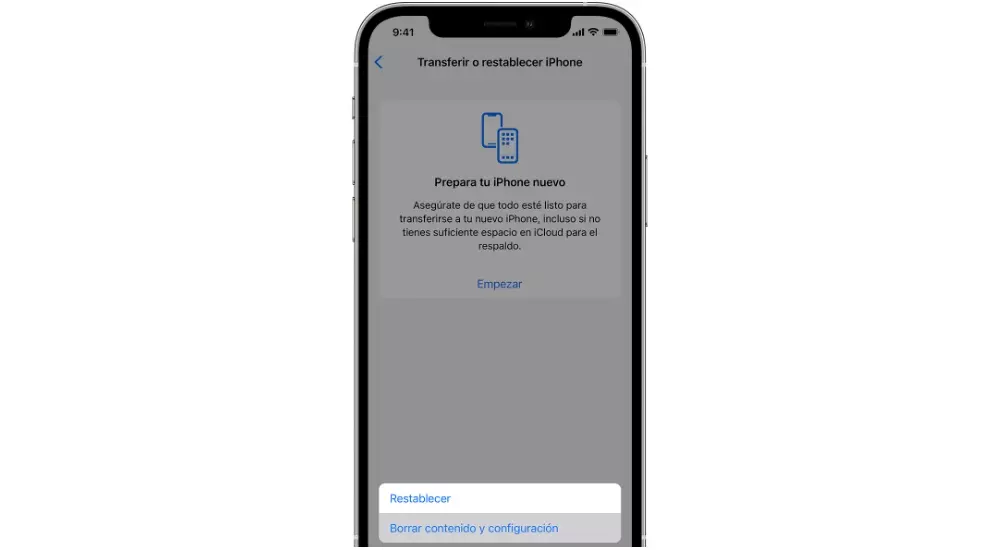 From this moment on, the device will restart several times and a progress bar will be displayed that will inform you at all times of what is being done. At first, the data will be erased, and the information will be overwritten. It is a process that is fast in general, but at no time should you disconnect it from the power. It is important to always dedicate enough time to this operation, and not be in any rush to finish.
Differences between restoration methods
In general, there are two restoration systems that we have discussed throughout this article. One of them in which a computer must be used, and another in which no external equipment is necessary, only being done through the iPhone or iPad settings. Surely you are going to wonder the differences that exist between these two systems or if it is better to use one before the other.
And the truth is that although both are presented as restoration systems they are practically nothing alike. It must be clear that whenever you want to perform a deep restoration by reinstalling the operating system, it must be done with the help of a computer, either PC or Mac. In the case of doing this process in the configuration, the system is not reinstalled operational, since the necessary permissions are simply given to be able to rewrite data.
Apparently, it will look the same at the end of the process, but if you look at each of these methods in detail, there are more than notable differences. If we are in a practical case in which there is a bug in the software, it is important to reinstall it completely. But if you are only going to want to delete the applications for pleasure, to be able to perform a "fast" cleaning, it may be useful only to overwrite the data through the settings. This last process has the advantages of speed by not having to do a formatting of the equipment as such.