One of the most common practices that users usually perform is sending and receiving messages, this can be done in very different ways, from the now common messaging services, through social networks or, as has been done for a long time , via SMS. However, in some cases errors usually occur when receiving these traditional SMS, therefore, in this post we want to help you solve these problems. Read on to find out what you have to do.
Tips to check if everything is going well
Restart the iPhone
The first advice that we can give you to solve the errors to receive SMS on your iPhone is the same advice that we usually give to solve practically any problem that a user may have with their device. Restore iPhone. On many occasions, the small errors that may arise with the use of the devices are the result of a process that is carried out in the background having been blocked, therefore, it must be restarted and the only way to do it is by restarting the device by full. To do this, all you have to do is turn off the iPhone and after a few seconds, turn it on again. If this was the cause of the error, it is fixed.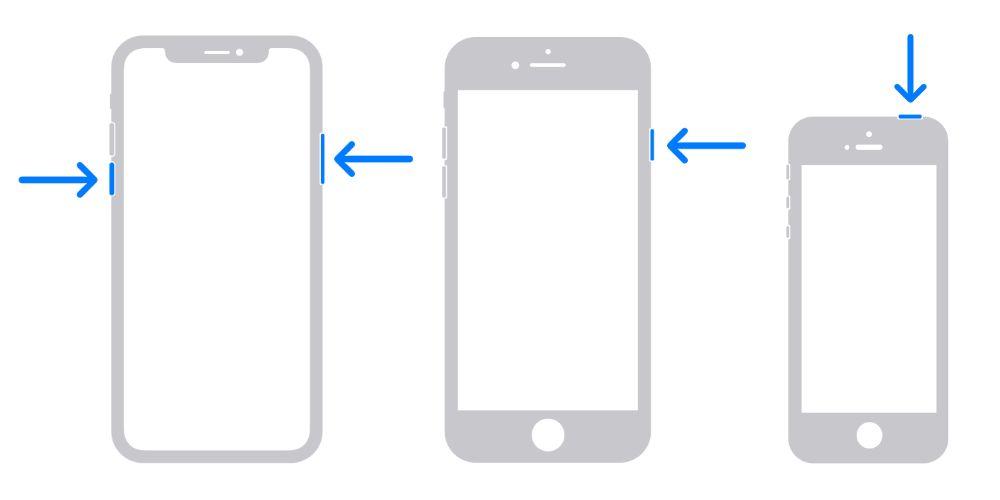 Make sure you are on the latest software version
Another tip that we always provide to users and that, believe us when we say that it will save you a lot of problems, is to keep the iPhone always updated to the latest software version available. Apple is a company that works every day to offer its users the best possible user experience with their devices, and that not only gives you enjoying fantastic products, but also software at the level of these products. In fact, the Cupertino company is continually working on all its operating systems, especially iOS, so that each version it makes public is better than the previous one. Therefore, if you are having problems receiving SMS and you are not on the latest version of iOS, we recommend that you update.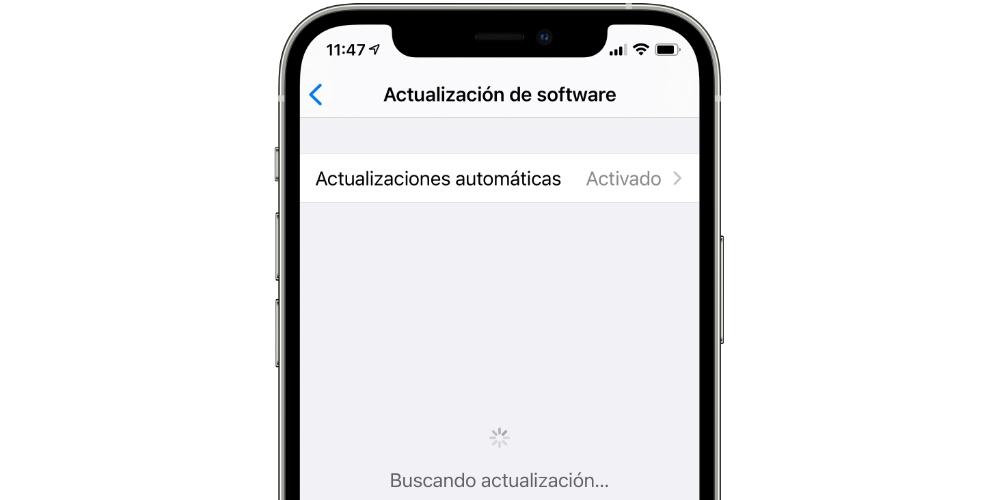 If you don't receive any SMS
Check that the SIM card is in good condition
It is possible that the problems you are having to receive sms have nothing to do with your iPhone, or with the version of iOS that you have installed on it. If not that it is a problem of something much simpler, your SIM card. Perhaps the wear and tear and the passage of the years have caused your SIM card to be damaged and therefore it is the focus of the error and your problem, therefore, we recommend that you check your SIM card to check what state it is in and to be able to In case it is the problem, change it for a new one.
Check that you have coverage
Sometimes when looking for solutions to problems that arise, users tend to focus on finding a complex solution, when perhaps it is much simpler and easier to identify than you think. Check if the coverage in the place where you are is enough so that you can receive the SMS in the proper way. Today the coverage is usually good in practically any place, but for external reasons it can weaken at some point. Therefore, before going crazy or crazy thinking about what the focus of the problem may be, check the coverage of your iPhone.
Make sure there are no glitches on your line
On many occasions, users do not always have control of everything that happens around their devices and they do not have in their power to solve errors that arise with the use of them. Failure to receive SMS properly can be derived from a failure in your line due to multiple factors. Sometimes there are line saturations, such as at specific moments of Christmas, or in places where there is a large concentration of people. On other occasions, it is directly that your operator may be having problems or suffering service drops that are resulting in you not being able to receive SMS.
Problems receiving some SMS
Check with your operator if you have a blockage
It is possible that the problem that you are not receiving certain SMS is due to a block that your telephone company has established on your line, usually at the request of the user. An example of this are advertising messages, which many users decide to block so as not to receive SPAM or messages that do not interest them or contribute anything to them. If this is your case and, at this time if you want to receive this type of SMS, you have to contact your operator to reactivate the reception of said messages.
Did you give the phone number right?
This solution may sound too obvious, but you can never rule out these types of situations because they tend to occur relatively frequently. Perhaps the problem is that you are not receiving those SMS because directly, they are not sending them to you because the sender does not have your phone number correctly and is actually sending those SMS to someone else. Therefore we recommend that you check if, indeed, the person who is sending you these SMS has your phone number correctly noted.
IMessage problems
Check that you have it activated
A common problem for many users who want to use iMessage to communicate with other Apple device users is that they are not actually using this service, but rather sending SMS. If you go to Settings and click on Messages, you can check whether or not you have activated iMessage. If you do not have it activated and you want to use this free service from Apple, activate it.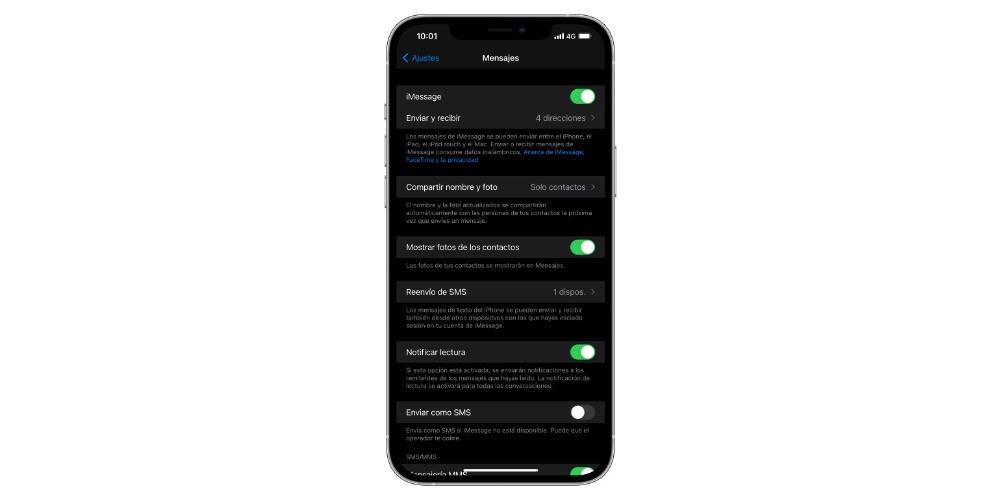 Make sure your contact activates it too
In the same way that you have to have iMessage activated, the recipient of the message must also have it active on their Apple device. You can do it in the same way that we have commented in the previous section. You just have to go to Settings, click on Messages and activate iMessage. In this way, you can easily communicate through this fantastic service that Apple provides to all users of its devices.
Check if you have an internet connection
Apple's messaging service is fantastic, but obviously, as with other applications such as Telegram or WhatsApp, there is a requirement that is essential for its operation, the internet connection. If you are having problems using iMessage it may be because you do not have a good enough internet connection, therefore, check your internet connection to confirm that this is the problem.
Other solutions
Restore iPhone
If none of the solutions that we have proposed previously has helped you, another way to solve many problems that you may have or have with your iPhone is by restoring it. It is a process that is usually very lazy to carry out because you have to invest some time in it, but it is really capable of solving many problems with the device and making it work much better. To restore the device, our recommendation is that you do it through a Mac or a computer, and not without first having made a backup copy. In addition, if you want to make sure you enjoy all the benefits of restoring your iPhone, we recommend that when you configure it again, you do it as if it were a new iPhone, that is, do not load the backup you have done, as this may drag some bugs.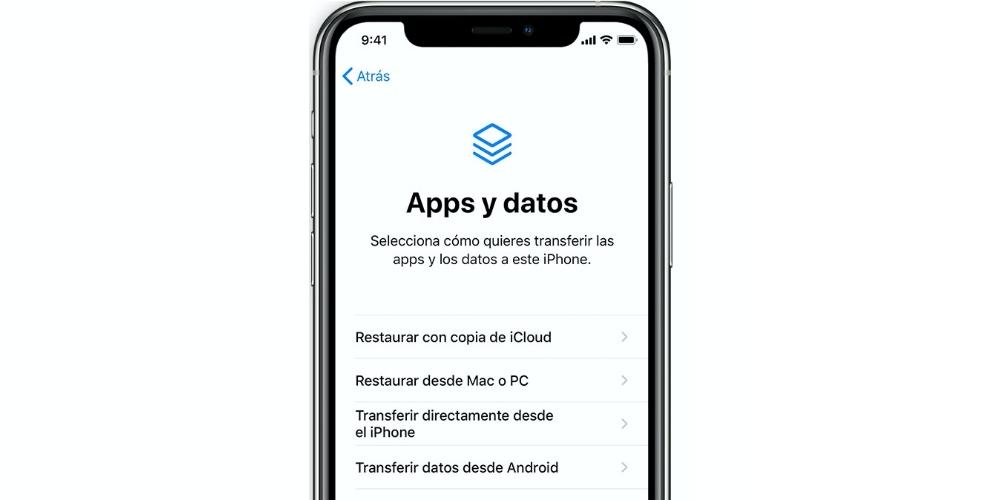 Request a new SIM card
As we said before, perhaps the problem is not with your iPhone or the operating system that you have inside it, if not that it is the SIM card that is to blame for your problems when it comes to not receiving the SMS correctly, so to exit Of doubts, if after all the solutions that we have proposed you have not been able to solve the problem, contact your operator or go to a physical store so that you can get a new SIM card.
Contact Apple
One of the options that you always have on the table is to contact the Cupertino company so that their technicians can help you solve the problem you are having with the reception of SMS messages. You can do it in several ways, through the Apple Support application through your iPhone, or iPad, by calling the Cupertino company's customer service telephone number 900 812 703, or through the Apple support website .