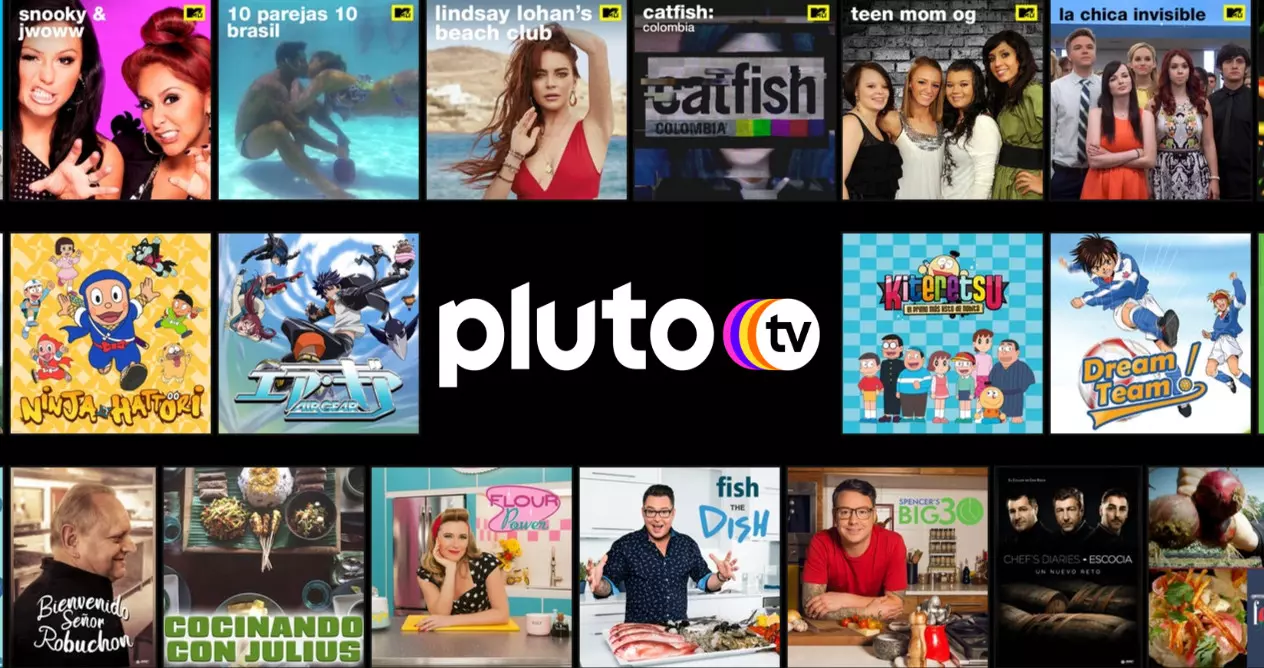 If the free content that you can find on the internet through platforms such as YouTube seems insufficient, be careful. Pluto TV has been available for some time in Spain and if you hadn't paid attention to it before, you should. Because this online platform where you can watch from series to movies and other television shows offers all of this for free.
Pluto TV's free television
At present it is difficult to find a user who does not pay for services like Netflix. Disney +, HBO, Apple TV +, Prime Video, etc. Those who, on the contrary, do not pay for any of these options is because they do not see practically any series or movies or because they have discovered options such as Pluto TV.
And it is that  Pluto TV can be very interesting for a good number of users, because it offers a large amount of content without having to pay a single euro for it. Yes, Pluto TV is free. Although, what do you think if we treat point by point.
So you can have a much clearer and better structured idea of ​​what this online platform that belongs to the multinational ViacomCBS has to offer.
What is Pluto TV
Pluto TV is an online platform that seeks to compete with the rest of current proposals in a very particular way. While services such as Netflix, Disney + or HBO among many others are paid, which implies paying a fixed amount each month to be able to watch their content, on Pluto TV everything is completely free. Of course, there will be some announcements.
In addition, to use and enjoy Pluto TV not only will you not have to part with a single euro, you will not have to register either. Just by accessing the web through a browser, you can start watching any movie, series or television program available.
The only thing you do have to know is the subject of ads and other commercial activities that they can carry out to monetize and maintain the service, but it is not something annoying to interrupt the experience at all.
Where to watch Pluto TV
As with other similar platforms, Pluto TV is an online service that can be accessed in different ways and from different devices. In some of them the experience will be more comfortable than in others, but generally good in all of them.
To begin with, if we go to the browser, we have that  Pluto TV offers a web version of the platform that allows access to it from any device that has one. That means that from your laptop, desktop computer, Chromebook and even tablets you could access it by simply typing in the URL of Pluto TV .
This first would be the universal option so that anyone can access the service without many complications. Of course, those looking for a better experience will have to resort to native applications .
These apps are available for both smart TVs such as Smart TVs from Samsung or LG with webOS as well as for devices such as Fire TV from Amazon, also terminals and set top boxes based on Android (Google's operating system) and, of course, for iPhones, iPads and Apple TVs. It also has support for Chromecast, so you can send your content to a TV compatible with chroemcast or wherever you have a dongle connected.
Apple computers with macOS, like other Windows PCs, do not have their own app. So you have to resort to using the aforementioned browser. Which is not a problem. And if by any chance you were wondering, there is also a Pluto TV application for consoles such as Xbox and PlayStation . So you will only have to enter their respective stores to download them and start enjoying the content.
How to update Pluto TV on your device
Depending on the type of device you use to watch Pluto TV, if you need to update or install the app, here's what to do:
On Android devices you just have to go to Google Play and 

download the Pluto TV app

In set top box with Android TV or Smart TV with Android TV the same, from the app store

If you have a Roku device, go to Home and then in Settings look for system and system update. Now you can force manual detection and update of the app if it did not do it automatically

For iOS, iPadOS and tvOS devices you have to access the App Store in each of them, search for the app and give it to update if you already had it and it has not been automatically paid.

Finally, in televisions such as Samsung Smart TVs, it is usually factory installed. If not, go to their app stores for both Samsung and LG and give download or update, whatever you touch
Pluto TV and the user experience
Knowing the platforms for which Pluto TV has applications or which must be accessed through the browser, the next thing is to know how to access the service and here it will surprise you because it does not need any registration .
This is something that is surprising, especially nowadays when algorithms are so present when it comes to recommending what to see and where it is also sought to know the tastes and preferences of the user in order to attract their attention with personalized recommendations.
Well, for Pluto TV none of that seems to matter and if you want to see its offer at the content level, because the service is free as we said, you will only have to open the application or access Pluto.tv from your web browser.
Once inside you will see a fairly clear interface in which, on the one hand, the content is at the top. And on the other, at the bottom you will see two columns that allow you to see the content classified by categories such as Featured, New on Pluto TV, series, movies, types of movies according to genre, etc.
This view can be switched to a browse mode , so you can see all the content more clearly or the content itself in full screen. However, between the web version, app and depending on the device, the elements are adjusted to the size of each screen.
All channels and content
So far so good, but beyond being a service that does not need registration, what can a platform offer that is free? Well pay attention, because you are likely to be surprised to the point of thinking if you really need to pay for the usual ones.
To start you should know that Pluto TV is divided into Live TV content and On Demand. The first group is made up of live broadcasts where everything works like traditional television. There is a grid with the different programs (channels) so that you know what they are playing and when the new thing begins. Those would be the television channels and would add up to about 40.
Films
Pluto TV Cinema

Pluto TV Cinema Action

Pluto TV Cinema Drama

Pluto TV Cinema Comedy

Pluto TV Cinema Horror

Pluto TV Star Cinema
Entertainment
Pluto TV Anime

Pluto TV Novels

Pluto TV Series

Pluto TV Competitions

Pluto TV Series Latinas

Pluto TV Sports

Pluto TV Series Retro

Classic Telefe

MTV Vintage
Curiosity
Pluto TV Investigates

Pluto TV Reality

Pluto TV Nature
Lifestyle
Pluto TV Kitchen

Pluto TV Travel
Childish
Pluto TV Kids

Classic Nick

Nick Jr. Club

Pluto TV Junior
Then there is the second group of On Demand content. This offer on demand will allow you to see it whenever you want and not conditioned by any type of schedule. In this section there is a lot of content that is seen live, so if you are in that section and you saw a series or movie that has already started and you would like to see it from the beginning, you know that you can probably do it.
The live TV part is made up of the following categories that allow channels to be grouped into:
Outstanding

New on Pluto TV

Last chance

Films

Series

MTV on Pluto TV

Entertainment

Comedy

Crime and mystery

Lifestyle

Music

sports

Childish
The On Demand part for its part consists of:
Continue watching

Highlights

New on Pluto TV

TV: Series

Cinema: Action

Crime and mystery

TV: Entertainment

Cinema: Comedy

MTV on Pluto TV

TV: Anime

TV: Kitchen

Cinema: Adventures

Cinema: Thriller

Cinema: Drama

Cinema: Romance

Cinema: Sci-Fi

Author cinema

Documentary film

Love nature

Cinema: Latino
What's between all those categories? Well, there is the good thing about Pluto TV, there is a lot of interesting content both in terms of movies and series and television shows of those that end up hooking you for hours.
Honestly, there is so much content that now more than ever the search engine option is appreciated. Because before paying for a platform like Netflix, if you want to see a specific series or movie, you should first check if it is on Pluto TV.
For example, some content available on Pluto TV that you should not miss if you like series :
Halt and Catch Fire

  is another series that you can follow on the same AMC aforementioned channel. If you like the world of technology, the beginnings of the computer age, video games, etc., you must see it yes or yes because you are going to love it

The Walking Dead

  , AMC's popular zombie series, is available on Pluto TV. It is true that there are only the first five seasons, but for many they were the best. So if you see that the series hooks you, you will find where to continue with the rest

The 

 Baywatch is one of those mythical series of the summer and although it is already ending, if you dare, it will surely entertain you as many of us were entertained long ago in the afternoons

Star Trek is 

 one of the mythical sagas of space adventures that you can also enjoy here on Pluto TV.
Along with this there are also numerous On Demand movies that you can watch. Some interesting ones that we have seen in the catalog:
Flyboys

 , tells the adventures of the Lafayette Air Squadron, where young American volunteers served the French air forces before the United States entered World War I.

Gods and monsters

 , an account of the last days of the Frankenstein author, James Whale
Valkyrie

 , starring Tom Cruise, tells the story of how a group of high-ranking German commanders plan to end the life of Adolf Hitler

Beast of Burden

 , starring Daniel Radcliffe, tells the story of Sean who only has one hour to deliver an illegal cargo while convincing a cartel, hitman and the DEA while piloting his plane
The Grandmaster

 , one of the most interesting movies about Kung Fu. This film tells the story of Ip Man, Bruce Lee's legendary teacher

La Carretera 

 tells the story of an apocalyptic world in which you must travel with your son in search of a safe place to live. The protagonist is Viggo Mortensen.
Still, these are small brush strokes that we give you, but there is much more. It is true that some are films with a few years behind them, but it is still worth it because there are very good films that never hurt to see again or for the first time if you did not do it before.
It is also important that you know that depending on the country some channels may or may not be available, which affects the content that can be seen or not. Likewise, all this is changing and what is now in a few months will not and vice versa.
Deserves the full Pluto TV
If you're wondering if Pluto TV is worth it , the answer is yes. First of all because it is free. And the issue of ads is not a nuisance in itself. Although you do have to take into account some details.
When talking about channels, one can think of the classic idea of ​​a channel where they broadcast different content at certain times. That here has a bit of a "catch". Because there are channels like AMC's that do have different series like The Walking Dead or Halt and Catch Fire. However, there are other "channels" that are really a series, such as The Invisible Girl.
Despite all this, in general the Live and On Demand catalog has great series, movies and programs that you will surely like and, at the very least, have a much more enjoyable time.