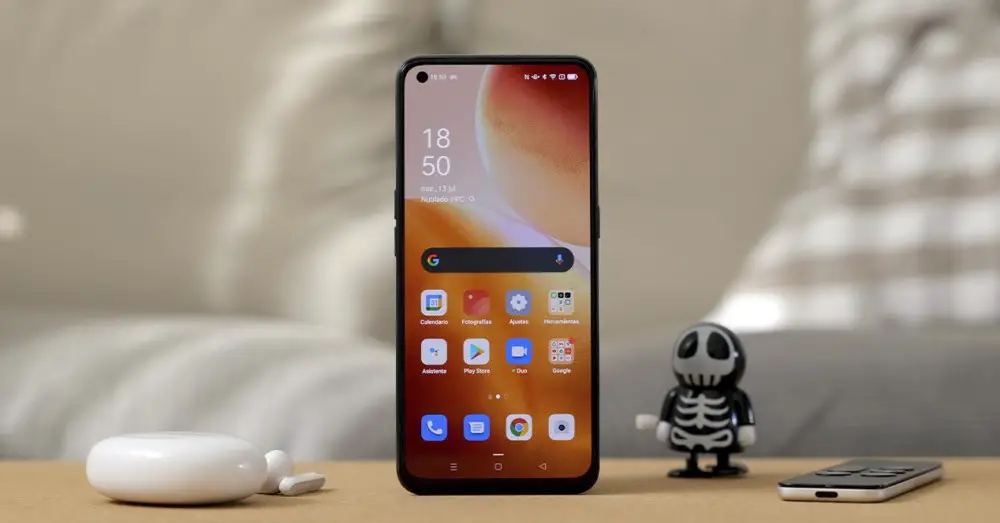 The market for the mid-range of mobiles is increasingly complicated for manufacturers. Today there are great bets for all types of users, who make one or another decision for the smallest details such as a little more battery, a larger screen or similar aspects. In this sense, the phone I want to talk to you about today does very well, leaving good feelings and a fairly round experience . Today I will tell you what I think of the OPPO X3 Lite in this analysis.
Elegant and conservative design
In the physical aspect section, this OPPO Find X3 Lite does not arrive to revolutionize the mid-range market with some innovative aspect. So the manufacturer bets with this phone is for a design that incorporates certain high-end features as other bets already do and, in this way, have more premium finishes for any user.
This smartphone has a slight gradient on the back that, depending on the inclination, will be more or less pronounced. We can acquire it in 3 different colors : silver (which is really a gradient between white, bluish and purple colors), blue or black, which is precisely what we have counted on in our tests.
On the back, as I said, we have this degraded effect, along with curved edges so that when you grip it, it gives us a better feeling. Then, in the upper rear part, there is the vertical module of the cameras where its 4 lenses and the flash are hidden. Through its edges we have the typical keypads, the USB-C port, the speaker and the 3.5mm audio jack . Personally I would like all manufacturers to bet on a double speaker system but hey, at least if there is the presence of the jack port for those who continue to claim it.
And then on its front, we have an AMOLED panel with 6.4 ″ FullHD + resolution . A screen with good color reproduction, good viewing angles and with the usual contrast that we have in panels with this technology that I cannot fault. In addition, to give a more fluid experience and as we are used to in most phones, OPPO incorporates a refresh rate of 90 Hz , which although it is not the highest in the market, currently seems enough to give that extra point on other proposals.
A small drawback that I could put to this screen is the protruding edge of it. If you have seen or read any of my analyzes you will know that I am quite a detractor of this aspect and not only because I believe that the experience to the touch worsens, but because in the event of a possible fall, no tempered glass is going to protect these edges. However, if we put a cover like the one that comes in its own box, we will avoid unnecessary scares.
In this panel we find its only front camera that will be in charge of the facial unlocking system , supported by the fingerprint reader that is also hidden under the panel. Both unlocking systems work super fast and have never failed me. It is true that face recognition is not the most advanced on the market, but you cannot ask for more from a mid-range mobile currently. Although, on the other hand, I would have liked the fingerprint reader to be a bit higher.
As I said a few lines ago, it is an elegant phone without many extravagances, and more with this dark finish. A smartphone with sober finishes but that, except for a couple of details, gives us a fairly round experience (in the physical section) while we are using it.
Enough power for what you need
Now let me, once I have presented this OPPO mobile to you on the outside, let's see what it hides under its panel. And, once again, we have a set that will sound quite familiar to us:
Processor Snapdragon 765G
8 GB of LPDDR4 RAM
128 GB of UFS 2.1 storage (without the possibility of adding a microSD card)
Battery 4,300 mAh with fast charging SuperVOOC 65 W
A series of components that, as you can imagine, make their use a delight whatever we do. Whether we want to use it to browse social networks, watch YouTube videos or any day-to-day task or even to play powerful games, the phone performs very well. Maybe if we put the quality of these heavyweight titles in ultra we will find some slight lag but of course, we must not forget that we are dealing with a mid-range phone. This great performance together with that 90 Hz rate make my experience testing it, as I said, has been very good.
All this positive experience could not exist if, at the software level, it was not well optimized. In this case, as it is in the rest of the manufacturer's phones, we have ColorOS 11.1 that runs on Android 11 . A layer that, although it is far from being the purest on the market, works very well and provides some interesting features for users who enjoy customization.
As for the battery, if you make normal use of this phone, its 4,300 mAh will allow you to reach the end of the day without many problems, or at least in my experience it has been like that. However, those days when I took a lot of photos, recorded videos or spent some time playing more I had to go through a pit stop to refuel some battery. And here OPPO has done incredibly well by incorporating its 65 W SuperVOOC fast charging system , with which we can fully charge the battery in about 30 minutes. So with a simple 10 minute "squeeze" I was able to finish the day without problems on those occasions.
Photography
And now is the time to move on to the photographic section that, for many, is the most important when buying a new smartphone. The OPPO Find X3 Lite arrives with a total of 5 lenses in its chassis:
64MP main camera, with f / 1.7 aperture and 80 ° angle of view
8MP ultra-wide-angle camera, with f / 2.2 aperture and a 119 ° angle of view
2MP macro camera with f / 2.4 aperture
2MP mono camera, with f / 2.4 aperture to enhance portrait mode
32MP front selfie camera, f / 2.4 aperture and 85 ° angle of view
Without a doubt, a fairly complete set but it is not perfect since, as you can see, it does not have any type of telephoto lens. However, the digital zoom solution recently offered by some manufacturers is more than correct thanks to its post-processing system and this story repeats itself on this mobile.
When the light conditions accompany the quality of the photographs with all the lenses is very correct. Of course, the one that stands out the most is the main one , obtaining very striking colors and a sharpness that is more than successful.
The wide angle is perhaps the one that attracts the least attention, having a higher contrast when the scene is complicated and colors somewhat paler. The macro is in the average of what many other manufacturers offer.
I am very struck by the great quality offered by this digital zoom with the image processing system, like the front camera , with good sharpness and color representation. Of course, all lenses sin a bit of overexposing the images, something that is solved simply by pressing on the screen and lowering the degree of exposure slightly.
And when the light falls, it was to be expected that the quality of all lenses would go down. The colors are no longer as true as we see during the day, the noise appears and, although we have the night mode that will slightly improve the results, it becomes somewhat cumbersome to use because it forces us to always expose the images for 7 seconds.
Great bet for the mid-range
Something that I had not told you so far about this OPPO Find X3 Lite is its price. We can get hold of this phone currently for about 369 euros in its only model with 8 GB of RAM and 128 GB of storage.
A good option for this price range, especially for those looking for a somewhat more sober alternative but with a great user experience, a battery that despite not being the best has a spectacular fast charge, and with a section of cameras that meets your results. In addition to the fact that, as you may have seen in its own name, it is a smartphone that comes with compatibility with 5G networks .