In the middle of the mining bubble where everyone is using their graphics cards to mine the Ethereum cryptocurrency, more than one may have wondered how to prepare their NVIDIA GeForce RTX card to mine said cryptocurrency. To do this, a standard configuration is not enough, that is why we have prepared a guide for you so that you can put your NVIDIA RTX graphics cards to mine Ethereum.
One thing that we recommend first of all when mining is that you bear in mind that your hardware is going to suffer extreme wear, that is why we remind you to think if it is worth sacrificing your main PC to be able to mine with it. same. If you have an NVIDIA RTX it is possible that in certain cases, if not most, it is much better for you to use it to give you hours of leisure in the latest PC video games.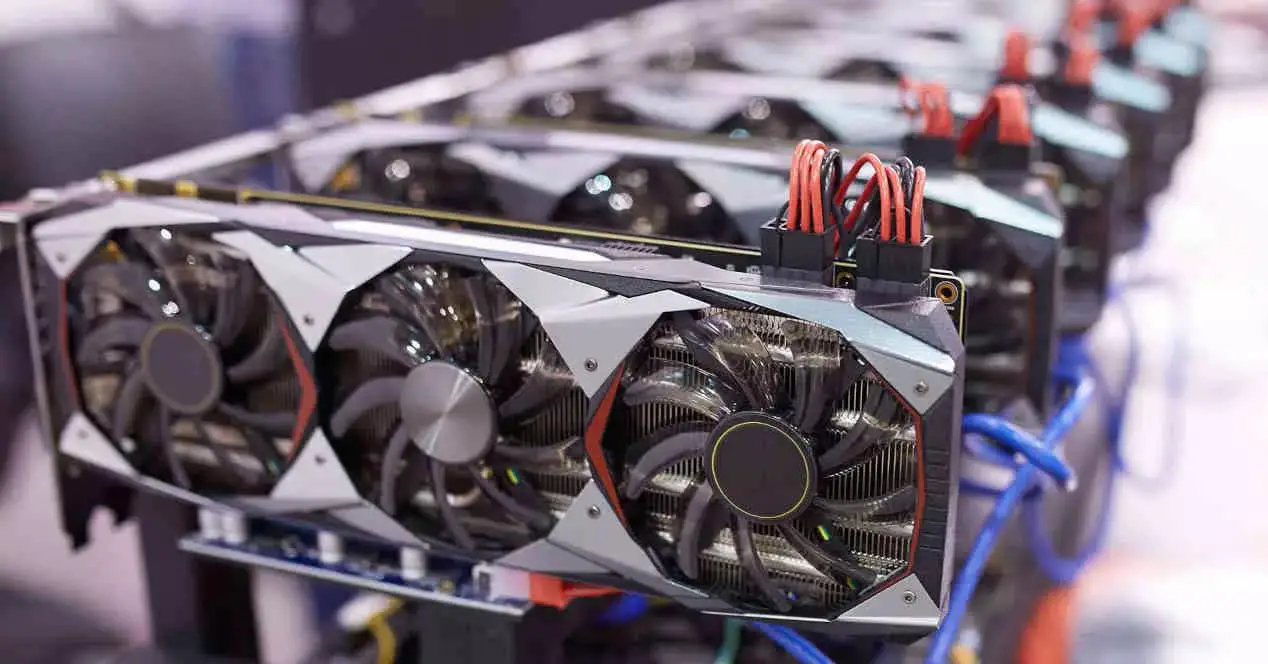 The PC to mine Ethereum with an NVIDIA GPU
If you think you need a state-of-the-art PC to mine Ethereum, let us tell you that this is not the case, since outside of the graphics card you are going to need especially modest components as far as CPU is concerned, so you can mine without problems with an Intel Pentium or an AMD Athlon as a CPU.
What you cannot neglect are details such as cooling, since what you are interested in is being able to keep the GPU running at the highest possible clock speed and not suffer speed drops due to temperature. This is why a system with good liquid cooling is preferable. Choosing a low-end processor may make us think that it is not necessary, but we have to make sure that the graphics card can work without problems.
The third point to take into account is the power supply, here we cannot skimp either and the use of a power supply with 80 Plus Platinum certification is highly recommended, since a lower efficiency source can generate more heat and have higher energy consumption.
NVIDIA GPUs mining Ethereum: the parameters to consider
Ethereum mining becomes more efficient if we take into account two parameters:
Bandwidth with VRAM : Ethereum mining works out much better if the bandwidth of the graphics card is higher, which is why the GeForce RTX 3000 with GDDR6X memory were exhausted in a flash, given their higher bandwidth.
Card power consumption: the most important element for many people of all, because certain clock speeds can be achieved through GPU overclock tools with lower voltages, they end up manipulating the values of the graph.
So the perfect combination is to keep the VRAM speed as high as possible, within a stable environment, and the clock speed of the graphics chip as high as possible, but at much lower voltages as long as that the mining / consumption ratio is kept as high as possible, which is important for profitability when mining
For this we recommend the use of MSI Afterburner, a tool that through software allows us to manipulate the voltage and clock speed values of the GPU, as well as memory.
Recommended variations on the NVIDIA GeForce to mine Ethereum
We have chosen a series of NVIDIA GeForce graphics cards, both standard models and custom models from different manufacturers, and we have organized a table of the recommended speed variations in the different variable parameters of the graphics card.
All the variations are made using the MSI Afterburner overclocking tool, although you can use other overclocking tools from other manufacturers. Of course, make sure they are compatible with your graphics cards to vary the different parameters.
| Graphic card | VRAM speed variation | GPU speed variation | Ethereum mined ratio |
| --- | --- | --- | --- |
| NVIDIA GeForce RTX 3090 Founder Edition | + 250 MHz | – 502 MHz | 106 MH / s |
| NVIDIA GeForce RTX 3080 Founders Edition | +750 MHz | – 502 MHz | 94 MH / s |
| NVIDIA GeForce RTX 3070 Founders Edition | +1200 MHz | -502 MHz | 61 MH / s |
| NVIDIA GeForce RTX 3060 Ti | + 1200 MHz | – 400 MHz | 60 MH / s |
| NVIDIA RTX 2080 Ti | + 1100 MHz | – 400 MHz | 60 MH / s |
| NVIDIA RTX 2060 Super / RTX 2070 | + 1100 MHz | – 400 MHz | 44 MH / s |
We recommend that if you see that you can reach a specific clock speed with a lower voltage then use that voltage value. In the case of graphics card fans, if you are using an air-cooled one, try to keep the fans at maximum use, since it is important that the temperature of the graphics does not rise to maintain power.
In the case of the NVIDIA RTX 2000, we recommend you to start with the GPUs based on the TU106 chip and therefore with the RTX 2060 Super and RTX 2070, both with 256-bit GDDR6 bus, since the RTX 2080 Super does not give a huge performance advantage when using the same memory bus. On the other hand, with the NVIDIA RTX 2080 Ti, its performance is similar to that of an RTX 3060 Ti, making it the top of the range of the NVIDIA Turing.
The cost of energy is also important
Unfortunately, energy does not cost the same in all countries of the world and a watt of consumption can have a much higher value in one country than another. In Spain, where the cost of energy is much higher than other countries, the tax burden on electricity consumption can make the profitability when mining is much lower. It is in countries where the cost of energy is cheaper that mining is much cheaper.
In any case, let's not forget that mining farms are far more complex and expensive than what an ordinary user can afford, not only when it comes to getting the material to set up the farm, but also when it comes to pay the monthly electricity bill. A single graphics card can give a very small profit margin, but altogether a huge profit.
Finally, mining with a graphics card is a personal decision. There will be people who are reading this article who will be against mining for legitimate reasons such as the increase in the prices of graphics cards and the problem of massive energy consumption, which leads us to the problem of climate change.