Every day there are more users that incorporate into their technological ecosystem devices related to domotics or the home such as smart lights, plugs, blinds or some electrical appliances. Therefore, in this post we want to tell you about a series of thermometers that are fully compatible with HomeKit and that will be used so that all users who want to control the temperature of their house with Siri or from their iPhone, can do so.
Aspects to consider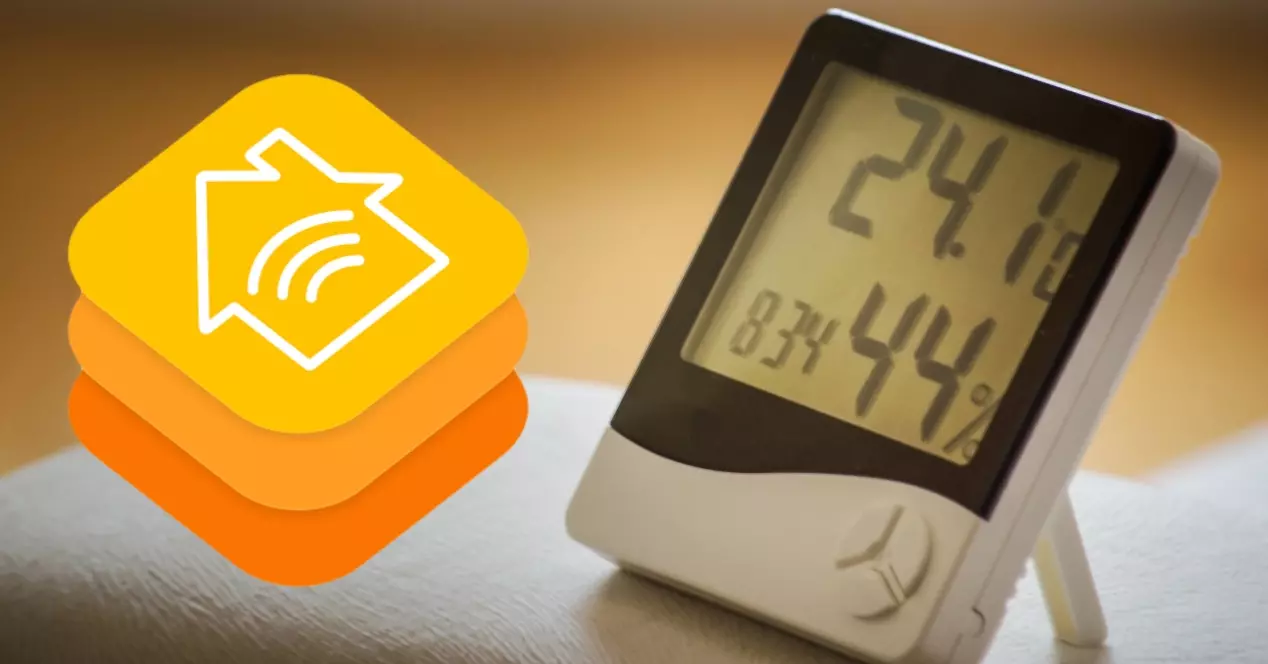 When a user wants to obtain products that are intended to offer a function within the home, he must be very clear about what he wants and, above all, what he wants it for, since based on this there will be more suitable alternatives than others to fulfill existing needs or demands. Here is a list of key points that you have to take into account to opt for the different options that we expose you in this post.
The price is a fundamental factor, since depending on your needs you will have to invest more or less money.
The place in the house where you are going to place the thermometer will also make a difference when choosing one and the other, since some are more adapted to the outdoors than others.
The aesthetics of the product is also key, since this thermometer will usually be visible and may break all the efforts you have made to maintain a decoration line inside or outside the home.
The precision of the sensors is also vital depending on the needs you have, since in some cases a lot of precision is required, but in others, simply having an approximate measurement is enough.
The cheapest options
In Amazon you can find practically any device that you propose, that if, you have to bear in mind that within a range of products, there are cheaper alternatives than others, and that usually is caused by having or not having a series of characteristics. In this post we are going to start by talking to you about those thermometers for which you will not have to pay a large amount of money.
WARMTUYO Digital Indoor Thermometer Hygrometer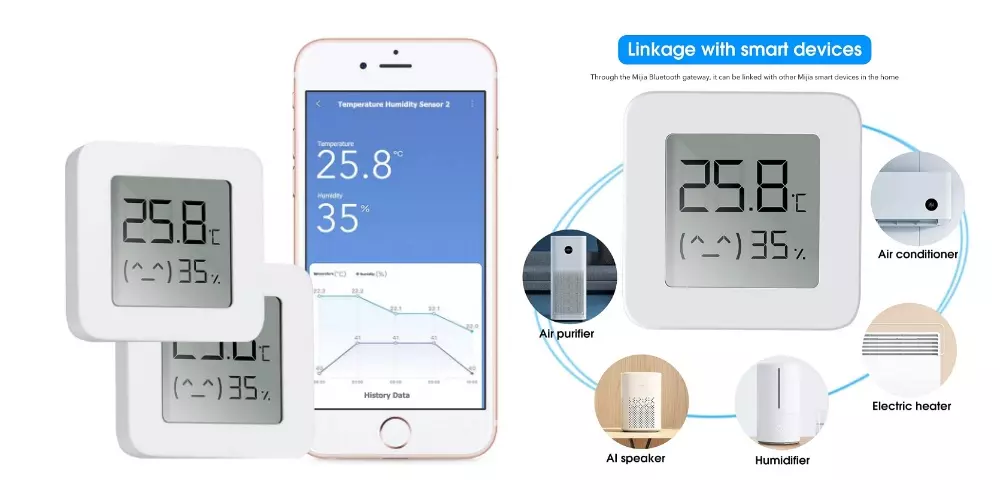 We start talking about the lower-priced alternative that you will find in this compilation and we dare to say that even in all of Amazon. In this case, the WARMTUYO brand offers a digital hygrometer thermometer that has a fantastic LCD screen, with a bright light source that will allow you to comfortably view all the information it can offer you.
It has a high precision Swiss Sensirion digital sensor to measure temperature and humidity in the best possible way. In addition, it is a device that is compatible with HomeKit, so you can make use of it through the Home application that you have both on your iPhone and on other Apple devices.
SwitchBot Hygrometer Indoor – Temperature humidity sensor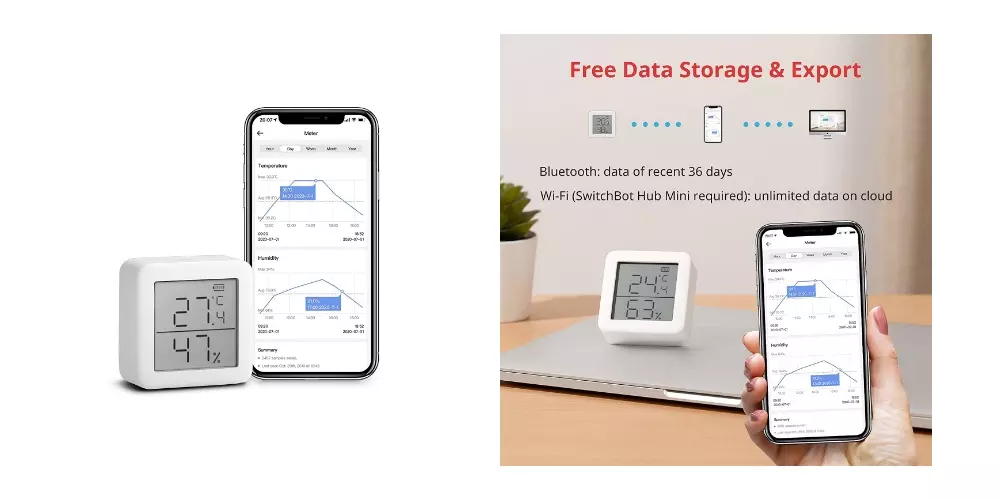 With a very traditional aesthetic and that closely resembles the alternative we were talking about previously, we now present the option provided by the SwitchBot brand. It has an integrated motion sensor that is capable of measuring the environment every 4 seconds to later show all the metrics that it is capable of collecting.
The LED screen is clear and high resolution so you can access all the information without any problem. In addition, it is compatible with Alexa, Google Home and, of course, with Siri and HomeKit , so you can access this thermometer from any Apple device. As for the installation of it, it is very simple and you just have to follow the steps indicated by the manufacturer itself.
ZEYUE Quingping Bluetooth Thermohygrometer
It is a thermometer that has high precision Swiss Sensirion sensors , even industrial grade, built in to provide a truly accurate measurement. It is equipped with a very traditional structural design but which is undoubtedly very practical for all users. The screen is designed with an ultra-wide viewing angle that reaches 180 degrees , designed so that anyone can easily view data from anywhere in the room.
This thermometer is designed to be placed in two different ways , either on the desk or on any surface, or on the wall itself. In addition, it has a built-in magnet that will undoubtedly facilitate the possibility of placing it on a surface and that it remains perfectly adhered to it. Of course, it is compatible with HomeKit.
Qingping Bluetooht Digital Thermometer
As you can see, the price of the devices in this compilation is going up, but obviously that is totally related to the quality of the product itself and the services it offers, as is the case with this thermometer from the Quingping brand. With a very traditional design but that raises the level of the finishes a bit to give that minimalist touch in white.
Its high-quality monitor provides all users with the ability to view the different data that it throws at all times. In addition, it has Bluetooth connectivity and is fully compatible with Siri and HomeKit, so you can access it from any device on the block.
ONVIS – Smart Motion Detector with Humidity and Temperature Meter
The sensor that this ONVIS brand device has is a multipurpose one since it allows it to offer the functionalities of a smart thermometer and hygrometer , providing you with the daily temperature as well as the humidity that is in the environment at all times. These records are made and updated automatically every 5 minutes , so you will always have all the information perfectly updated.
It has full compatibility with Siri and HomeKit so at any time you can ask it what the temperature is and, the iPhone, or any Apple device will give you the data that this fantastic device has collected. It also has its own application through which you can consult all the information it collects.
The level rises with these (although the price also)
The time has come to raise the level progressively with the following thermometers that we are going to talk about, but obviously, as we have mentioned, this also implies an increase in the cost of the same product. So if the budget is not a problem, we invite you to pay close attention to the following alternatives.
Tuya WIFI Smart Digital Hygrometer
The level jump can be appreciated simply by observing the device in question. Enjoy much more careful finishes that give it a premium aesthetic. Its screen has HD LED technology that provides fantastic visibility for all users who want to consult all the information that this device is capable of collecting and displaying.
It has the possibility of being able to adjust different temperature modes in a totally flexible way and thus adapt to the various scenarios that the user needs. It is fully compatible with Apple devices through HomeKit so you can ask Siri the temperature of the room and it will provide you with the data collected by this device.
Eve Degree – Connected Weather Station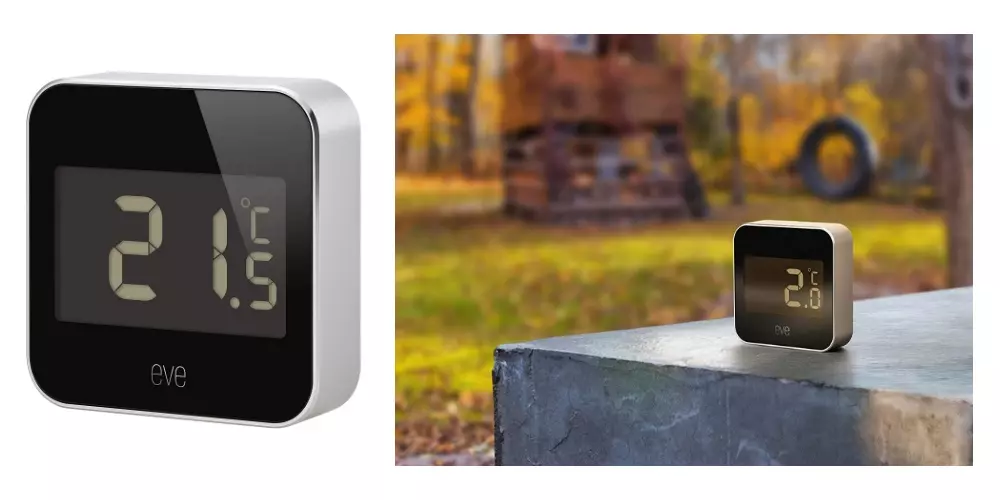 As its name suggests, this product will provide you with an authentic weather station at home that you can consult whenever you want. In terms of design, it breaks with everything seen so far and is that with the predominant black color it gives a fantastic feeling of elegance and sobriety. It is made in a small aluminum case with a large LCD screen.
It has a temperature, humidity and atmospheric pressure sensor for outdoors . It is an ideal device to be able to place it on the wall of a terrace or in the garden itself, although you can also place it on a table without any problem. It is fully compatible with HomeKit, which is a real convenience for all users who have Apple devices in their day to day.
Quingping Air Monitor Lite
In this case we want to tell you about that fantastic multifunction air monitor , since it offers up to 5 possibilities within the same body. It is capable of measuring up to 5 main factors of air quality, PM2.5, PM10, CO2, temperature and humidity, so by knowing the air quality in real time you can decide if you want to activate other types of devices such as air purifiers or just open the window in case you need it.
It stands out for the high precision and the fast response that this device has. The screen has OLED technology and a touch bar with which you can interact. It is also fully compatible with Apple devices through HomeKit so you can consult at all times the data that this air monitor is collecting through your iPhone, iPad, Mac, Apple Watch or iPod.
Cleargrass Temperature and Humidity Detector
The compilation is ending and in this case we do not come with a single product, but with a pack of four devices that are capable of measuring temperature and humidity with really fantastic precision. In this case, it is the Cleargrass brand that is responsible for equipping these devices with a 5mm diameter electronic ink screen, with a white background and black characters to stand out from its design.
They accept desktop support and of course, they can also be placed on the wall . They have a magnet on the back that also provides that ease of placing it in places like the fridge and having the peace of mind that it will be well attached. It is also fully compatible with Apple devices through HomeKit, something that users of Apple devices will appreciate.
Sensibo Air – Smart Controller
We finished the compilation with this Sensibo device, an intelligent controller for A / C that will allow all users to maintain the most pleasant temperature for them in their home with the possibility of controlling and modifying it to their liking from anywhere. It is a device that has quite small dimensions so that discretion is fully assured.
Its configuration is very simple, you just have to connect it to the Wi-Fi network or through the Bluetooth connection, start the application and configure it by following the steps indicated. In addition, it is fully compatible with Google, Alexa and of course, with HomeKit , which implies being able to use and control it from any Apple device and use it so that Siri can inform you of the existing temperature in your house.
What is the most recommended option?
Whenever we carry out a collection of devices, in this case thermometers compatible with HomeKit and Siri, from the ITIGIC writing team we want to tell you which are the alternatives that have caught our attention the most. Of course, you have to bear in mind that this is our totally subjective opinion, that it may or may not coincide with yours and that it is driven by specific needs.
If we look at the cheapest options, the one that we found most interesting is the one offered by the manufacturer SwitchBot since in relation to quality / price it is a very balanced product. It also has compatibility with all assistants on the market. Focusing now on those that require a larger budget, without a doubt the most attractive is the one offered by the Quingping brand with its Air Monitor Lite for all the features it encompasses.