Having a laptop has become essential nowadays. Whether it's because you need a device with these characteristics to study and take notes in class, or if you work from home, the best thing you can do is bet on a versatile model like the HUAWEI MateBook X Pro 2022.
The manufacturer has a catalog of laptops beyond any doubt, and its new HUAWEI MateBook X Pro 2022 has an exquisite design and has been conceived to offer great portability, as well as features that will more than meet the needs of users. most demanding users.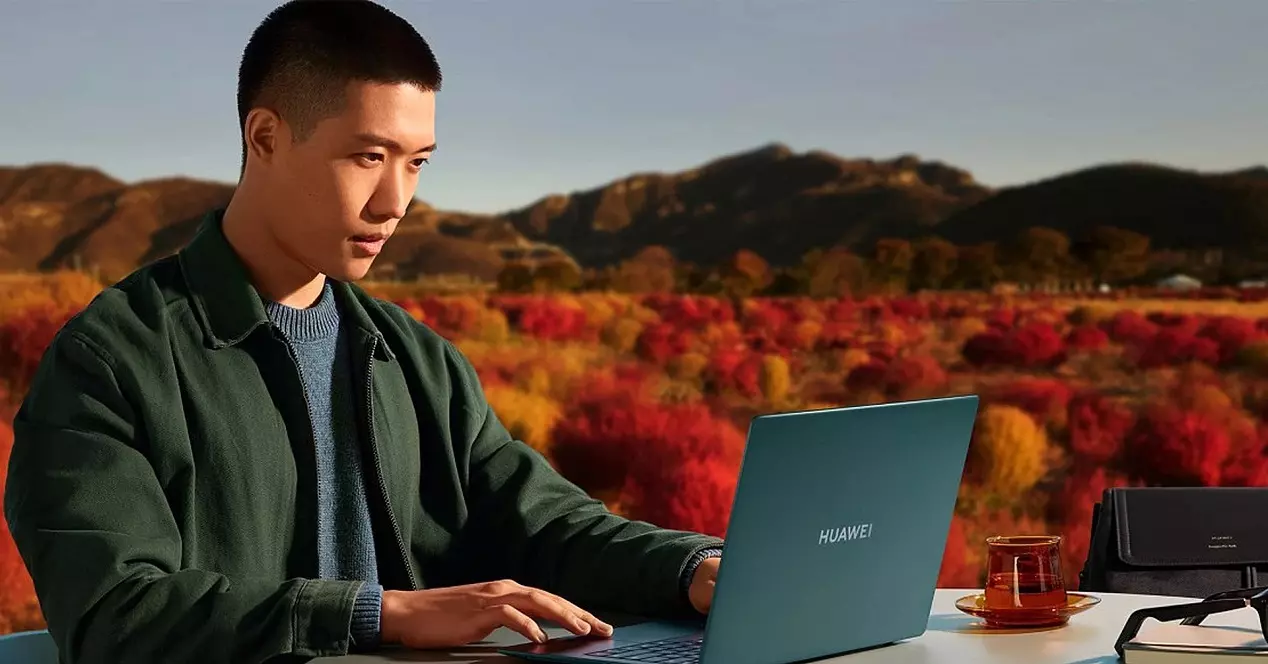 A laptop that you will take everywhere
HUAWEI knows the needs of the market, so its new premium laptop has everything you need so you can use it wherever you need it. Whether it's because you want to use it at university, or if you alternate telecommuting with a few days at the office, HUAWEI MateBook X Pro 2022 is perfect for you.
For starters, weighing just 1.38 kilograms , this product is extremely light. In addition, its body made of aluminum with a sandblasted finish allows you to enjoy an appearance that will be the center of attention, as well as great versatility and robustness.
When lifting the lid we find a front with reduced HUAWEI FullView frames to offer a screen-to-body ratio of 92.5% so that its incredible 14.2-inch 3.1K screen shines with its own light.
The company has taken into account every last detail to unify design with versatility. For example, HUAWEI MateBook X Pro 2022 boasts a backlit keyboard that will allow you to work at night without disturbing anyone.
As you will see later, HUAWEI MateBook X Pro 2022 hides unparalleled power inside by betting on an 11th generation Intel Core i7 processor. And so that the entire system flows smoothly, the company has integrated a cooling system that avoids any type of overheating problem.
To do this, this laptop has VC heat dissipation modules, along with a HUAWEI Shark Fin dual fan system. A set that achieves perfect efficiency so you can get the most out of the hardware of this premium laptop without worrying about a thing.
To close the aesthetic section of HUAWEI MateBook X Pro 2022, we want to talk to you about its Free Touch , the impressive touchpad that integrates this laptop. A large and precise plugin that will allow you to work in the best conditions, in addition to hiding some very interesting functions. For example, you'll be able to perform gestures to take screenshots, raise or lower the brightness… You won't be short of options to save a little time.
The icing on the cake is its dual biometric login system. To do this, HUAWEI MateBook X Pro 2022 incorporates a fingerprint reader into its design, as well as a hidden camera in the structure to guarantee your privacy when you are not using it. And everything, under the protection of Windows Hello, the security tool that includes the Microsoft operating system.
Windows 11 and the best Intel processors
At the hardware level, we find a very premium laptop that is perfect for all types of profiles. The 14.2-inch touch screen, 3.1K resolution (3120 x 2080 pixels), and 90 Hz refresh rate guarantees amazing image quality. And its six HUAWEI SOUND speakers make HUAWEI MateBook X Pro 2022 perfect for watching movies or series. Ideal for those moments of rest.
Best of all, the screen is multi-touch capable, so you can enhance your productivity by using it like a tablet whenever you need to. And the fact that it is TÜV Rheinland certified for low blue light and anti-flicker is a point in its favor.
When we lift the hood we find an 11th generation Intel Core i7-1195G7 processor , a very powerful SoC that is accompanied by 16 GB of RAM and a 1 TB SSD.
Without a doubt, one of the best processors on the market that incorporates a Tiger Lake-U chip to further improve its performance. And by having an Intel Irix Xe graphics card you can take advantage of its power to work or play.
Also, HUAWEI MateBook X Pro 2022 comes with Windows 11 pre-installed . We are talking about the latest version of the Microsoft operating system and that it has a series of improvements compared to previous versions that make it the best option. Once again, the company is committed to the best solutions on the market.
The best thing is that, in addition to enjoying all the new features of Windows 11, in addition to a more secure system, HUAWEI has implemented its own security tools.
For example, we have the Super Device mode that allows you to mirror your phone screen, transfer files from mobile to laptop or vice versa and much more.
And if you have a HUAWEI MatePad tablet, know that you can use it as a second screen, turn it into your personal notepad, write or draw with its compatible pen and other options to improve your productivity.
We could not forget its large capacity battery and that it will support the weight of the hardware without any problem to guarantee up to 12 hours of autonomy . Forgot to charge it at night? Its fast charger guarantees that, with just 15 minutes of charging, you have 2 hours of autonomy.
If you are looking for a powerful and light laptop, do not hesitate and bet on HUAWEI MateBook X Pro 2022 , a model created to satisfy all your needs.