One of the features that we all look for in our computers is the ability to customize it to our liking. Windows, for example, allows us to change the background, the sounds, the icons and the theme of colors, among other aspects, so that each user can adapt it to their tastes. However, many users miss being able to go further and configure simple widgets on their desktop. Luckily, there are programs that allow us to do this, as is the case with Desktop Info .
As the name of this program indicates, Desktop Info allows us to display all kinds of information on our PC's desktop. In this way, this program will allow us to always have all kinds of information about the state and use of our computer. For example, the temperature of the PC, the use of CPU, GPU and RAM and free space on hard drives, among others.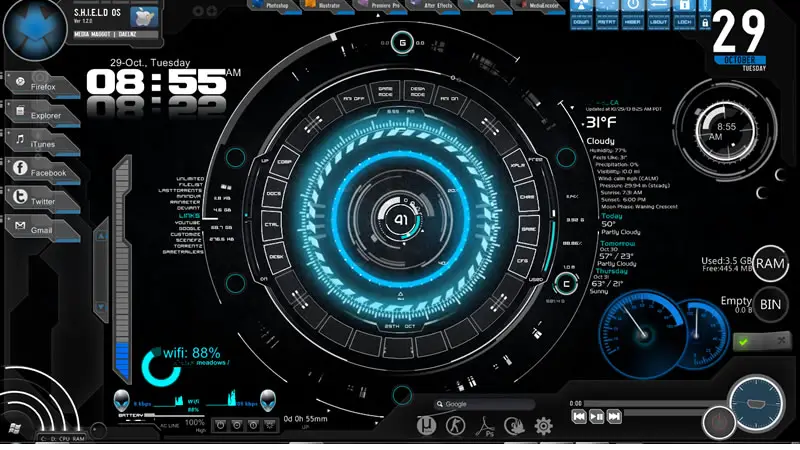 The main features of this software are:
It consumes very few resources.
Update the information of our PC in real time.
It shows all kinds of data and metrics about the hardware of our PC.
Many options and customization possibilities.
Visual alerts when something requires our attention (for example, too much RAM used).
Execute commands and scripts.
It runs with low priority by default.
Screen saver.
Compatible with all versions of Windows, from 2000 to 10.
Full support for Unicode.
In addition, it includes a complete manual that explains from the most basic operation of the program to the most advanced options of the program and all its configuration.
How to download and install Desktop Info
This widget for the desktop of our PC is completely free. To download it, all we have to do is access the author's website and download the latest version from there. The program will be downloaded in a ZIP file, within which we will have everything necessary to start it.
Desktop Info is a portable program. This means that by simply decompressing it, we can execute it. It is not necessary to install anything on our computer.
Within the compressed file that we download we will find several files. As we will see, we can find a program executable compiled for 32 bits and another for 64 bits. We will also find several configuration files (.ini files) and a complete instruction manual of the program, in PDF.
Assuming our computer is 64 bits, we simply run the file "DesktopInfo64.exe" and the program will start.
A simple but fully customizable desktop widget
When we open the program for the first time we can see how an example widget appears on the desktop of our PC. This will show us the basic information of our PC, such as the date, CPU usage, RAM, network card usage and free hard disk space.
If we right-click on this widget, a contextual menu will appear from which we can access the widget options. All configuration must be done within the text file that is opened in the program. And to know all the details and all the options we must go to the PDF manual that is included with the program.
Setting up this program can take a long time. But once we have done it, with saving the .ini file we will have our widget always available and ready to customize our PC.
And if we search on the Internet, we can find interesting widgets already created and ready to download and use.
Of course they are not the classic Windows 10 widgets . But Desktop Info does allow us to customize and make our Windows desktop more useful. Although surely we have to spend a good time to make it ready.