The video format is not always the most suitable for all circumstances. There are certain contents that perhaps can be consumed without the need to be watching them, either because they do not provide anything relevant visually or for any other reason that makes the experience more comfortable by putting only our ears. You can transform video files to mp3 in macOS in a relatively simple way if you know what tools to use, which is precisely what we will see in this article.
Programs in macOS to convert files to mp3
The most comfortable and complete way to convert your videos to mp3 format is with a complete application that offers this functionality. Its downside is that many of them are paid, either single or subscription. However, it will be tremendously useful to have some of them always installed on your computer if you often have to resort to these types of tools.
Audio Converter Lite
If you are looking for a simple program that takes up little space, this is probably one of the best options. It is available in the Mac's own App Store, so its security is beyond doubt. It is not one of the most used but it can serve perfectly.
Its interface is in English, which is not a problem in many cases because it is extremely intuitive even for those who do not master the language of Shakespeare. Of course, there will be certain adjustments that if you do not master the language you may have to find what they mean.
Apowersoft Video Converter
This application is one of the most complete that we can find in this regard, since despite not being perfect, it offers a multitude of functionalities beyond converting video formats to audio formats. Another interesting aspect of it is that no sound quality is lost after the conversion, although for this you must make sure that the video already has good quality audio at the source.
Its interface is extremely intuitive and it even has an easy-to-use video editor that, despite not being the tool we are looking for in this regard, can be of real help to make certain montages that you want to do on some other occasion in which don't want to just transform videos to mp3.
---
WinX Video Converter
Despite having an interface with airs that are reminiscent of older versions of macOS, the truth is that this program is still fully functional today for the task we want to entrust to it. Another of its weaknesses is that it is not the fastest in its conversions, but despite this it is capable of high quality processing.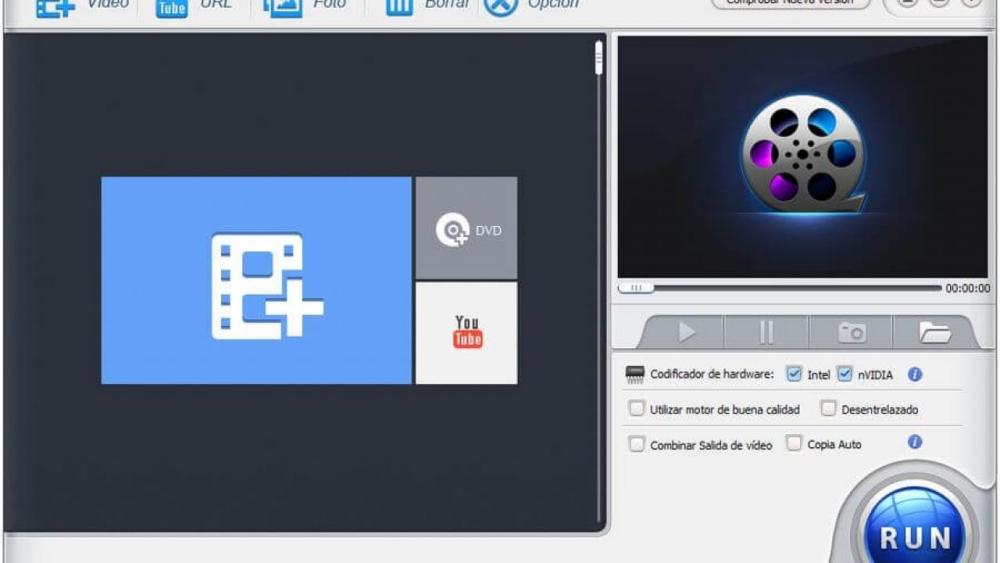 It allows you to add videos from local storage or from some internet URL, so that practically any video file can be transformed into an mp3 audio format with good quality. Although the available settings may seem scarce on some occasions, the truth is that it brings the right and necessary ones so as not to get lost between configurations and we can focus on what is most interesting.
---
UniConverter- Video converter
This application can be downloaded from the Apple App Store and is one of the most complete for everything related to transforming formats of all kinds. Obviously converting an mp4 or any other video to mp3 is among its strengths. Like some previous one that we have discussed, it is available in English, but it is not a major problem either.
Beyond the possibility of converting videos to mp3, it has other powerful tools such as a video editor or tools that allow you to add subtitles to them. You even have the ability to burn your Mac screen or burn CDs and DVDs if you still use these formats. If you are going to take advantage of more features like these, it will probably pay you to pay its download price, which is less than 10 euros.
Websites with which to transfer videos to mp3
The following web pages are used to carry out this process of converting a video to mp3 online, without the need to install anything on the Mac. This can be beneficial when it comes to saving storage space on the Mac and even not having to "lose time "downloading applications if it is a one-time task. However, it must be said that many of these pages have size limits for conversions, requiring in most cases a payment or subscription to be able to access more. There are many of this type beyond those that we will teach in this post, so here you will find some of the most used and that we can verify that their operation is correct.
Apowersoft.es
We have already seen this tool when talking about applications and it stands out for the possibility of also offering a web version that can be very useful also if the size of the video we want to convert is not excessively heavy. As soon as you enter you will see a box in which you can paste a link to the video in question, although it also allows you to add videos stored on the Mac and even search for them on the internet through its own search engine.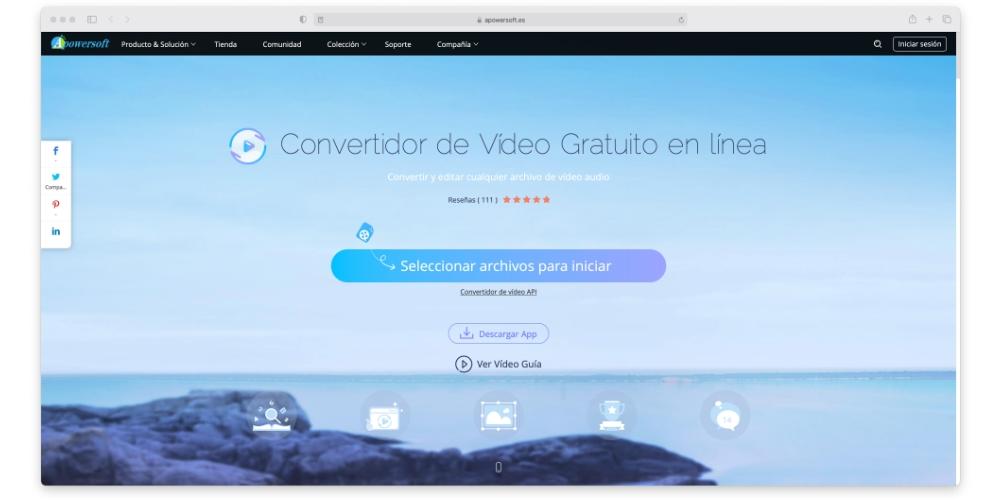 Once the file has been successfully uploaded, we can select certain settings before starting the conversion to the mp3 audio format. Of course, it is a page that is usually under maintenance, which makes us think that it is probably due to a strategy to download your application and since we have already discussed it previously, it is not a bad option.
Online-audio-converter.com
This page is one of the best known to carry out this type of process. You have the ability to upload video files from your Mac itself, through Google Drive and Dropbox cloud storage services and also from a URL.
The way to carry out the process is extremely simple, having only to select the origin of the file as we have previously commented, then selecting the mp3 format, choosing the quality and finally clicking on convert. It must be said that the files can be converted to other formats such as wav, iPhone ringtone, m4a and more. In the advanced configuration we find other settings such as the bit rate, sampling frequency, number of channels and the possibility of adding fades to the beginning or end of the audio.
Audio-online-convert.com
Another of the most used pages for this type of task. Perhaps its main drawback is that it is full of advertising that is sometimes very intrusive, which can be very annoying. In any case, it is another option that we have available and that, like the previous one, allows us to enter a video through different sources such as our own Mac, Dropbox, Google Drive or a URL.
Once the file has been selected we find settings such as the bit rate, sample rate or channels. It is also possible to trim the audio by selecting the minutes and seconds we want it to start and when we want it to end. Allows you to save all the settings for subsequent conversions, although for this you will have to register on the page.
Anyconv.com
Unlike the previous ones, this online tool does not have the possibility of adding videos from the internet or a cloud storage service. Nor does it have a very glamorous interface and its amount of advertising also stands out, however it is one of the safest, since as they themselves claim, the files are deleted from their servers after an hour.
On the page itself you will find all the conversion possibilities that they offer, the video to mp3 being the one that interests us the most for the matter. You just have to choose the file from your Mac disk, wait for it to load and start the conversion. It also has settings for the mp3 audio that you will get, so there is not much difference in this regard with what we found in the previous pages.
And to go from mp3 to video?
Unfortunately this is not technically possible for a simple reason. Videos are made up of various frames that make up the visual part and one or more audio tracks. These tracks can be separated from the images and thus obtain an mp3 file as we have seen in previous programs and web pages. However, an mp3 file cannot take pictures because they basically do not exist. If they can be used to mount videos with the images you want to insert through a video editor; You can even make it a video with audio, but with the images completely black. But no, you will not be able to automatically extract a video from an mp3 because, as the saying goes, where there is no one you cannot get it.