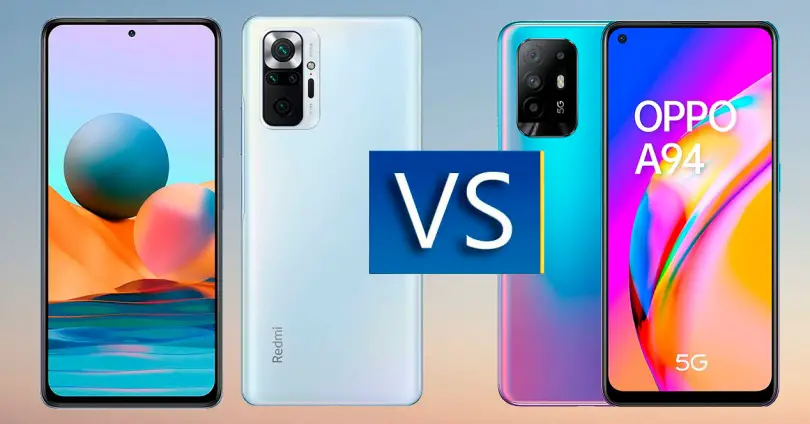 In recent weeks we have already met what will undoubtedly be the most popular mid-range phones of the year, and we talk about all the manufacturers. This is the case of Xiaomi with the Redmi Note 10 Pro and the OPPO A94 5G , two terminals that offer us very complete technical sheets, at a really adjusted price. Now we compare them.
Users are increasingly demanding, and in the price range of 250 or 350 euros they no longer settle for just anything, especially seeing that as in this case there are terminals that offer us a really attractive price and performance ratio.
Screen and dimensions
We are facing two terminals of a different size, the OPPO being more compact and lighter, and the Redmi larger. In the case of the Redmi Note 10 Pro we have a larger 6.67-inch screen, with Full HD + resolution , as well as a high refresh rate of 120Hz. In addition, the panel is AMOLED and compatible with HDR, offering an aspect ratio of 20: 9. It has a perforated camera centered on the top.
In the case of the OPPO we have a smaller panel, 6.43 inches and Super AMOLED technology with Full HD + resolution, as well as a perforated camera in the corner. This has a refresh rate of 90Hz, and slightly higher pixel density due to its smaller size. Also in the case of OPPO we have a fingerprint reader integrated into the screen. Regarding the dimensions, the Redmi is larger, with 164 x 76.5 x 8.1 mm, as well as a weight of 193 grams. On the other hand, the OPPO offers a more compact size of 160.1 x 73.4 x 7.8 mm and a lighter weight, something that we will especially notice in the battery, as you will be able to see.
Performance and memory
In this aspect we have mobiles with different performance characteristics. Starting with its processor, which in the case of the Redmi is a Snapdragon 732G while in the OPPO there is a Dimensity 800U , two processors similar in power, but which in the case of the OPPO offers 5G connectivity, so it is a great point to consider. its favor, and a factor that will undoubtedly extend the useful life of this phone and will provide a higher download and browsing speed if we are lucky enough to have a rate that includes 5G.
Regarding RAM, both have 8GB. In this case, both phones have 128GB of internal storage, expandable in the case of the Redmi, and without the possibility of expanding in the OPPO.
Camera
In this regard, it has undoubtedly put much more in the Redmi grill, since if the phone has above all a much larger main sensor. Of no less than 108 megapixels, with an aperture of f / 1.9 , and is accompanied by an ultra-wide angle of 8 megapixels and aperture of f / 2.2, as well as a macro of 2 megapixels and aperture of f / 2.4, and a sensor of 2 megapixel depth and an aperture of f / 2.4. For its part, the OPPO offers us a quadruple camera, but with a somewhat less privileged camera. Especially for the main sensor, which stays at 48 megapixels with an aperture of f / 1.7 , in the latter aspect better.
The ultra-wide sensor is also 8 megapixels and has an aperture of f / 2.2. While there is a 2-megapixel macro sensor with f / 2.4 aperture and a 2-megapixel depth sensor with f / 2.4 aperture. Regarding video recording, the Redmi stays in a maximum resolution of 1080p Full HD at 30fps, while the OPPO offers us 4K recording at 30fps . In front, in the selfie camera we have maximum equality, since both phones have a 16 megapixel front camera, with a significantly better aperture for the OPPO. In short, two very well equipped phones in photography, although with a plus in favor of the Redmi.
Battery, connectivity and software
In this aspect we have two phones with notable differences, on the one hand the Redmi Note 10 Pro offers a battery with more capacity, 5020mAh , which also charges faster, thanks to a power of 33W . For its part, the OPPO A94 5G has a 4310mAh battery, with a 30W fast charge, which allows it to be lighter and more compact in general. Regarding connectivity, both offer us Wi-Fi 802.11 a / b / g / n / ac, so they can be easily connected to 5G networks.
There is also Bluetooth 5.1 in both, as well as GPS, and NFC to be able to make mobile payments in establishments. Both have a USB Type-C connector, while the Xiaomi also offers an infrared port and FM radio. The software offered by both is Android 11, although in the case of Xiaomi under the MIUI 12 customization layer and in the case of OPPO with ColorOS 11.1 , two layers that are very veteran in the market and that have great acceptance.
Price and conclusion
We are facing two phones that are positioned in a similar mid-range area, but that offer us very different functionalities. In the case of the Redmi Note 10 Pro there are many aspects where it is better, such as in the refresh rate, in the camera, with an unbeatable 108 megapixel sensor, or in the battery, which is larger and charges more. velocity. But the OPPO A94 5G also has its strengths, such as a somewhat more powerful processor that offers 5G connectivity, more RAM, as well as a fingerprint reader under the screen, or a lighter weight and smaller dimensions.
And the similar price between the two, being 349 euros for the Redmi, and 379 euros in the case of the OPPO . Each one has its strengths, but basically if the camera and battery are more important to you, the choice should be the Redmi. On the other hand, if you prefer a lighter mobile, something more compact, with a little more power and 5G, it is best to get the OPPO. Because what is clear is that both are excellent mobiles, now it is you who must value each of these aspects.