The HomePod is undoubtedly one of the smart speakers that more people can consider buying as it is within the ecosystem itself. This makes it counterfeit meat so that anyone can take advantage of another and sell equipment that is totally fake. In this article we tell you all the details about it to be able to determine if a HomePod is fake.
Basic checks you must perform
Checking if you have a genuine HomePod can be really easy. There are some checks that are basic but will help you in a moment to know if the HomePod is original. It is important that it is fast since the verification must be carried out when you are making the purchase.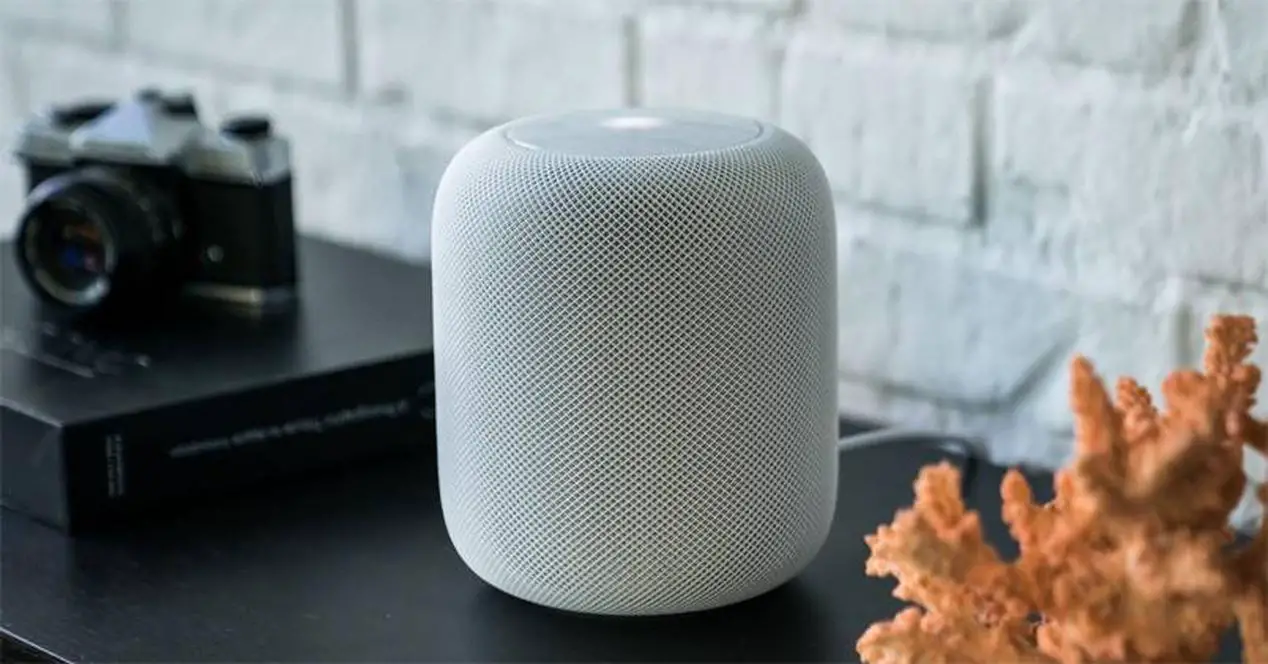 The serial number will give you a lot of information
All Apple products have an assigned number that is unique and no other device has it globally. This identifies it in the store and within Apple systems and in this way you can quickly know if it has been manufactured by the company itself or not. To be able to find this number on a HomePod, you just have to look at the bottom . Surrounding the company logo you will be able to see the serial number of the device that you will have to write down to carry out the checks. Also in the box they are obliged to specify it on the corresponding labels with the information of the product that goes inside.
With this serial number to be able to carry out the check at that time you simply have to go to the Apple website. There is a section dedicated to consulting the guarantees that makes use of the serial number of any device that is manufactured by them. When you enter it, it will give you various information, one of which is its authenticity in the event that it is found in the database . If it throws you an error in relation to the fact that the device is not found, you can start to distrust and think that you are facing a fake HomePod.
Check build quality and connections
One of the key points to determine if a product is counterfeit or not lies in the materials used. Keep in mind that Apple makes a lot of effort to have quality materials, highlighting in a HomePod especially the mesh that exists above. If you have previously seen a HomePod in the store or at a friend's house, you have surely been able to appreciate the touch that this mesh has or the finishes that the rest of the device has.
You have to take special interest especially in the weight of the HomePod. It is known by all that this speaker does not have a low weight but is committed to including a lot of technology inside in the form of speakers that makes the weight quite high. In the connections you can also find some problems that indicate that the device itself is a fake. The power cable itself, if we look closely at it, there are some interesting data to visualize. The original cables show the amperage, the Apple logo as well as the certification of the competent bodies. In the event that any of this information is not on the cable itself, it may be a fake.
Check if it can connect to your iPhone
The HomePod stands out for being perfectly synchronized with all the devices of the ecosystem such as the iPhone itself with which the initial configuration is carried out. It does not work through simple Bluetooth connectivity as it does with other simple speakers. In this case we are talking about a HomePod that has artificial intelligence and that acts as a home automation product. That is why you should check that when you turn it on, it is automatically detected by the iPhone and can be registered with your Apple ID.
If this does not happen and among the instructions given it is always highlighted that the pairing is done through Bluetooth, then something is not correct. In many cases the counterfeits are exact replicas of the original but obviously do not have the original operating system installed. This makes its operation based on Bluetooth to replicate the sound of the iPhone as well as the voice assistant itself . In these cases, rest assured that you are in front of a real fake.
Tips to avoid counterfeits
As we have previously commented, there are always possibilities of acquiring a counterfeit HomePod when we believe that it is totally original. That is why some tips should be taken into account in order to avoid being deceived.
Try to buy in physical stores
If you are going to venture out to buy a new HomePod, it is really important to do it in a physical store and above all, trustworthy. There can be many shops that offer a speaker from the Cupertino company, but you have to use logic to understand where you should buy or not. In a simple neighborhood store it is undoubtedly strange that equipment of these characteristics is going to be sold, making it quite suspicious. That is why whenever possible you have to resort to large shopping centers or stores approved by Apple.
The fact of making the purchase physically can allow you to have official documents of what you have bought and even carry out a visual inspection in the establishment itself. This way you will not have so many problems if you receive a fake because you can return it immediately. This does not happen, for example, in some online stores open to all, such as AliExpress or Ebay, where these counterfeits abound and in many cases they cannot be returned.
Avoid 'miracle' prices
We may always be tempted by what are called 'miracle' prices. That is, find a HomePod with a price that you have never seen before and that you can comfortably afford. You should always be suspicious of this, since rarely a business or a private seller is going to 'give' something. When an extremely low price is found, it should always be mistrusted since there will always be something hidden behind it, such as the fact that it is a counterfeit product.
You will almost always find these miracle prices on websites that are not technology specialists, or that are used by individuals and not companies. It is also found in second-hand applications quite frequently. It is for all this that if you find a suspiciously low price you should always trust and take a good look at all the details of the device to avoid paying a lot of money for a fake.
Beware of second-hand HomePods
Second-hand HomePods are one of the most counterfeit hotbeds in this product category. It is really easy to fool a person and completely disappear when making these types of sales since false information can usually be given. The most common cases can be found in wallapop where anyone can upload a new product for sale. If you are interested in buying a HomePod through this application, it is always advisable to pick it up in person to check the serial number in front of the seller to avoid taking a fake.
In no case should the fact of sending a shipment be allowed since an unpleasant surprise may arrive at your home. If you do not make use of the protections of these services in relation to payments, it is quite likely that you will not be able to recover the money in any case if a totally counterfeit HomePod arrives via courier. This is obviously solved taking into account that whenever possible you have to make purchases physically.