One of the most important points for any student is to be very clear about when and where they have each of the classes and for this, Apple devices, especially the iPhone, can help you a lot. In this post we have compiled a series of applications that will help you to have your class schedule well controlled so that you can consult it whenever you need it.
Advantages of keeping the schedule on the iPhone
The iPhone is a device that we always carry close to us to do practically any task, therefore, having the class schedule inside it makes consulting it very easy and comfortable. In addition, it will also allow you to access it at any time to check the place of the class that you have below or the time at which you have a certain subject on a specific day.
Accompanying the iPhone always, or almost always, is the Apple Watch, another device that makes certain information even more accessible, since with it you only have to go to your wrist to see the information you need. Some of the applications that we are going to talk about below also have their version for Apple Watch, so if you opt for one of these alternatives you can check your schedule whenever you want just by taking a look at your wrist.
Ideal apps to create class schedules
Fortunately, the App Store has a huge variety of applications, so much so that it is practically capable of covering any need that a user may have. As we have mentioned, having the class schedule on the iPhone, or even on the Apple Watch, can be really useful, comfortable, and in some cases, even vital. So pay special attention to the following applications that will allow you to have access to your schedule at any time and place.
Calendar
We start by talking about a free application that all iPhone users have already installed , and it is the famous Calendar app. As usual, Apple already provides the means to carry out many actions and surely many users have never tried to take advantage of an application that has as much potential as Calendar.
In this app you can always write down all your classes , to be able to control both the time and the place where they take place. In addition, being a native app from Apple itself, the synchronization with other devices is total, so you will have access to your schedule both on the iPhone, and on the iPad, Mac, and of course, also on the Apple Watch.
Class schedule
This application is undoubtedly one of the best companions that you can have by your side throughout the course , whether you are in school, institute or university. It will allow you to keep a record of the classes you have throughout the year, as well as add events to your weekly schedule with ease so that nothing escapes you and you can have everything well controlled.
It also has a widget, so you won't even have to enter the application many times if you just want to check the schedule you have each day. It has the ability to write down tasks, and on top of it is fully compatible with Apple Watch and iPad, so you will have everything much more accessible with other devices.
Calendar: My Agenda and Tasks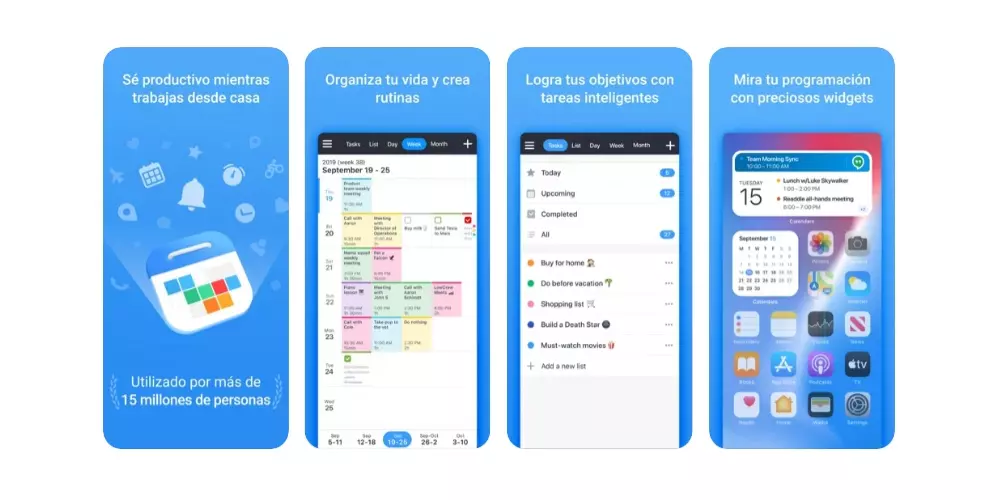 This application provides all users with an easy and elegant way to use a calendar application on the iPhone . It works perfectly in tune with apps like Google Calendar or Apple's own Calendar, which we have told you about a few lines above. With it you can manage all your events, both online and offline.
It is an application that is mainly focused on events . It has a very elegant and easy-to-use interface, so you don't have to complicate your life whenever you want to check your class schedule or any extraordinary event you have to attend. It also provides different views of the calendar, in the form of day, week, month, and even a list of events.
Schedules – Weekly Timetable
The times when you had to write your schedule on a sheet of paper or in a notebook are over. If you have an iPhone, you have the possibility of having your schedule with you always at all times thanks to applications like this one. In this way you can be much more organized since you will have controlled at all times what class you have and where you have to go to be able to enjoy it.
In addition, Weekly Timetable also allows you to keep track of all your tasks and even provides you with the option to activate notifications to notify you of what you do not want to forget. It also has a widget that you can use to avoid having to enter the application itself if you want to check your schedule. In addition, it is available for both Apple Watch and iPad, so that you can always have access to it to consult anything.
Smart School Agenda
As its name suggests, this application has been designed and developed to be the typical school diary , but with a clear difference, it will always be on your iPhone and you can consult it anytime, anywhere. This app is a very complete student planner that will allow you to add different tasks, note the date, time and place of exams, add notes to your diary, manage absences, in short, everything you need to be more organized at school.
Obviously, within all the functions it offers, the one that we want to highlight is the possibility of always having your class schedule written down, so that you can easily consult it from your iPhone whenever you need it. But beware, they are not the only tools that this application has to help all its users to manage time in a more optimal way.
Calendar App: Tasks & Calendar
This application is a native application that has been developed for Google Calendar . It has a very attractive interface and above all, and more importantly, with a very intuitive design that makes it really easy to navigate and take advantage of this app. Obviously, as it is an app designed for Google, all data will be synchronized instantly with your Google account.
In addition to being able to create all your schedules in the calendar, it offers different ways of viewing it, so that you can choose the one that best suits your needs. It has the advantage that it works even when you do not have an internet connection, so you will always have access to all the information that you have saved in it. It has an advanced reminder system, so you never forget any important meeting or event.
Other apps that can give you more functions
Since we are talking about applications for students, we cannot miss the opportunity to expose you to a series of apps that, in addition to allowing you to create all your schedules to manage your time in the best possible way, also provide you with a series of functions that will be great for you. to carry out numerous tasks during the course.
Notion
Surely you have heard of Notion on many occasions. It is a very complete application, in fact it is difficult to find an app in the App Store that encompasses so many functions like this. Initially it can be somewhat complex to understand, since you can do so many things that you do not know where to start. However, we will focus on everything it allows you, as a student, to get the most out of it.
Initially Notion is a blank page on which you can do whatever you want, from making your own schedules, being your task organizer or even doing your work or notes within it. In addition, its organizational power means that within it you can have collected all the information about the different subjects, as well as your grades. To do this, you can start from scratch and adapt the content to your liking, or you can use the multitude of templates that you can find on the internet to carry out anything.
Pages
Apple, in addition to making fantastic devices available to users, also provides native applications of a high quality to all of them, an example of this is Pages, which is part of the entire work suite of the Cupertino company. If you have an iPhone or any Apple device you can use it for free, and if you have never heard of it, something very strange, it is Apple's Microsoft Word.
With Pages, in addition to being able to carry out your schedule in a totally personalized and simple way, it is also an application that you can use to carry out all your work or even to collect daily the notes you have to take on the different subjects. In addition, one of the main fears of users when starting to use Pages is the compatibility that these documents can have with other apps such as Word, however, with Pages you can export the document you are creating in any format you need.
Microsoft Word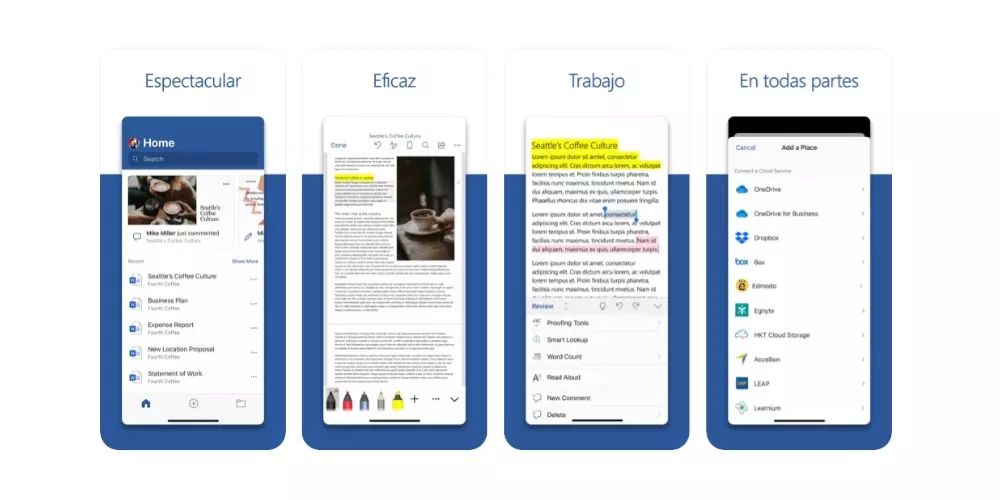 Obviously, if we have talked about Pages before, now we have to talk about its "rival", which is Microsoft Word. This is surely one of the applications or programs best known by all users since it has been used by most people for many years to create all kinds of text documents.
With Word you will not only be able to make use of its tools to create your different schedules, but you will also be able to use it to take your notes , carry out work, write notes, and all this from your iPhone, through which, of course, also You will be able to consult the documents that you create with other devices in this same application.
Good Notes 5
We finish this compilation of applications with Good Notes 5, an app that has really been thought, designed and developed for iPad, but that you can also use through your iPhone. First of all, you have to know that it has synchronization through iCloud so that everything you do on other devices such as the Mac and mainly the iPad, you will have access to it from your mobile device.
In addition, as we have mentioned, although it is an app that is designed to be used on the iPad together with an Apple Pencil, you can also take advantage of it on your iPhone to take notes, check your class schedule or even carry out certain documents of text thanks to the tools that this application has.
What app is the best schedule?
Whenever we carry out this type of compilation, from the ITIGIC writing team we want to tell you which are the apps that have convinced us the most to, in this case, have the ease and comfort of taking full control of the classes in the iPhone. Something that, once you try it, you will see how useful and comfortable it can be.
We start with our own applications to have all your schedule controlled, in this case, the app that we liked the most is Class Schedule since it has everything a student needs. It has a really attractive and intuitive interface, and in addition, it also offers the possibility of configuring its widget. Moving now to the applications that in addition to keeping track of your schedule and tasks allow you to do other actions, we are left with Notion because of the great potential it has thanks to the enormous possibilities it provides to the user.