It is less and less frequent to flirt in real life or even try. You do not have to meet someone in a bar or ask your friends to introduce you to that person you like … The applications and dating websites have made this whole process change and there are all kinds of options for all tastes. Love in Tinder times has changed the way we find a better half and if you don't know where to start, these are some of the best dating websites or flirting apps that you can find and use from your mobile phone.
---
---
Whatever it is that matters most to you, you can find love : for polyamorous people, for those who hate, for gym lovers, for those who believe in love at first sight … There are dating applications for everyone and these are Some of the best you can use for free for casual meetings on a work trip and not to see you or if you are looking for that person to marry and live together and happily ever after. If you have tired of watching series and love movies with ice cream and without company, these are the best dating websites and flirting applications that you should keep in mind.
Surely you've heard of Meetic and it is one of the best dating websites or one of the best known. The user who is looking for a partner writes his story and gives information about himself but also about what he is looking for: lifestyle, tastes, personal data, images, profession … Once the story is made, Meetic gives suggestions or you can simply use the search for criteria to find someone similar to you according to their profiles and their compatibility.
Meetic has been running for ten years and is focused on the search for a stable couple but also leaves the door open to meet other singles without any commitment. You can access for free to know what the page is like and it even allows you to create your profile and use the search engine to find other singles. But to use all the options you must pay for it and there are several different passes that will allow you more or less options and that will have different prices. You can choose a pass of one month, three months or six months and the subscription allows you to save profiles, customize searches, dispense with advertising or contact the singles you like.
---
Similar to Meetic and focused on an audience that is looking for seriousness and a stable partner, we also have eDarling. This website aims to focus or specialize in an audience with a higher average age than others and people who want a serious partner and not just meet people to hang out. As its own publicity indicates, eDarling is designed for "demanding singles" or for all those who have not managed to find their better half.
eDarling is something different from other pages of this style because it is focused in a professional way and with expert advice. You will not go through thousands of profiles and sliding back and forth but instead it focuses on questionnaires and a personality test that looks for people similar to you so that you find a stable partner as soon as possible and do not waste time on things that you do not interest Of course, by having "so many services", you will have to pay to use eDarling.
---
If you are looking for one of the best websites to flirt but you are far from wanting a stable partner, Ashley Madison is one of the most popular services offered by having an adventure. You will not find a partner or meet people but this website is simply dedicated to looking for someone with whom you can have an extramarital affair, a discreet connection without commitment and prepared so that they do not catch you.
Ashley Madison has all kinds of tools that make it an ideal tool for people who want to have an adventure in a hidden way since it allows you to have control in the inbox or even activate travel features that allow you to meet someone in your place Destination if you travel for work and have decided to go one step further. It also stands out for being an independent page that does not force you to link it with any other social network and thus keep your privacy safe. It has millions of users worldwide and access is free for women looking for men but women looking for women and men (look for women or men) must pay.
---
If you think that the more people you know, the more options to love … POF is one of the best dating websites for you. You do not have to pay and you will make sure you have more conversations than any other dating site so avoid it if you are one of those who are overwhelmed because everyone talks to you. You have to fill out a form , upload your photographs and talk to people in your city. It can be somewhat overwhelming because it consists of "fishing" all you can until you find love.
Although it is not as well known in Spain and in non-Spanish speaking countries, you can try a different operation and it is one of the dating websites with the highest success rate . Of course, we do not recommend it if you are looking for the love of your life but who knows.
---
If you are looking for something serious, Match.com is a highly recommended option. This is a dating website for middle-aged people (you will not find teenagers or you rarely will) and it is quite similar to Meetic. Focused on thirties, Match allows you to choose what you are looking for and fill out detailed dating profiles. Finding someone will not only be a matter of a photograph but you will give all kinds of information to know if you like it or not. In addition, Match has a "virtual dating coach" that will help you find people similar to you.
---
Although you have already tried it, it could not be missing. If you are young and you don't care about all of the above, Badoo is for you. Badoo is one of the best known pages to find a person to hang out with or find a stable partner if that's what you want. Badoo defines itself as "a social network to meet people " and has millions of users worldwide and thousands of daily records. It is a service that you can use through the computer or its website or through the applications for Android mobile or for iOS mobile and it is a free service in which you can see profiles and choose if you discard them or if you want connect with that person.
Badoo has some fundamental steps: use a filter to find someone you like, swipe to the right if you are interested in that person, talk to other singles with whom you have made a match. In addition, it allows you to make video calls with those people you know or allows you to broadcast live to answer questions from people who want to meet you. It is free but you can pay to have more options to link or more features that will help you meet new people.
---
Surely you use it or have a friend or friend who does it or that you have used it yourself. But if not, try it. It is very basic in terms of operation and look for people who are close to you, you choose the maximum distance up to 150 kilometers and if you are looking for a man or woman. You mark the ratio of kilometers and you will see profiles of people that you can move to the right or left and decide if that person likes you or not. You can swipe to one side if you like and to the other if you are not interested. In case you like it and you also like it, you will do "match" and you can talk through a private chat.
Tinder has become one of the essential applications to flirt, find a partner or meet people. It is a free service although you can pay a kind of "bonus" that are Boosts or Super Likes and that will make you more visible in your area or that will alert your users that they like you, respectively. You can also pay to have Tinder Gold and you will have more chances of finding love because you will see a list of people who already like you and know in advance that you can have a match with them.
Download Tinder for Android | Download Tinder for iOS
---
Polyamorous people have their own application and it is one of the best dating websites if you are looking for something totally different or want to "share". He doesn't need real names and Feeld is focused on people looking for new experiences in intimate relationships. People who believe in polyamory or open relationships have their place in this application for iOS and Android in which you can have dates alone or with your partner and that allows you to create group chats to meet all types of people, whatever your sexual orientation
The application allows you to hide with a false name but you need to link to your Facebook account to geolocate yourself. The "interesting" thing is that it has options to make groups, for conversations as a couple or for everything that comes to mind.
---
"If you are a killer looking for sex only , then SHAKN is not for you." The application makes it very clear in its description: only real people looking for a partner. One of the best dating and application websites if you are looking for all the details to be taken care of and manually validate all the profiles, is respectful, without deception and with continuous supervision by the team.
It is a platform focused on people who live near you and who want to meet someone but it will not only be a matter of physical or unimportant data but that it seeks to have experiential profiles with much content about us : what books we like, what plans we make What music do we listen to? The tastes and interests of other people are the axis.
---
AdoptaUnTio is another of the social networks of fashion to meet people and find a partner and is focused on the privacy and security of women so as not to suffer harassment or receive messages from people who are not interested. In this social network, created in France in 2007, they are the ones with the power to choose and they are the ones with the first step.
The boys will fill in the profile and hope that it is the women of the application who want to start a conversation with them. Men cannot start a conversation in this application without the authorization of the woman they want to talk to but can only do so if she adds them to their contacts. Of course, men can send "spells" to have visibility or get attention and show them that they are a good match.
This application to find a partner is focused exclusively on relationships between men and women and for now there is no option to find people of the same gender. Here there is no algorithm but you can find people the way you want: according to their tastes, their physique, the relationship they seek …
---
If you do not mind the physical and the intellectual, Sapio is an application in which you can connect with people who value intelligence. Or that promises. It is an application that is in English (for now it is not in Spanish) and is not as well known in Spain but it does have users in our country.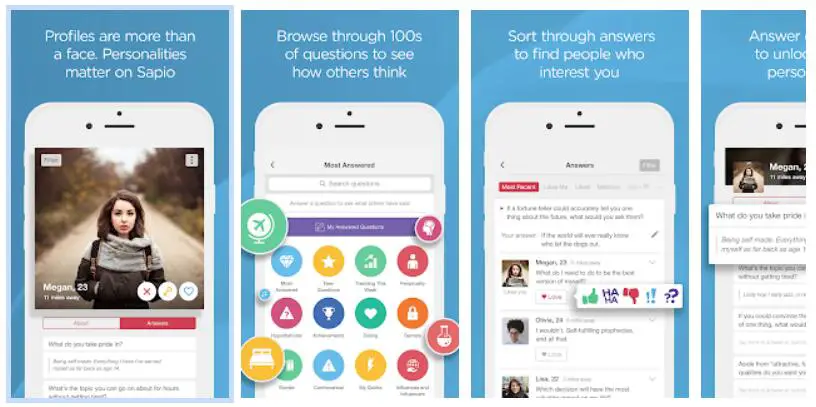 Once you sign up, you answer all kinds of questions so that other users know virtually everything about you. And, of course, a photo. The Sapio application for Android has more than 300 questions that you can answer and recommends related partners. If you are looking for something different, you can try it. Just remember that it is in English.
---
Bumble also follows the steps of AdoptaunTio and allows them to take the first step. It is defined as a web to flirt that has "renewed the outdated ways of flirting " and it is women who should open the conversation with that person in order to make them feel comfortable. In addition, Bumble stands out for a thorough verification process that ensures that all the people you speak with are real and there are no false profiles that put your security at risk.
Not only for flirting, Bumble is also focused on making friends or expanding your professional network. There are several different versions in the same application: Bumble Date, Bumble Bizz or Bumble BFF. For example, Bumble BFF aims to help you expand your social circle if you just moved to another city and you don't have friends. You can use the Bumble application for Android or iOS or find a partner or people from the web version of the service.
---
If you are looking for one of the best dating websites or applications to find love for the LGTBQ collective, Grindr is one of the best known. The application was launched in 2009 and has millions of users and is focused to meet guys near you.
The operation is similar to other applications on this list: swipe left or right to see different users and stay with those that interest you and that you like. If you both like it, you can have a conversation. You can also mark boys as favorites or block users that are annoying and do not want to find you in the application.
---
If you have ever dreamed of knowing who the person you just crossed the street is with , Happn is an application that makes your dreams come true. If you've exchanged that look with a person on the street, Happn finds the people you just met. Simulate the streets you just went through and show you the people who have gone through them, as long as they have the application installed.
There are about 70 million users worldwide and it is one of the best dating websites with app version for iOS and Android and it has been running since 2014 for all those times that you think you have found with the love of your life on the street or in the subway and you don't even know what it was called. If the like is reciprocal, as in other applications on this list, you can speak privately and get to know each other.
---
If you hate everything around you, Hater is one of the best dating websites you can find through its iOS and Android application. Hater allows to find love through hate . It's very easy: you choose all the things you hate and the app will show you people which people hate just like you. Hater will help you find someone who never asks for an omelette with onion or pineapple pizza so you don't get any surprises on your first date.
It is a free application to flirt and you can try if the conventional does not work for you. It is available for iOS and Android and you may not find love but surely you have a good laugh.
---
You're a gym fan and you think it's one of the best places to find love … But it doesn't work for you. Sweatt is an application that allows you to look for people with whom you can be happy going for a run at six in the morning or to lift dumbbells while telling you how much he loves you.
Sweatt is one of the best websites for dating if you are looking for something original and different in which you will have to fill in your lifestyle: when you train, how many times a week or what sport you do.
---
LOVOO's mentality is that love can be anywhere and you never know who you can find that will change your life. You can find new people near you and one of the main differences with other applications is that you can chat without having to match , to break the ice. Another feature that highlights LOVOO is that it has a radar that shows singles in your area or that allows you to make live video chats to talk about you or to show you as you are more real than in a photo.
---
---