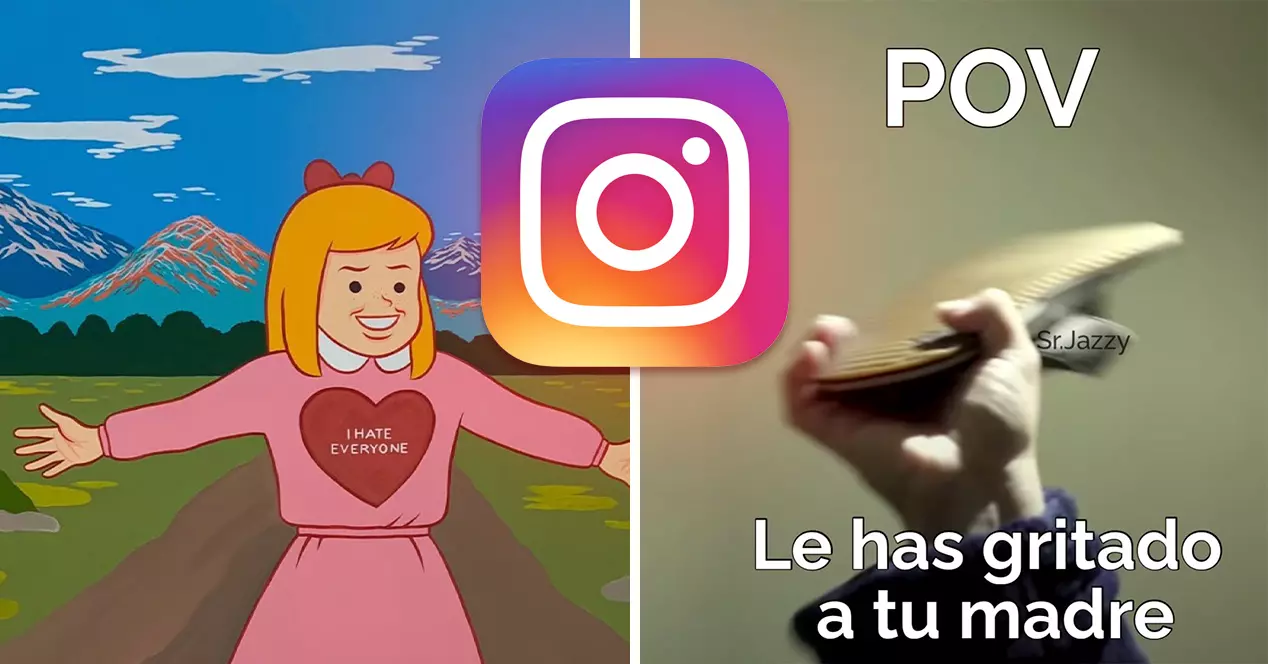 On our website we have talked to you on many occasions about the great variety of content that you can find through social networks. From tutorials, publications that will allow you to discover new places to travel or content that will make you smile. Speaking specifically of the latter type of content, today we have compiled some of the best Instagram accounts of the most controversial jokes ever. The profiles with the blackest and most sarcastic humor in this entire social network.
We started out strong enough with an account that already marks its intentions with its own name. This is the profile of Humor del Negro and, as they themselves say in their biography, "if you don't like black humor, don't follow them and everyone is happy." Something that of course has not mattered to his more than 10,000 followers on this social network.
Much of the content of this boy of Guinean origin is videos. In them he conducts interviews asking people committed questions, joins the most trending content but with his touch of controversial humor, or simply comments on videos with a lot of sarcasm.
On the other hand, there is Sir Cornella's account, which is already one of the best known in this app, as far as black humor is concerned, with more than 3 million followers .
Through illustrations, animations and cartoons, he shows a reflection, in many ways, of real situations today. Among them, of course, there is a rather shocking criticism of many of those stories, accompanied by some somewhat harsh images both for what is shown and for the message itself. If you are somewhat sensitive this may not be the perfect account for you but, if you are in the darkest and most raw humor, it will be a profile with which you will have a laugh.
And, speaking of sarcastic situations and with a complex message, you may be interested in following Sarcasm Only . A profile followed by more than 16 million people who enjoy irony and laugh at what others would be offended.
Sarcasm Only leaves no puppet with a head, sending messages of black and ironic humor to young people, old people, women, men, children and everything you can imagine. If you are one of those who are easily indignant, watch out for this profile.
Now we want you to know the profile of Limao Putasso , an account in the purest style of the black humor of all life on social networks and the internet.
This Instagram account, which already has more than 20 thousand followers , is directed by Antonio, a 21-year-old boy with some knowledge of photo and video editing that allows him to create the typical content in the form of a walking meme. This anthropomorphic lemon, which is the image of Limao, publishes content of the blackest humor you will see on this social network. From very uncomfortable situations to responses from people that you could not even imagine.
Betches Media ( @betches )
Another well-known profile on this social network for its humor with a jocular and complex tone is Betches Media . He is currently on his way to 8 million followers on this social network.
In case you didn't know, the expression "Betch" is how you identify women who always get what they want and know what they have to do to get it. A rather macho and old-fashioned expression but, what did you expect, we are talking about black humor.
So, you can imagine the tone and the type of publications that we can find in this profile. From videos that try to simulate the inconvenience that a Betch girl would cause as a neighbor upstairs, comments that a well-groomed girl should not drink too much alcohol for her safety and many more things like that that, surely, can outrage someone with a character of this type.
And speaking of black humor related to the female sex, another similar account but at the same time quite different is Bye Felipe .
If you are a girl, surely you have ever had to deal with the comments of some kind of troglodyte through social networks, on a date or on the street. People who seem not to have two fingers of forehead to loosen depending on what answers or proposals. Well, this profile is responsible for collecting many of these messages to show them to the world. So we can come to realize what many women can suffer on a daily basis.
Be prepared to see everything in these posts, even messages that you will read over and over again for not believing what you are seeing. You will have no choice but to laugh for not crying and feeling sorry for certain people who seem not to have advanced beyond the caverns. Or, at least, that is what his more than 450 thousand followers do on this social network.
Last but not least, we want to recommend you the profile of Jazzy , a lover of black humor and old school memes.
If you are one of those who enjoys this type of beast or controversial humor, you will laugh at everything that Jazzy publishes on his account. A mixture of badly cut images, texts with funny phrases and complex situations. It may, at the moment, only reach the sum of 3,700 users in this social network but we have no doubt that it will soon find more lovers of the most humorous and dark humor.
So far this selection of some of the best accounts on black humor that you will find on Instagram. This type of humor may be somewhat harsh and not suited to what many people may accept as funny. But, in the end, as with many other aspects of life, it will depend on the tastes of each one. Something that is completely respectable.
And you, do you know any more that you find interesting? If so, leave it for a comment so that we can all enjoy it.