The Word document has become the quintessential text document. But how do we open a document saved in the popular Microsoft Word format? Well, we recommend the best apps to open Word documents on Android.
Most of these apps are office packages with which you can open documents, but also modify and even create them. So these apps are quite versatile and will not only help you read the documents. Some also add options such as creating presentations or spreadsheets. That said, we start.
Word for Android – The original
If you want to read a Word document … What better than Microsoft Word itself ? The Microsoft option has always been postulated as one of the most used, both desktop and mobile systems such as Android. Its 4.5-star rating on Google Play and its more than 1,000,000,000 (no, there are no more zeros) make it one of the best options to read or create this type of documents.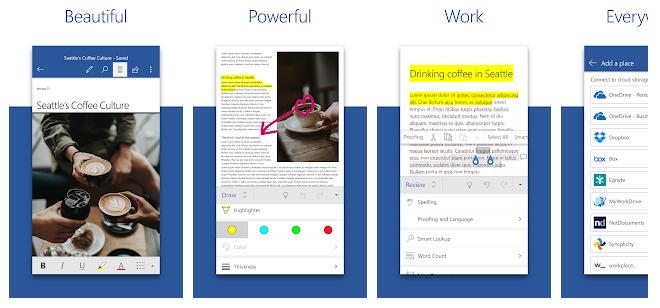 Google Drive and Google Documents – The easy option on Android
It is very possible that your mobile phone comes with Google apps installed. Then you will have Google Drive installed, the company's cloud. Despite being a cloud you can also create documents through Google Documents, which is integrated. But you can also download the entire Google Docs app to have it all more organized.
OfficeSuite – Free Office, PDF, Word,Sheets,Slides
Sometimes it is best to have an office pack, that is, an app that serves to open or create any type of document. Office Suite is one of the most downloaded apps from the Play Store for this purpose. Apart from all the functionalities of an office pack and a PDF editor, it includes a 15GB cloud to upload your documents, something very useful.
Polaris Office – Free Docs, Sheets, Slides + PDF
Undoubtedly Polaris Office is also one of the apps that has been on Android for many years. You can also use it on PC. You can open files of almost any format, you can view and edit them. You can upload all documents to your preferred cloud service or simply host it on your phone.
WPS Office – Word, Docs, PDF, Note, Slide & Sheet
If you have been in Android for years, surely WPS Office sounds like you. One of the most famous and popular apps for Android. With more than 700,000,000 downloads it has become one of the essential apps for many users, a standard of office packs. If there is a versatile app when it comes to opening file formats, this is WPS Office, which supports many formats, above many of its competitors.
WPS Office Lite – Enjoy WPS Office on any mobile
If WPS Office has seemed like a good option but you don't have much space on your phone, WPS Office Lite will like it, it offers many of the WPS options but in a lighter and faster interface.
Word Office – Document Viewer, Docx & PDF Reader
If you only want to read the files, Word Office Reader will interest you. No editing or complications simply read Word, PDF or PowerPoint files. It should be noted that you can edit files, but it includes a very comfortable and uncomplicated viewer.
Quip: Docs, Chat, Spreadsheets
It is clear that if we only want to open Word files we do not need so many things, but if what we want is a good office pack that allows us to do everything, including opening the files, perhaps Quip can convince many users who work in groups. Whether from your mobile, your PC or your tablet, you can use Quip to communicate with your colleagues and edit documents together. A very useful app for those who have a joint project.
Also set in group work, Writer offers you a useful, practical text editor, with which to communicate with your colleagues leaving comments, and important: 100% free.
Docs To Go™ Free Office Suite
And the last app to open and edit Word documents for Android that we recommend is Docs To Go. This app will allow us to open any PDF or Microsoft office package document, so you don't have to worry about not being able to open Words. You can also edit it and not lose the form that has been given in the original document.