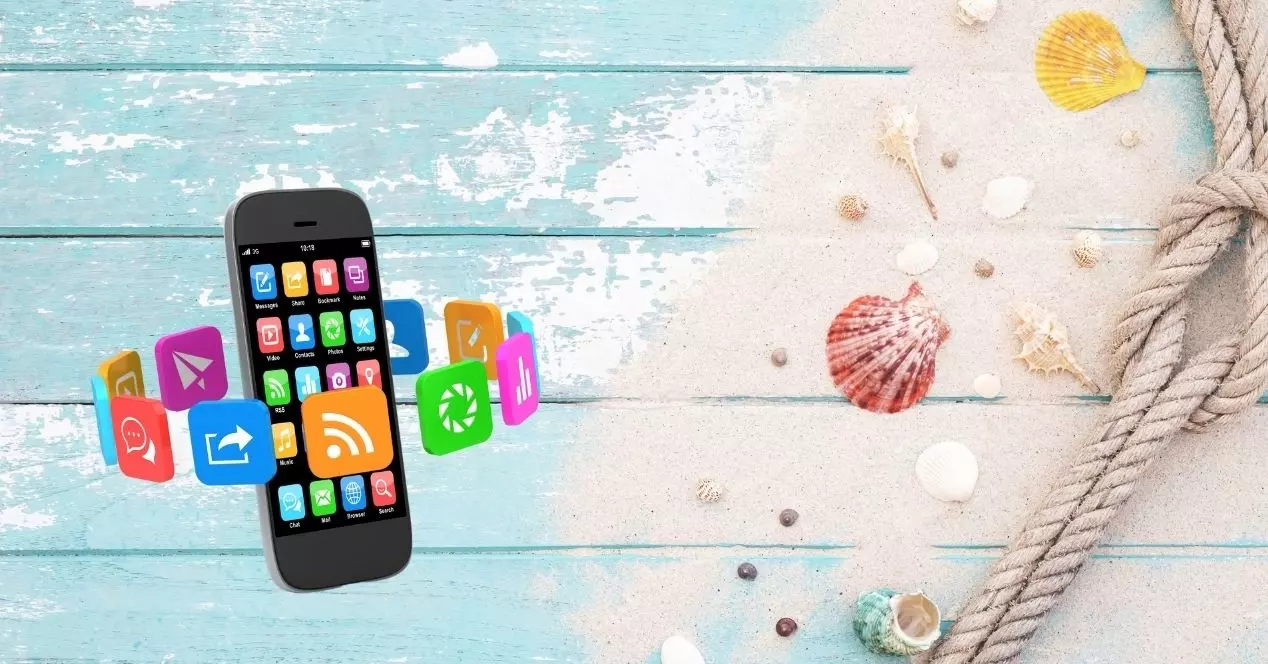 With summer comes the good weather and there are many people who are organizing their vacations, going on a trip, making a getaway or spending leisure time in their city or any other. Going to the beaches, going to events, going to concerts, festivals, camping, having coffee and eating with family or friends, there are many things you can do.
For this reason, we show you some applications that should not be missing from your mobile this summer and that you can install today for your mobile, all of them free and that offer you many different possibilities so that you can enjoy the summer season taking care of yourself and having a good time.
UV index
This is an app with which you can accurately measure the UV index wherever you are. It uses the best weather data to give you accurate data of your location and calculates this data scientifically.
You will be able to choose your skin type according to the Fitzpatrick scale, obtaining personalized values based on the maximum amount of sun exposure before you suffer sunburn, as well as giving you advice based on this data.
Thus, you will be able to make better decisions about when to go to the beach, go outside or what to do at all times of summer and on days with good weather when the ultraviolet radiation index is higher and can be harmful to you.
Google Maps
If you don't have it, it's a must-have app for traveling and getting around in the summer . Not only will it help you get to your routes, but it will also help you to know the best one, it will give you traffic information and other interesting data to make your trips more bearable.
You will find especially interesting its public transport instructions with real-time updates and how to discover any city you are in and the best places to eat.
You will see where there are gas stations, pharmacies, cafeterias and whatever you want. You will have the information that interests you wherever you go, even if you stay in your city and want to discover new places.
iPlaya: weather on the beach
With this app you will be able to find information on more than 2000 beaches along the entire coast of Spain, along with data on water temperature, waves, tides, UV index, weather forecast, sunset and sunrise and much more, with data provided by AEMET.
You will find very interesting information about the beaches you want to visit, in real time, so you can see what awaits you in the city you are in and if it is the best time to go to the beach. To discover new and make better decisions.
Eventbrite – Discover events and fun nearby
Eventbrite is an app where you can discover events near you. It will offer you personalized recommendations and you will be up to date with the news of the latest events. You'll see sporting events, concerts, festivals and more, by date, time and location where you are.
In addition, you can buy tickets and always take them with you on your mobile. You can also confirm your purchases quickly by saving the card in it. You will be surprised by the amount of events that you can find wherever you are and you will be able to organize your days to know what to do every moment.
Star Walk 2 Ads+: Star Map
With this app you can find and identify stars, planets and constellations in real time. You will see a star finder, sky atlas and planets very easily with this application, which will allow you to enjoy the summer to the fullest if you like gastronomy. It has sound effects, visuals and much more. with models of celestial bodies in 3D.
Meetup: local events
Meetup is a popular app for discovering local groups and events where you'll meet people to enjoy a hobby or try new things. It's perfect for making friends in your area or exploring a new city, as well as meeting people with the same hobbies.
Not only will you be able to discover organized events , but you will also be able to create your own group so that other people with the same interests can join. It's perfect for discovering or publicizing local events and groups at a time of year when there's plenty to do.
airbnb
Although you can find accommodation in a large number of applications, Airbnb is fashionable because it allows you to find vacation rentals wherever you go. It is an excellent alternative to the local classics, with more comfortable places and that expands your accommodation possibilities.
You will be able to see accommodations wherever you go filtering according to your interests. Therefore, if you are going to travel, it is worth having it with you.
WiFi Map
If you like to move around a lot, you don't have to give up having a WiFi connection and you don't have to bother asking for WiFi data wherever you go. Taking into account that these connections are not as secure as others, it can be an excellent solution to access a WiFi network without having the password wherever you go and not having to resort to data. Whether you stay in your city or go through national territory or abroad, you will find what you need.