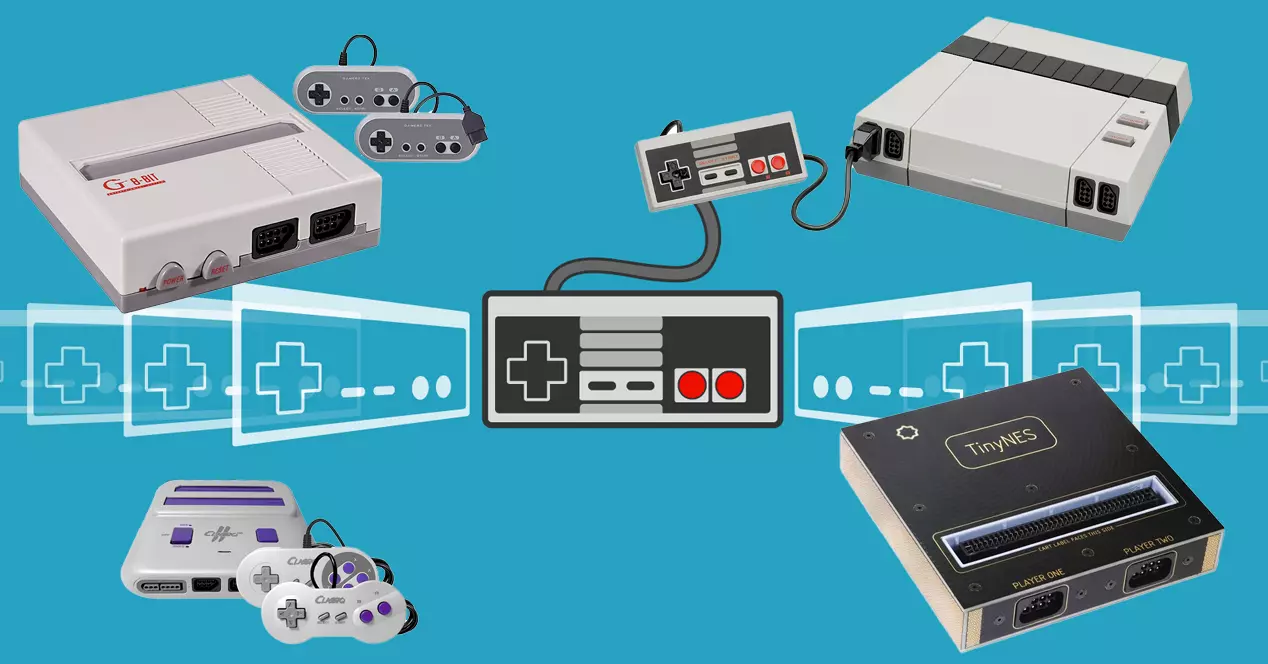 If you feel nostalgic, but not enough to spend a lot of money on a real Nintendo Entertainment System , you are in luck, because there are a few clone alternatives with which you will be able to play those retro games that made you spend such good times without Need to waste time on Wallapop or spend hours bidding on Ebay. In this post we are going to tell you the five most interesting alternatives that you can find currently on the market, as well as the information you should know to differentiate a clone from an emulator.
What do we mean by clone console?
Before we start, let's clarify that a clone is not technically the same as an emulator. It is not the same to make the console with a Raspberry Pi (and give it the NES shape) than to buy a clone console. The latter must be compatible with the original cartridges in order to be considered suitable.
Are clone consoles legal?
It may sound crazy to you, but in the case of the NES, yes. First, because Nintendo licensed its patents at the time. And second, because being a console launched in 1983, its patent has expired for a few years.
Advantages and disadvantages
Most of the current clone NES outperform the original . They are smaller, have a guarantee and also have current technology , such as HDMI output. Of course, the price is an advantage, and we will be able to play the original cartridges without any problem. Among the disadvantages, there are some problems with the sound, something that is usually common in this type of products.
Top 5 clone NESs
RetroUsb AVS
Released in 2016, the RetroUsb AVS is something of a restyling of the original NES. It has its own firmware with update options , image and sound quality improvements and allows you to connect four NES controllers, as well as any original cartridge. As against, it is a bit more expensive than most of its competitors.
Old Skool Classiq 2 HD
Two in one. NES and SNES in the same device . Its design is more inspired by the Super Famicom, and it has two different controllers to play each system. It has 720p output and option to change the aspect ratio. It is not badly priced, although the sound is not its strong point.
8-Bit HD Entertainment System
This console is manufactured by Gamerz Tek and was released in 2017. It has HD output and has both two slots and two controllers . The design is quite consistent with the original and as against, it only has some problems with the sound output. Despite this, it has a fairly decent price.
Analogue NT Mini
If what you are looking for is a quality alternative , the Analogue NT Mini is your clone NES. Its manufacturer has a lot of reputation in this world and, although the console is not cheap, it has outstanding specifications. The device comes with two 8Bitdo NES30 controllers , analog output from various sources, as well as Full HD digital output thanks to its FPGA design, which exactly replicates the behavior of the original console. It has four controller slots and offers the best picture and sound quality on the market. The design of the console does not look like the NES at all, but it is well worth it.
Tinynes
This NES is as small as the game cartridges themselves. It has analog output, a totally minimalist housing and absolute compatibility with two 8Bitdo controllers . It was born as a crowdfunding project and has reached its fundraising goal. In fact, you can buy a unit directly from Tall Dog Electronics' own profile on CrowdSupply.