If you are thinking of buying one of these brand models and you are not sure how they differ or which one is better for you, we are going to tell you about the main differences that you can find between the Xiaomi 12 and the Xiaomi 12X.
It may be difficult for you to see the difference, since both models are similar in many things and have similar features. They have the same 6.28-inch Amoled 120Hz screen with Dolby Vision and Gorilla Glass Victus. They stand out for having the same 5G and NFC connectivity and even the same dimensions and similar weight.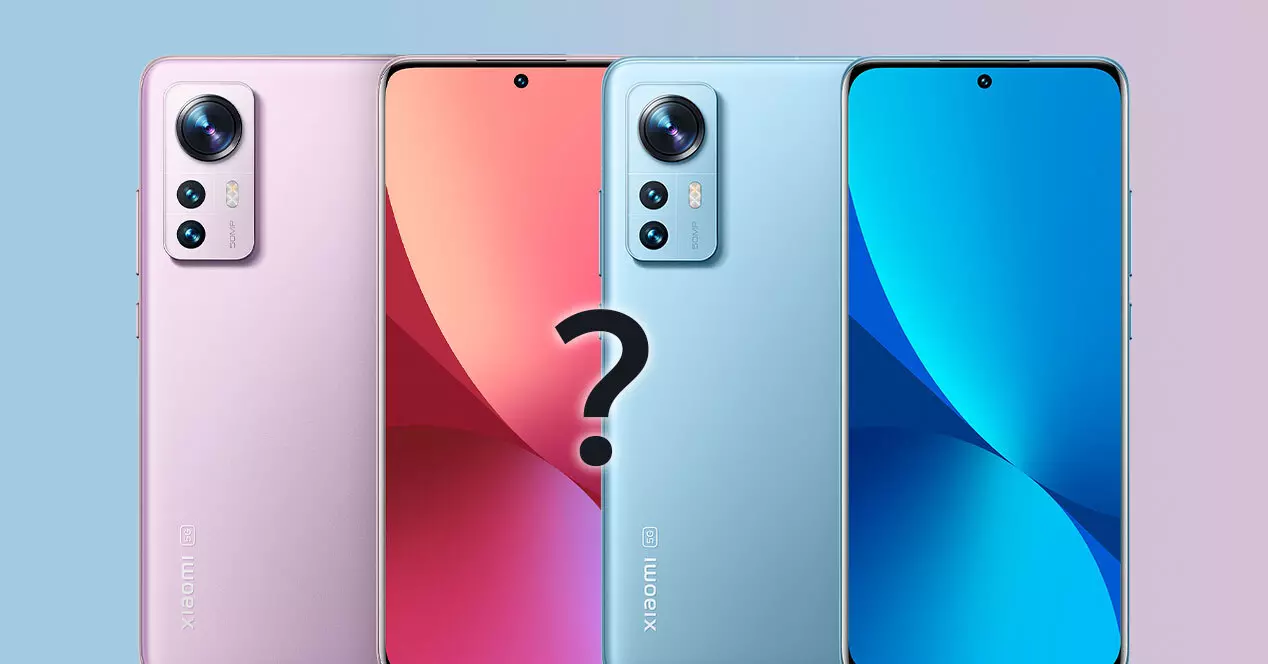 Two very different similar Xiaomi
Although they may seem the same to you and if you look at their technical characteristics it may be difficult for you to find the differences, the truth is that there are, so we are going to tell you what they are so that you can assess which one interests you the most. In any case, the Xiaomi 12 usually improves in all sections, except for the price.
Processor and RAM
While the Xiaomi 12 processor is Qualcomm Snapdragon 8 Gen1 with 3GHz Adreno 730, in the case of Xiaomi 12X we will find a Qualcomm Snapdragon 870 with Qualcomm Adreno 650 3.2GHz.
The Snapdragon 870 is a somewhat lower performance processor chipset than the previous one, with a node size of 7 nanometers, making it somewhat less energy efficient. The Snapdragon 8 Gen 1 and Snapdragon 870 are 4 nanometers in size and have higher power efficiency and superior performance. For this reason, the battery of the Xiaomi 12 , being the same, can last a little longer.
Both models have 8 GB RAM, although in the case of the first it has versions of 8 or 12 GB LPDDR5 of RAM and the 12X has 8 GB LPDDR5 of RAM. Both have 128 MB and 256 MB non-expandable storage.
Operating system
The operating system of the Xiaomi 12 is MIUI 13, Android 12 , while in the Xiaomi 12X we find MIUI 13, Android 11 . Android 12 provides greater privacy, security, various new features and renewed aesthetics.
Wireless charging
Although they have the same 4,500 mAh battery life and the same 67 W fast charging system, they differ in wireless charging. The Xiaomi 12 has the possibility of 30W wireless charging and 10W reverse wireless charging . Both can be fully charged in less than 40 minutes with non-wireless fast charging technology.
Bluetooth connectivity
You can see that both models have similar connectivity, so you won't notice any big differences. They are Dual Sim, they have the same USB type C cable and other connections, although in the case of the Xiaomi 12 the Bluetooth is 5.2 and in the other we find a Bluetooth 5.1. In addition, this first one has a blink sensor.
It is worth that the rest of the connectivity options are the same and that you may not notice much of the difference, since, although Bluetooth 5.2 improves sound quality and energy efficiency in audio functions, you will not appreciate it much in these smartphones.
Price
One of the aspects in which they differ is in their price, since the Xiaomi 12X can have a price of 100 euros less , or with a greater difference. It will depend on where you buy them, the price may be variable, but this model is cheaper than the previous one.
In return, you can see the additional features that the iPhone 12 has and that you should assess to see if it is worth paying something more or you really do not need it.