Today the telephony market is excessively broad. To the point that you can find all kinds of alternatives based on specific requirements. In the event that you want a mobile to record videos at 4K resolution, you should know that you do not have to spend a large sum of money.
Smartphones have become extremely versatile devices with which you can do anything. Best of all, there are terminals for different budgets so that the user can adjust to their needs. Quality components do not always translate into a price increase and this post demonstrates just that fact.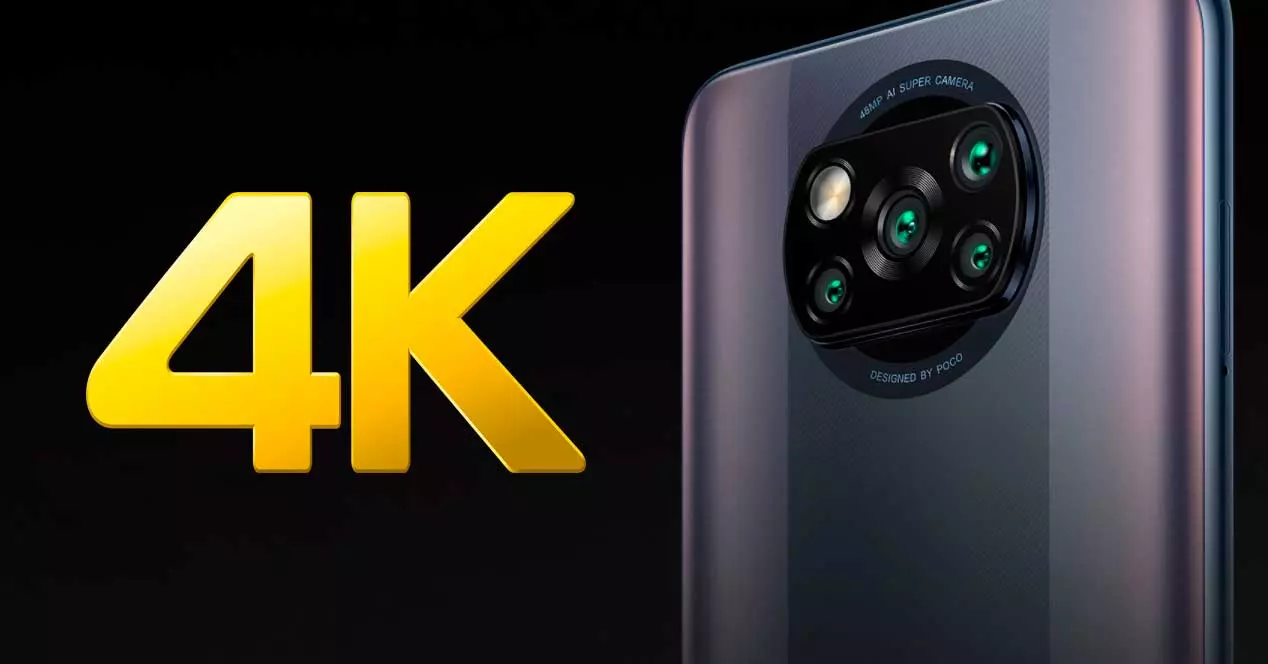 Why do you want to record at 4K?
4K technology is here to stay. Currently you can run into it on a large number of televisions, although this property has not fully materialized on phones. What you can do is record at that resolution. This allows you to film unique moments during a trip at optimum quality, ensuring you appreciate every possible detail. To your surprise, your wallet won't suffer as this feature can be found on virtually any smartphone, but these are the best you can get:
POCO X3 Pro
POCO is a Chinese company that belongs to Xiaomi , but the development of its mobiles is carried out independently to obtain greater freedom of decision. In fact, the technology giant's sales philosophy of selling quality at a minimum price continues to be respected.
A clear proof of this are the characteristics of the POCO X3 Pro and its low cost of only approximately 250 euros. With this terminal you will not only enjoy the possibility of making 4K recordings, but also the extreme power provided by its Snapdragon 860. Ideal for gaming with incredible performance.
Realme GT Master Edition
The Asian company is characterized by a trading methodology similar to the previous one, since it also has a range of high-level smartphones at low cost.
The case of the Realme GT Master Edition is the perfect example. It is a phone designed by a renowned artist in the sector such as Naoto Fukasawa, although you can also shoot at 4K and enjoy balanced and perfect specifications in every way, such as an AMOLED screen, 65W fast charge and a processor of guarantee. All this and much more for less than 300 euros.
Xiaomi Redmi Note 10 Pro
When we talk about Xiaomi we already know in advance that quality is assured . This is also extrapolated to Redmi, which has low-medium range terminals at its disposal with features that do not correspond to the low price at which they are found.
The Redmi Note 10 Pro and its properties are ideal for recording at 4K resolution, but in other aspects it also offers above-average performance. A 108 MP camera and a battery with autonomy to give and give away at a price of 280 euros.
Galaxy A52
The Korean brand does not want to miss this party of mobiles capable of running 4K recordings, and what less than to do it with one of its best mid-range.
The Samsung Galaxy A52 incorporates an Infinity-O screen with Super AMOLED panels. Characteristics suitable for playing content. Instead, its main asset is to have an image stabilizer , which guarantees steady captures without movement. Its price is somewhat higher than the previous ones, but you can currently get it reduced for about 270 euros.