Creating presentations can be both enjoyable and frustrating at times. To ensure it remains a pleasurable experience, there are several apps available that can help you create exceptional presentations on your mobile device.
Fortunately, there is a wide range of apps that can make the process of creating presentations enjoyable. Here, we present four of the most user-friendly and intuitive applications that allow you to showcase your knowledge seamlessly on the screen.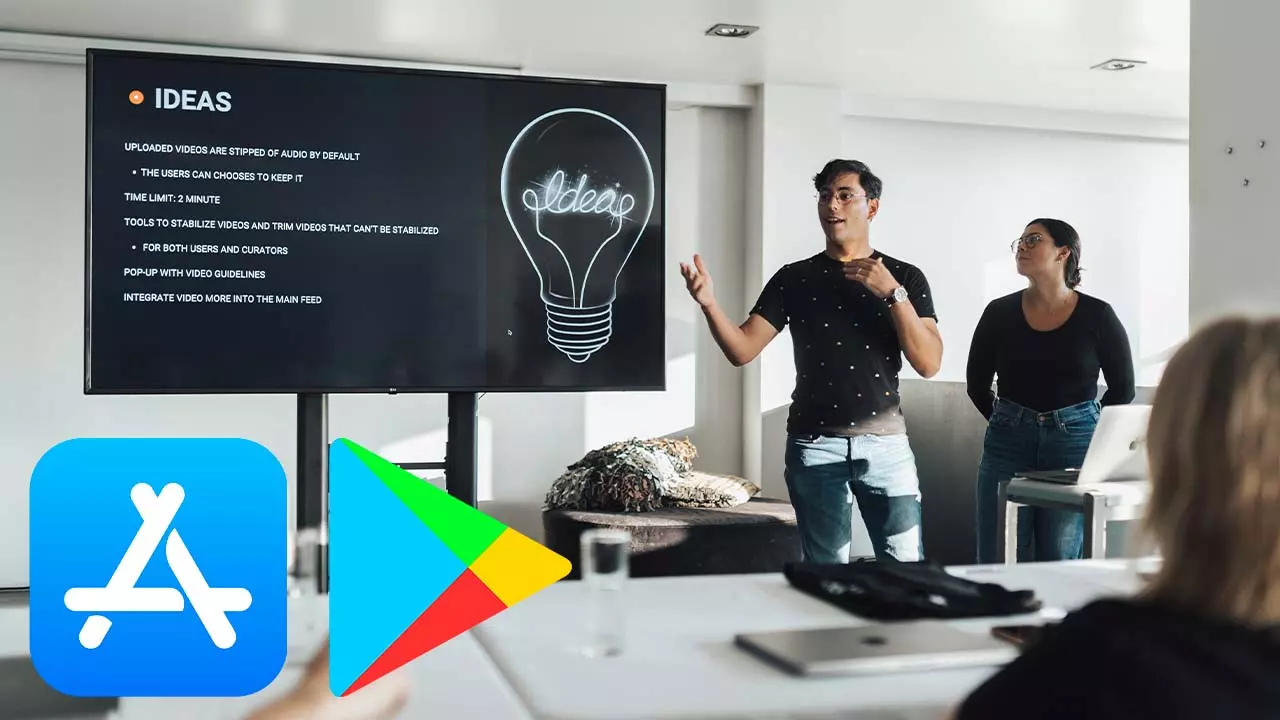 Canvas
Canva has gained global popularity in recent months, primarily known for its extensive design capabilities. However, it also offers impressive support for creating presentations. If you are already familiar with Canva, you are already equipped with a valuable asset for crafting presentations.
With Canva, you can take advantage of its vast collection of presentation templates, making the creation process effortless. Simply choose a template that aligns with your desired theme, and you'll save yourself a significant amount of time and effort. The ability to search for templates based on specific themes further enhances your convenience and allows you to find the perfect design to complement your presentation.
Google Slides
Google Slides, the presentation app by Google, is indeed a great option for creating presentations. While it may not boast an overwhelming number of features, its strength lies in its intuitive interface and user-friendly experience. Google Slides integrates seamlessly with other Google tools, offering a cohesive ecosystem for your productivity needs. With its straightforward design and intuitive controls, you can easily create and customize your presentations, making it an ideal choice for both beginners and experienced users.
One of the most notable advantages of the Google app is its strong emphasis on collaboration. Through seamless integration with Google Drive, it allows you to easily share your presentations with work groups, fostering a collaborative environment. With this feature, creating a presentation together becomes a smooth and hassle-free process. Team members can collaborate in real-time, making edits, providing feedback, and contributing their ideas, all within the same presentation. This collaborative element enhances teamwork and ensures that everyone can actively participate in the creation of a successful presentation.
PowerPoint
The classic PowerPoint app is still a reliable option for creating presentations, and its familiarity makes it a popular choice. With this app, you can effortlessly create engaging PowerPoint slides using your mobile device. Additionally, it offers the convenience of saving your data in the cloud, allowing you to seamlessly transition and continue working on your presentation from your computer. Whether you're accustomed to its features or looking for a trusted and versatile presentation tool, PowerPoint remains a solid and dependable option for mobile presentation creation.
While PowerPoint may be considered familiar, it still offers innovative features to enhance your presentation creation process. One such feature is the 'Ideas' tab, which harnesses the power of artificial intelligence to provide suggestions and inspiration for your presentation design. This can be particularly helpful when you're seeking new ideas or looking to add creative elements to your slides. So, even though PowerPoint may be well-known, it continues to evolve and incorporate AI-driven capabilities to make your presentations more engaging and dynamic.
Visme
While it may appear to be just another presentation app, it offers much more than that. In addition to creating captivating presentations, it provides a wide range of tools for designing infographics and visualizing data. This means that when you need to present data from an Excel sheet, you have the ability to go beyond the conventional options and create visually stunning and engaging visuals, right from your mobile device. Moreover, you can add fun stickers to your presentations, adding a touch of playfulness and creativity to your slides. So, it's not just about presentations, but also about unleashing your creativity and making your content more visually appealing and dynamic.

One drawback of this application is its limited availability, as it is exclusively designed for Apple devices and not available on Android. However, if you own an iPhone, it is definitely worth giving it a try. The unique features and functionalities it offers make it a valuable tool for creating presentations and visual content on Apple phones.