More and more people are thinking of following the Youtubers of their favorite channels and starting in a world that is clearly on the rise. Yes, it is true that dedicating yourself to uploading videos on YouTube requires great willpower, since it requires great perseverance. In addition, it is necessary to have a great desire to innovate and offer something different from what is currently available in the popular video-on-demand service. Of course, you also need a device capable of editing video. And this is where the best laptops to be a Youtuber come in.
The vast majority of youtubers work with two main tools to edit their videos: Sony Vegas or Adobe Premiere . Yes, the two reference video editing programs are the most used. And you need to have a laptop with enough graphics power to be able to support the necessary resources and run these Sony and Adobe developments.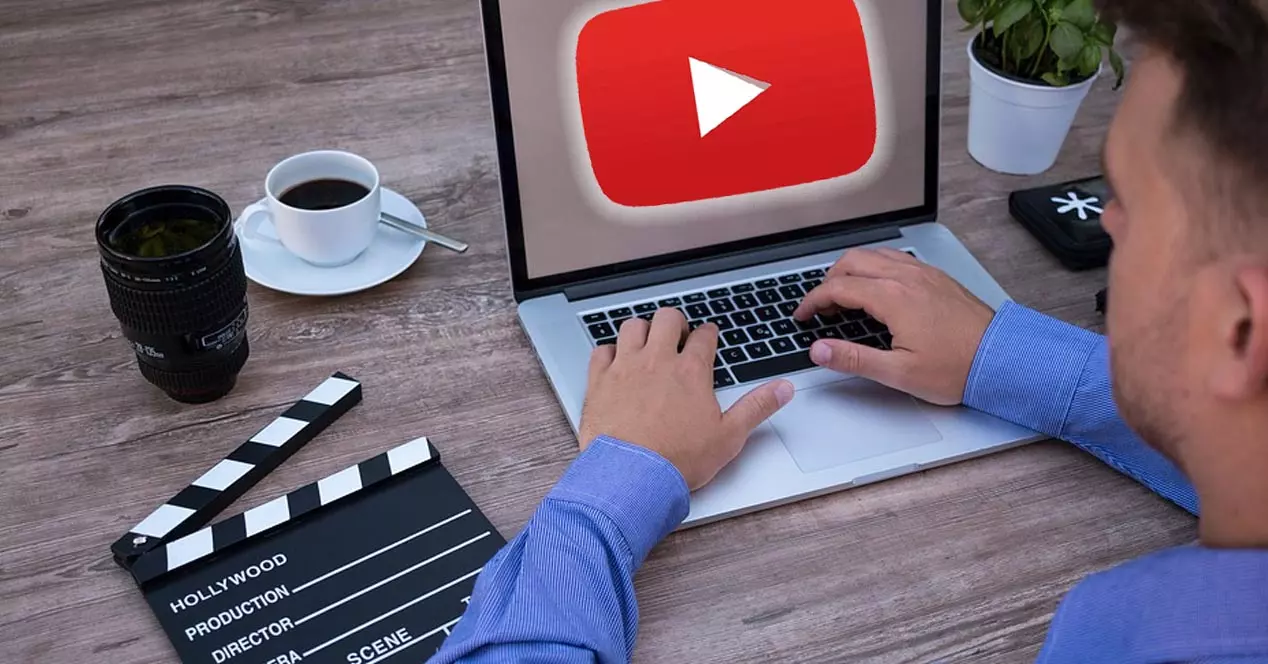 Still, you want to go easy: directly record the video you want to publish and upload it to the Internet. In this case, you can add a cover directly to your YouTube channel. But, we already told you that sooner rather than later you will need to edit your compositions to make them more attractive. And no, not just any computer will do.
Necessary features of a laptop for youtubers
If you're one of those who have messed around inside your desktop computers to get to know all its components in depth and you have some knowledge, you may be able to compose your own computer based on your tastes and needs. Now, the majority of people who start in the world of YouTube or who are looking for equipment for editing photos and videos, usually choose the option of buying one of the models on the market. Of course, they will have to pay attention to certain aspects if they want to make a good purchase.
Screen
We put it first because it is one of the Achilles tendons of laptops. The truth is that we find more and more models with quality screens, but there are still many models that are not up to par. Even more so considering that today high-quality content is handled.
Although the minimum would be Full HD, the truth is that we will have a better experience if we have a 2K screen, although ideally it would be 4K. Now, if you already have a high resolution monitor, there is always the option of connecting it to our laptop. In that case, we will not have problems with the resolution of the team.
CPUs
The processor is one of the hardware components that is most closely related to the performance of a laptop. If we are going to perform video rendering tasks, it is important to choose a chip that is capable of performing this type of task in the most effective way possible. Although we can choose models that have an Intel Core i5 or AMD Ryzen 5, the ideal would be to have a higher range, that is, Core i7 or Ryzen 7. Of course, in any case, we must always make sure that they are of the latest generation.
RAM memory is another of the fundamental elements in our equipment. And in this case, working with videos or large files, it still takes on a greater role. The programs used for video editing tend to suck up a lot of resources, especially RAM, so we recommend having 16 GB of double data rate or DDR, from version 4 onwards.
Now, if we are going to do certain video editing tasks in 4K or higher and 3D modeling, then count on 32 GB.
Graphic card
Although much of the work falls on the processor, the truth is that when we are going to do video editing, it is advisable to bet on a dedicated graphics card. In that case, it is important to check that the card is compatible with the software that we are going to use. The most popular are those from the manufacturer NVIDIA and the AMD Radeon models. Anyone can be of great help, but we will have to make sure that they have at least 4 GB of dedicated memory.
Storage
It is a quite personal section, since not everyone needs the same space to save their videos. However, regardless of the amount we need, what is essential is that we have a solid disk drive or SSD that offers us great read and write speeds. The option of having a main SSD and having a large capacity hard drive to store those files that we do not need to use in our day to day is also considerable.
Price
When we talk about tasks like video editing, which requires powerful hardware, there is no doubt that the investment will be higher. However, today it is possible to find laptops that meet these requirements without spending an excessive amount of money.
Powerful laptops for youtubers
Below we leave you an interesting selection of laptops that have powerful hardware and that are ideal for all those who already have a long journey in the world of YouTube or those who are just starting to take their first steps.
More than 1500 euros
Lenovo ThinkPad T15p Gen 2
It is a model specially designed for advanced users who require a powerful computer. It has a good connectivity section, Windows 10 Pro 64-bit and its measurements are 36.65x25x2.27 cm and 2.07 kilograms.
Screen : 15.6″ Full HD
CPU : Intel Core i7 11800H
RAM : 16GB
Storage : 512GB SSD
Graphics card : NVIDIA GeForce GTX 1650 with 4 GB
Price: 2151 euros
Apple MacBook Pro 2021
Talking about Apple is synonymous with quality, reliability, performance and durability, especially when we refer to the Apple MacBook Pro 2021. A version powered by Apple's famous M1 chip and that, in addition to great performance, has an attractive design.
Display : 14″ Liquid Retina XDR
CPU : M1 Pro
RAM : 16GB
Storage : 512GB SSD
Graphics card :
Price: 2249 euros
Huawei MateBook Xpro
It is the top of the range model of the manufacturer. An ultra-slim computer that has a high-resolution touch screen, powerful hardware and Windows 10 as the operating system. A very compact model and easy to take anywhere.
Screen : 13.9″ 3K
CPU : Intel Core i7 1165G7
RAM : 16GB
Storage : 1TB SSD
Graphics Card : Intel Iris Xe Graphics
Price: 1899 euros
GIGABYTE Aero 15 OLED
It is a team that perfectly meets all the requirements to be used by a youtuber or someone who is dedicated to editing images or videos. Large OLED screen, latest generation hardware and also includes Windows 10 as the operating system.
Screen : 15.6 » OLED UHD
CPU : Intel Core i7 11800H
RAM : 16GB
Storage : 1TB SSD
Graphics card : NVIDIA RTX 3060P with 6 GB
Price: 1804 euros
For less than 1500 euros
Lenovo Legion 5 Gen 6
Although it is a computer designed for gaming, the hardware it has makes it also an ideal model for those who perform video editing tasks almost daily. A laptop with great features and at a fairly reasonable price.
Screen : 15.6 » Full HD
CPU : AMD Ryzen 5 5800H
RAM : 16GB
Storage : 512GB SSD
Graphics card : NVIDIA GeForce RTX 3060 with 6 GB
Price: 1399 euros
hp omen 15
The HP Homen 15 is another model designed for those looking for a laptop to play. However, its powerful processor, RAM, SSD and NVIDIA graphics also make it a great alternative for those youtubers looking for a laptop to edit their videos. This time, it comes without an operating system.
Processor: AMD Ryzen 7-5800H
RAM: 16GB
Screen: 15.6 » Full HD
Graphics card: NVIDIA RTX 3060 with 6 GB
Storage: 512GB SSD
Price: 1299.99 euros.
Lenovo IdeaPad 5 Pro 14ITL6
The cheapest option is this IdeaPad 5 Pro from Lenovo. A 14-inch laptop with a high-resolution screen and hardware that undoubtedly meets most of the expectations of those looking for a computer to edit their videos.
Screen : 14″ 2.8K
CPU : Intel Core i7 1165G7
RAM : 16GB
Storage : 1TB SSD
Graphics Card : Intel Iris Xe Graphics
Price: 1155 euros
which one do we stay with
If you are a youtuber or your work has to do with recording and retouching videos, you will surely work on many occasions away from home or the office. In that case, if you have to carry the laptop from one place to another all day, it is best to have a light and easy to transport model.
Now, that is not all, since it is also necessary that it offers us the best possible performance . That is why a great choice is the Huawei MateBook X Pro , a laptop with a very light and thin aluminum chassis, which is equipped with powerful hardware.
In addition, it is a device with a high resolution and touch screen , so it will allow us to perform certain tasks in the most comfortable way possible. As if that were not enough, it has the multi-screen collaboration function, which allows us to simultaneously display multiple phone applications on the laptop itself.