You've probably heard of WiFi 6 technology that has come to revolutionize the way we connect wirelessly to the Internet. Broadly speaking, it offers more speed, support for more devices connected at the same time and other technologies such as OFDMA, MU-MIMO or BSS that make it the best alternative we have at the moment. As always, operators go at their own pace, since there are dozens of routers on the market with this technology, and they are launching their WiFi solutions little by little. So you can have WiFi 6 with Movistar, Orange, Vodafone, Yoigo or Digi. With prices and router models installed.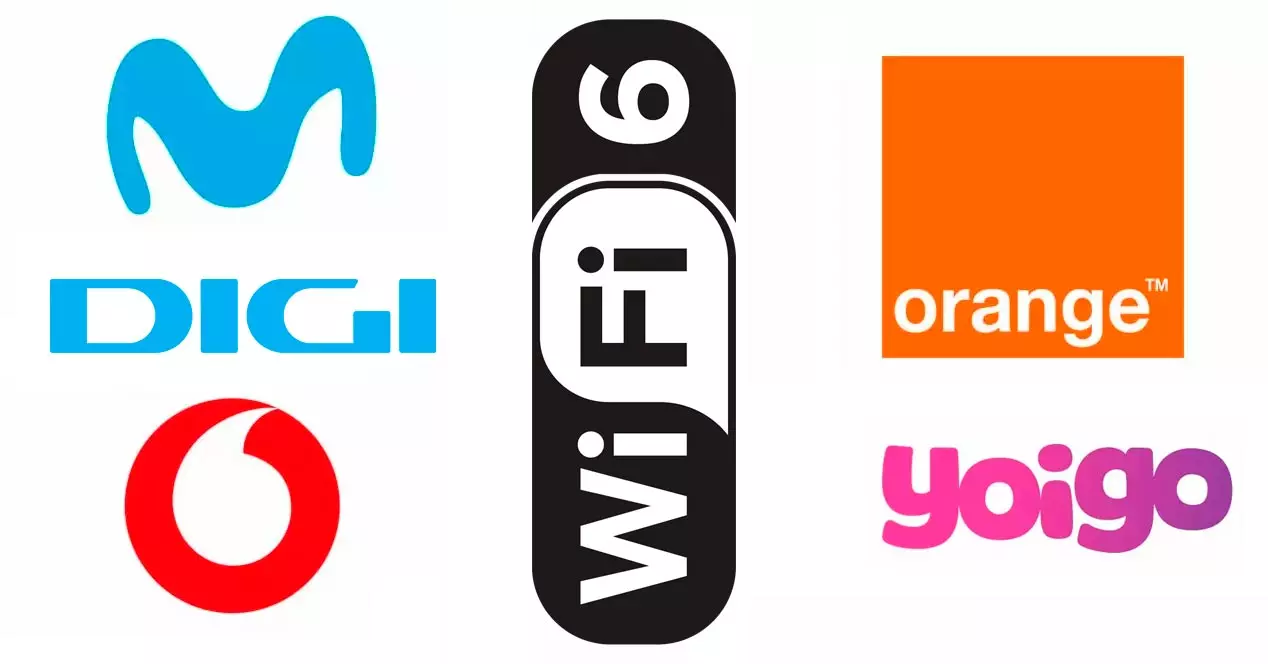 Until now, you are used to talking about WiFi not WiFi ac. However, the WiFi Alliance changed the nomenclature in 2018 to something easier to remember. Now these two technologies are known as WiFi 4 and WiFi 5. The newest, codenamed 802.11ax, is known as WiFi 6. This is incorporated by (almost) all the mobile phones recently launched on the market as well as other devices. The big problem is that we need a router or repeater capable of offering this connectivity and, luckily, operators are starting to catch up.
WiFi 6 with Movistar
Movistar is one of the ones that is taking the longest to have a router with these characteristics. While many expected the more than confirmed xHGU, the operator seems to have other intermediate plans. As we learned a few days ago, the Smart WiFi 6 will be the operator's next router. Unfortunately, we don't have too many details on its price or release date, although it could be the MitraStar GPT-2841GX4X5 v8 .
Meanwhile, customers who want to have WiFi 6 with Movistar should turn to Movistar's Smart WiFi 6 amplifier that can be obtained for 129 euros and has been out of stock for many weeks. The operator promises 30% more coverage and compatibility with WPA3 for maximum security.
WiFi 6 with Orange
Last February a WiFi-6 fiber router was launched for new residential customers or companies with Love Rates of Own / Indirect Fiber 600 Mb or 1GB. This LiveBox 6 has two versions, one with the integrated ONT and another known as LiveBox 6+ for indirect fiber with the ONT separately.
WiFi 6 with Vodafone
Vodafone announced the arrival of a model some time ago, but it was not until well into 2021 that we had news of its commercial launch. The operator is offering two possibilities to have WiFi 6. The first is the Sercomm RHG3006 router, better known as Vodafone WiFi 6 Station. It is available for FTTH / Neba customers, but not for cable footprint or with Unlimited Home or Super WiFi. The monthly cost is 3 euros and it will be 9 euros for shipping costs (or 40 euros if we need a technician).
The other alternative is Super WiFi 6, which is offered to all new customers who sign up for a Vodafone One Home Unlimited rate. These will receive two WiFi extenders at no cost, although if they need more, they can add additional units for 3 euros each. The repeaters are the AirTies Air 4960 model, with a speed of up to 4.8 Gbps.
WiFi 6 with Yoigo / MásMóvil
Yoigo boasts of being the first operator to offer a WiFi 6 router in Spain with the launch of the Comtrend WiFi 6 GRG-4280us . This would be installed since October last year in a testing phase. Some customers are receiving it, although the operator has not announced the definitive launch of the model, price or conditions to get it (or that they install it from scratch).
WiFi 6 with Digi
Digi's 10 Gbps PRO fiber works through XGSPON, forcing the Romanian operator to supply its customers with a new router that is compatible with this technology. How could it be otherwise, this device, the Zyxel AX7501-B0 , has WiFi 6 and maximum speeds of 6 Gbps. The NEO WiFi service allows, for 2 euros per month, to have Mesh WiFi with WiFi 6 coverage.
Models Summary
Dated September 2021 and in the absence of some announcements that should arrive before the end of the year, these are the WiFi routers and repeaters offered by the main operators in our country. A note: all of them offer only these models in their main brands, nothing that they are a possibility in O2, Jazztel, Lowi or Pepephone .
| | | |
| --- | --- | --- |
| Operator | Router | WiFi / Mesh repeater |
| Movistar | MitraStar GPT-2841GX4X5 | Smart WiFi 6 |
| Orange | LiveBox 6 | – |
| Vodafone | Sercomm RHG3006 | AirTies Air 4960 |
| Yoigo | Comtrend WiFi 6 GRG-4280us | – |
| Digi | Zyxel AX7501-B0 | NEO WiFi |