The next season of LaLiga de Fútbol , which starts on August 12 with a match between Osasuna and Sevilla. With only a month to go, it's time to do the math on how much it's going to cost to watch national football if you're an Orange, Movistar or DAZN customer and what's more profitable.
Until the 2026/2027 season, LaLiga's television rights have been divided between two platforms: Movistar Plus+ and DAZN, so there is a paradigm shift that we will see if it will also be reflected in the pocket.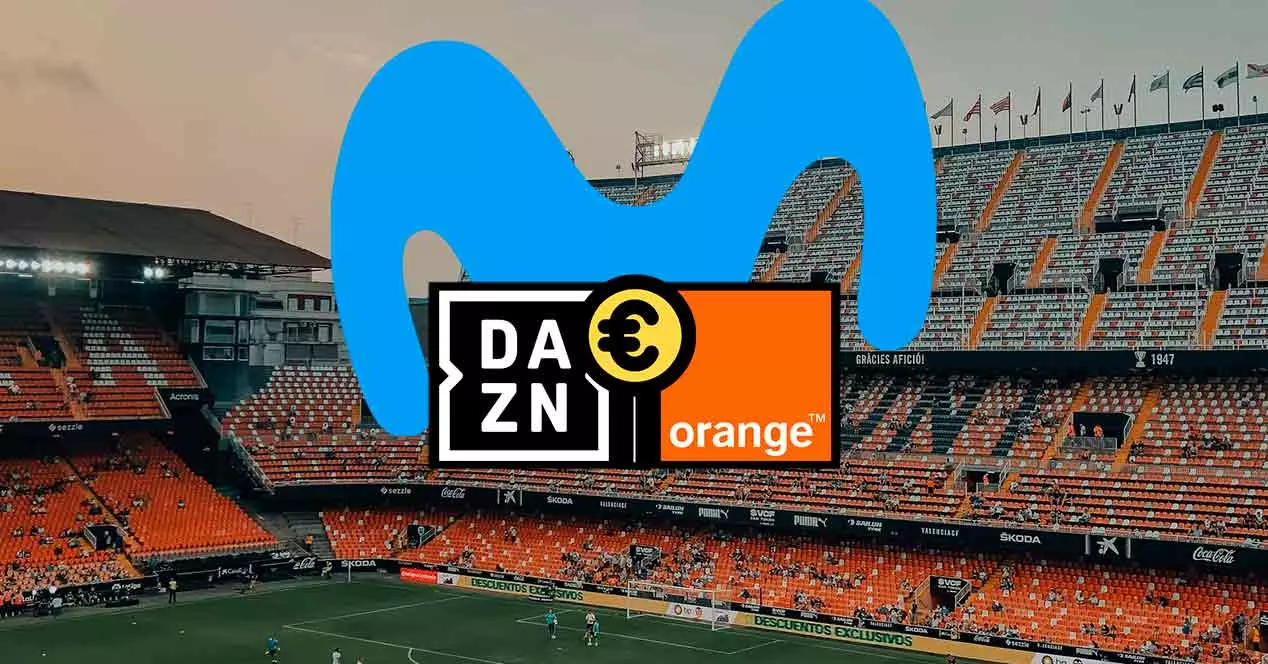 The cost of football in miMovistar
Last May, the arrival of the miMovistar rates, which replace Fusion, became official. As you have to choose a type of connectivity, a mobile line and the Movistar Plus+ Essential television package, the entire set to watch LaLiga costs 94.90 euros per month divided into the following minimum concepts:
300 Mbps fiber + 30 GB mobile line: 54.90 euros per month.
Movistar Plus+ Essential: 10 euros per month.
LaLiga package: 30 euros per month.
With the current promotion with 4 months with a 25% discount, in those first four monthly payments the price would be 69.90 euros per invoice.
New DAZN LaLiga package
In the event that you want to see only half of the competition that they offer during 35 of the 38 days of the Santander League (Movistar will have 3 exclusively), the price to pay will be 18.99 euros per month . Adding this package to your current subscription will make you have DAZN Total at a price of 24.99 euros per month or split an annual subscription to stay at 19.99 euros per month.
It is true that DAZN will only offer half of LaLiga in those 35 days. It was expected that the agreement by which the portion of DAZN will be available on Movistar Plus+ would be reciprocal and the clients of the streaming platform would be able to access the full offer, but in the end it was not to be.
As DAZN will broadcast 175 games per season of the 380 that make up the National League Championship, we can consider that it has 46% of the LaLiga pie . Extrapolating its price, watching all football on DAZN would cost 41.28 euros per month for comparison with 100% of the single package for football.
Will it be possible to see all of LaLiga in Orange?
The great unknown at the moment is the orange operator. It has already reached an agreement with DAZN so that Orange TV customers will be able to enjoy the sports content provided by DAZN starting in August, both on a specific linear channel available on Orange TV decoders, and through the Orange TV app. DAZN, also available on decoders, as well as on Smart TVs and mobile phones.
The orange operator has also renewed the agreement reached with Movistar last season when this was the only one with rights to broadcast LaLiga in our country, with a second agreement with Movistar to receive its football channels, both its part of LaLiga and the Champions.
Orange, for the moment, maintains its packages to watch soccer with the same prices and conditions. If there were no changes for the new start of these competitions, Orange would continue to manage the lowest prices compared to Movistar.
Taking last season's data as a reference, the best Orange rates to watch football are limited to three with prices already fixed: Love Total (95 euros per month), Love Total Plus (110 euros per month) and Love Total Plus with four lines (130 euros per month), including all fiber, fixed and mobile with unlimited data and calls.
It will be necessary to see if the fact of reaching two different agreements with Movistar and with DAZN affects the final price of the football packages.