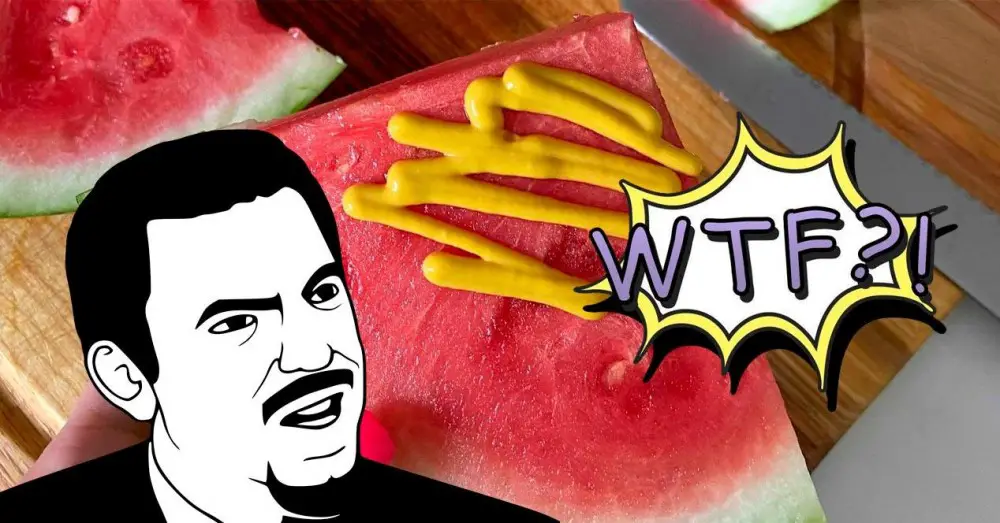 The number of challenges that have gone viral on the Internet are countless and have been imitated by millions of people. Although sometimes challenges have been made viral that can become dangerous to health or that cannot be imitated by people of all ages, this time it has been viralized in the famous Chinese social network TikTok nothing more and nothing less than eating watermelon with mustard . A strange mixture that seems not to be unpleasant on the palate.
This fun and curious challenge has nothing to do with others that went viral at the time, such as the famous cinnamon challenge that could cause suffocation or the ice and salt challenge that caused skin burns. The challenge of the shell was also popularized, which consisted of eating a food with its shell included, whether it was any fruit or, for example, an egg.
The origin of this new challenge
Like any viral challenge, this one began with a person uploading the video eating this curious mixture to his TikTok profile. In fact, it was the first video uploaded to the platform. In this case, it was the Asian user @yayayayummy, who has almost 180,000 followers on this social network. If we look at the profile of this person, we can see how all his publications are based on mixing two foods that seem impossible to put together and taste, such as noodles with peanut butter or strawberries with wasabi.
Currently the video has 2.3 million views and almost 200,000 "likes", in addition to having almost 19,000 comments. The popularity of this video was such that even the singer from the United States Lizzo decided to imitate it on her personal TikTok profile. The rapper did not seem to be completely convinced at first, but then she repeated on more than one occasion, so she must not have been upset by this mix.
@lizzo

#stitch with @yayayayummy ummmm I ended up just eating it w tajin 🤭
Other challenges that went viral on TikTok
When the COVID-19 pandemic began last March 2020, TikTok was one of the biggest trends to hang out while we were locked in our homes. It was for this reason that many viral challenges arose on the platform. Another trend was to exercise, so both were combined and the challenge called "plank challenge" emerged, which consisted of doing an abdominal plank to the rhythm of the song Pretty Girl by Maggie Linderman. Footballers around the world also made viral a challenge that consisted of giving 10 taps with the foot to a roll of toilet paper.
However, not all challenges have a fun or familiar touch but they also serve to raise awareness. For example, "The Real Challenge" emerged, which consisted of explaining the consequences of people who have suffered bullying and why it is important to stop it. With this challenge, many influencers took the step and shared their personal experience.