You don't have to spend a lot to have a good 5G mobile with a lot of storage. In fact, you will find models that offer you all this and much more for prices ranging from 200 to 400 euros.
If you want to know what they are and find out about the most outstanding smartphones of the moment that give you everything you need for your day to day, providing you with the best possible performance for little money, keep reading.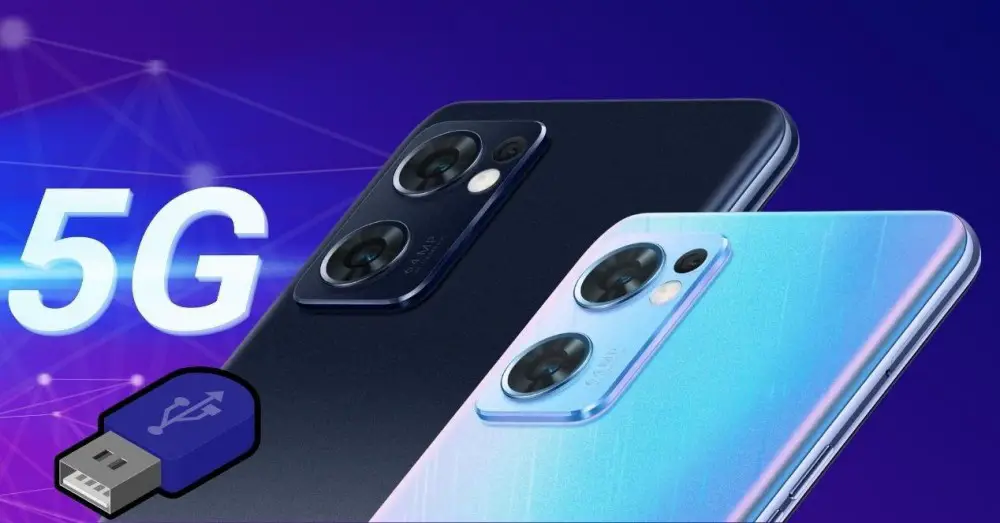 7 cheap mobile phones with 5G and plenty of memory
Any of these smartphones are a good purchase option today due to their good price, excellent features and the best 5G Internet connection speed. Discover the most outstanding of the moment to find the one that you like the most.
OPPO Find X5 Lite 5G, the most powerful
This is a mobile that has everything you need, with maximum 5G speed, 8 GB of RAM, 256 GB of storage and a great 64 MP camera for less than 400 euros right now. Its battery is of high autonomy with 4500 mAh with fast charge of 65W.
OPPO A77 5G, with expandable memory
With a great processor, 6 GB of RAM and 128 GB expandable up to 1 TB , this OPPO 5G mobile offers you everything you need and more. Its screen is 6.56 inches HD +, its camera is 48 MP and it has a long-lasting 5000 mAh battery with 33W fast charging. It also has an ultra-linear stereo speaker that is amazing for your movies, series and whatever you need.
Samsung Galaxy M23 5G, great screen and excellent performance
For much less than 300 euros, you will find this Samsung model with 4 GB of RAM and 128 GB of storage. Its elegant body and design will impress you, although one of its great attractions is its 50 MP main camera capable of taking great photos. It is a 5G model that provides you with a completely new mobile experience and will allow you to download ultra-fast, to which its Snapdragon 750G processor contributes.
Its screen is 6.6 inches with a refresh rate of 120 Hz and it has a battery for the whole day thanks to its 5000 mAh.
Galaxy A23 5G, the cheapest
One of the cheapest Samsung phones with good features is this, with 4 GB of RAM and 128 GB of storage, as well as the best 5G technology so you can enjoy games and the Internet at the best speed inside and outside the home. You will have it for 233 euros.
Google Pixel 6a, good camera and many updates
This Google model is widely recognized for being one of the best purchase options in the mid-range for its large 12 MP camera, 5G technology , its high-performance Google Tensor processor, many upgrades, and a 24-hour battery life at a very good price. Its RAM is 6 GB and it has 128 GB of storage. Right now it is on sale at only 339 euros.
POCO X5 5G, best value for money
If you are looking for good cheap mobiles, this POCO is a success thanks to its excellent features for less than 300 euros. It stands out for its large 6.67-inch AMOLED screen with a 120 Hz refresh rate, 6 GB of RAM and 128 GB storage .
Enjoy maximum fluidity and the best Internet access speed thanks to its 5G technology, which will reduce latency in games to a minimum. Its battery is 5000 mAh with 33W fast charge. You will love its triple camera system with a 48 MP main camera.
Redmi Note 11S, the best seller
A Xiaomi model that stands out for its price of just under 250 euros with 6 GB of RAM, 128 GB of storage and great features. Its processor is MediaTek Dimensity Helio G96 to fully enjoy everything you do with your mobile, also with 5G networks you can play, watch movies or download what you want at maximum speed both inside and outside the home. Its camera is 50MP and it has a 5000 mAh battery for the whole day with fast charging of 33W Pro Fast Charging.