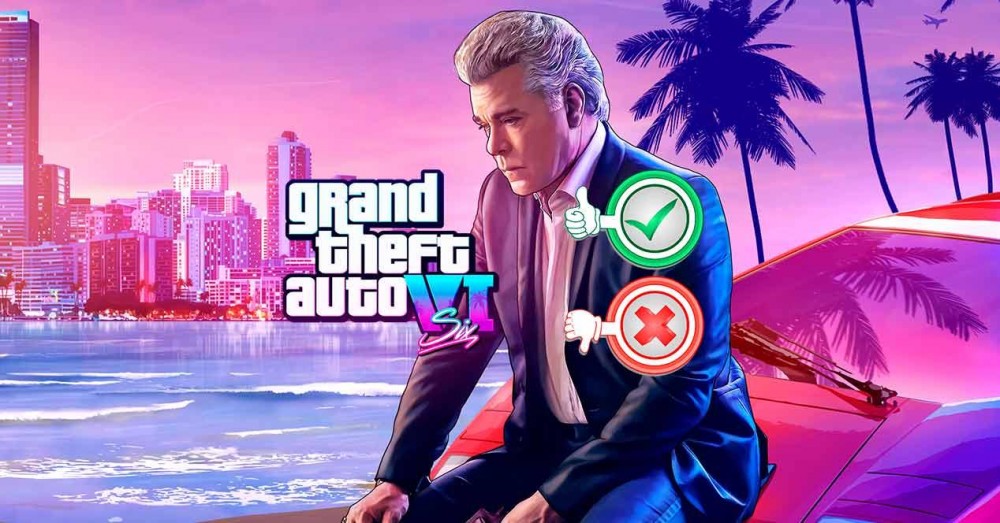 As is often the case with all Rockstar Games developments, GTA 6 is one of the most anticipated video games and that hasn't even been announced as such yet. That is why fans are eager to know any possible details about the new installment of the quintessential sandbox, but that also means that on many occasions some fake news has slipped in.
Do we know anything for sure about the new Grand Theft Auto ? What do we believe to be true and they have slipped us with false information? Let's try to put some order in the future of GTA.
What we know about GTA 6
At the moment, we can't even say that GTA 6 has been formally announced. Rockstar Games has indeed acknowledged its development, but did so a bit behind the scenes talking about GTA 5 for the new generation in a blog post on February 4, 2022.
"With the unprecedented longevity of GTA V, we know many of you have been asking us about a new installment in the Grand Theft Auto series. With each new project we embark on, our goal is always to go far beyond what we've previously achieved, and we're pleased to confirm that active development for the next entry in the Grand Theft Auto series is underway . We look forward to sharing more information as soon as we are ready."
That " we look forward to sharing information as soon as we're ready " hasn't happened yet. The main windows in which big announcements are usually made (E3, Gamescom, Tokyo Game Show) have already passed and there has been no word from Rockstar, which continues to release content for GTA V, so it does not seem that they will be in a great hurry either. . The last opportunity of the year could be The Game Awards, although the most powerful developer in the world would not need much more than a trailer released on their channels when and how they want to burst the Internet.
What we can take for granted, although not by the mouth of Rockstar, is that this installment will be released on the new generation consoles as soon as the development is already advanced. Both Xbox Series X/S and PlayStation 5 were launched in 2020 and it seems that a few will pass until there is a generational change. GTA V (originally on PS3 and Xbox 360) was released at the end of its generation, so they may repeat the game, considering that Take-Two's release plans were made public between fiscal years 2023 to 2025 and Grand Theft Auto VI is not among them.
Tom Henderson

@_Tom_Henderson_

Take-Two's FY23-FY25 Pipeline outlined: https://t.co/kZEf8xgpvL

September 14, 2022 • 14:03
Summing up, at the moment we only know two details about GTA 6: that its development has already been officially confirmed (although in that way) and that it would come out, barring a catastrophe or a very short generation of consoles, for PS5 and Xbox Series.
jason schreier

@jasonschreier

Rockstar removed transphobic jokes from the most recent re-release of GTAV and quietly canceled an online mode called Cops 'n' Crooks after the George Floyd protests. Grand Theft Auto VI will have a female Latina protagonist — the first playable woman in modern Rockstar history

September 14, 2022 • 14:03
Considering the credibility of the source, Jason Schreier of Bloomberg , we might as well believe that GTA 6 will feature a Latin female character and a Bonnie & Clyde storyline , but all of this is up in the air until there is confirmation or official denial.
Misinformation about Grand Theft Auto 6
That there is so little really confirmed data has not been an obstacle for all kinds of alleged leaks to have emerged. One of the most talked about just a few weeks ago was the appearance of a supposed first trailer for GTA VI on the Rockstar Games YouTube channel.
GTA 6 NEWS & LEAKS

@NEWSLEAKSGTAS

GTA VI's 1 min 53s trailer is up on R*'s YT channel. Apparently. Obviously it's hidden and locked. I typed in the link and the onscreen message says 'This video isn't available anymore'. #GRAINOFSALT #COULDBEFAKE #COULDBEREAL #INSPECTELEMENT #ISABANNEDWORD #GTA6 https://t.co/kOvXFUVbra

September 14, 2022 • 14:03
With a duration of 1 minute and 53 seconds, images of that video even appeared on YouTube. Coincidences of life, when trying to access it, there was a message that said that video was no longer available.
One of the main unknowns is the setting. It has been said many times that it would be in Vice City (the fictional city set in Miami), but for now, even if it is one of the possibilities (the GTAs are mainly set in Liberty City/New York, San Andreas/California or Vice City /Miami), taking this for granted is pure speculation. Ned Luke, the actor who plays Michael in GTA V, already said it:
@SWEGTA @BadgerGoodger Even the man himself said it. #GTA6 https://t.co/NfgCqWSHEU

September 14, 2022 • 14:03
They say that GTA VI will take place in Vice City. How do these people get all that information? People, do not you get it? Don't believe anything you see on the internet from BossMan, FuckTheWorld, or whatever his name is, or any of those guys. Don't believe those guys, they don't have insider information, it's clickbait. If you hear it from Rockstar you'll know."
Some of these alleged leakers stated that Rockstar would present Grand Theft Auto 6 through an announcement or trailer on May 12 or 13, 2022. The date passed and Rockstar Games did not present anything more than a few weekly updates for GTA Online.
A possible map was even revealed through data obtained from a patent . In short, the patent describes a system that allows R* to seamlessly switch a player from one session to another without a loading screen. This means that if you are flying from one area to another, during that time you will switch to a new session without any load, so it goes without saying that the map will be divided into different sessions, giving the illusion that the map is populated with hundreds of of players at the same time.
This gave rise to a conceptual image of how this system could work on a game map, and that image posted on Reddit ended up being considered valid as Rockstar's map for GTA 6 , without any of the 24 pages of the patent application showing any image.
Matheusvictorbr-

@Matheusbr9895_

Some are wondering what the map of the upcoming Grand Theft Auto title will look like on Earth.

At this time, the map is so big when it comes to the RDRII, I saw that the Caribbean Islands will even be there, but not the world is open to it.

September 14, 2022 • 14:03
Also the size of the map has been the subject of theoretical leaks that are nothing more than obvious, such as that it will be a huge map, something that has happened in the last two Rockstar games, GTA 5 and Red Dead Redemption 2. "Some ask what the land dimension of the map of the next Grand Theft Auto title. As far as I know at the moment, the map is as big as the one in RDR 2, I've heard the Caribbean islands will be included , but not in the open world itself."