The manufacturer QNAP has launched a new NAS server with very good performance that is specifically designed for home and SMB environments. The new QNAP TS-451D2 ranks a notch below the QNAP TS-x53D that we have reviewed in this article earlier, and which had 2.5GbE ports to transfer data at maximum speed. Do you want to know what this new QNAP model is capable of?
Main technical characteristics
The main feature of this NAS server is its powerful processor, it has an Intel Celeron J4025 processor , a 2.0GHz dual-core CPU , but it can reach up to 2.9GHz thanks to Turbo Boost, it has 64-bit x86 architecture, and acceleration hardware encryption. That a processor incorporates hardware encryption acceleration is essential to achieve very good performance when we use protocols such as FTPES, SFTP, and even when we create encrypted volumes, as it will speed up the encryption and decryption process with AES. Another very important feature is that this processor incorporates hardware accelerated transcoding , so we can make the most of Plex Media Server with Plex Pass and turn this NAS into a true multimedia center.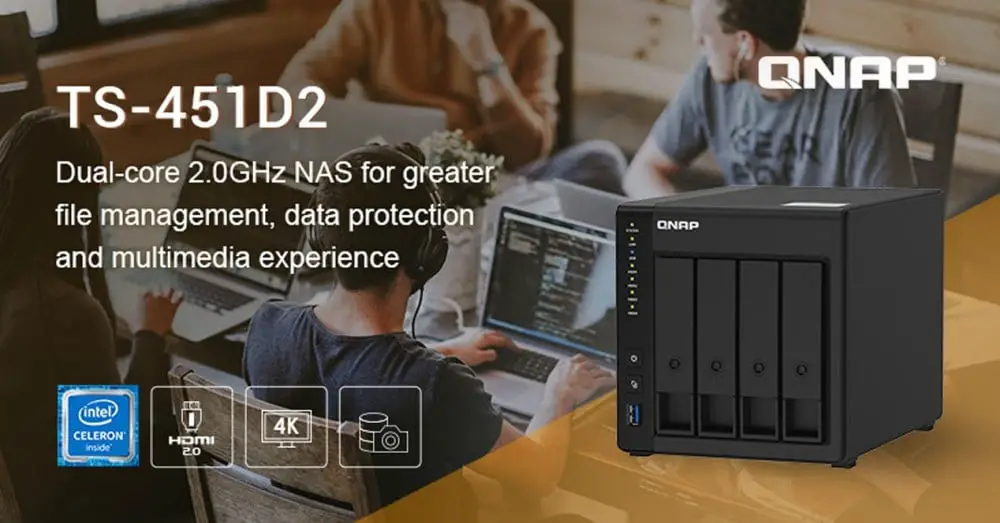 As for RAM, we have a total of 4GB of DDR4 SO-DIMM RAM but it can be expanded up to 8GB of capacity (2 x 4GB), this equipment also has a 4GB FLASH memory where the operating system will store for protection dual boot OS.
This new NAS server incorporates a total of 4 bays to house 3.5 "and 2.5" hard drives, it also supports SSD drives to use as cache acceleration and greatly increase read and write performance. The drives are hot-removable, as is common in this type of NAS servers.
Regarding connectivity, we have two Gigabit Ethernet ports that can work with the Link Aggregation protocol, this means that we will be able to achieve speeds of up to 2Gbps in the local network, in addition, thanks to its «Virtual Switch» software we will be able to perform various configurations to define a port as backup, the two assets, and even install an operating system oriented to routers and a firewall such as RouterOS or pfSense to have even more functionalities.
This QNAP TS-451D2 NAS has a high-performance USB 3.0 port on the front with a backup button, we also have a total of 3 USB 3.0 ports on the rear, and even an HDMI 2.0 port that is capable to broadcast in 4K resolution and use the NAS as a true multimedia center and connect it directly to the TV.
As for the software of this NAS server, we have the same QTS operating system as always, with which we can configure storage pools in different RAID levels, possibility of creating one or more volumes, encrypting the data volume to have the best security , configure SSD cache acceleration, snapshots to protect data correctly in case of disaster and many other options available. Of course, we can install additional software from the App Center, such as HBS3 for backups, Plex Media Server to get the most out of the processor, and even Virtualization Station to virtualize operating systems on the NAS itself.
We recommend you visit our analysis of the QNAP TS-1277 to see what a top-of-the-range NAS server from the manufacturer is capable of. You can enter the official website of the QNAP TS-451D2 where you will find all the details.