For a few weeks I have been testing the Panasonic Lumix G100 , a camera focused on vlogging with interesting features and some other section that, perhaps, does not convince at all. If you are interested in it or looking for a new camera to vlog, let's talk about the user experience.
The Lumix G100 is a camera focused on vlogging. Ideal for all content creators looking for a device that offers quality, versatility and is also comfortable to always carry. Under that premise, the truth is that the Panasonic product performs quite well.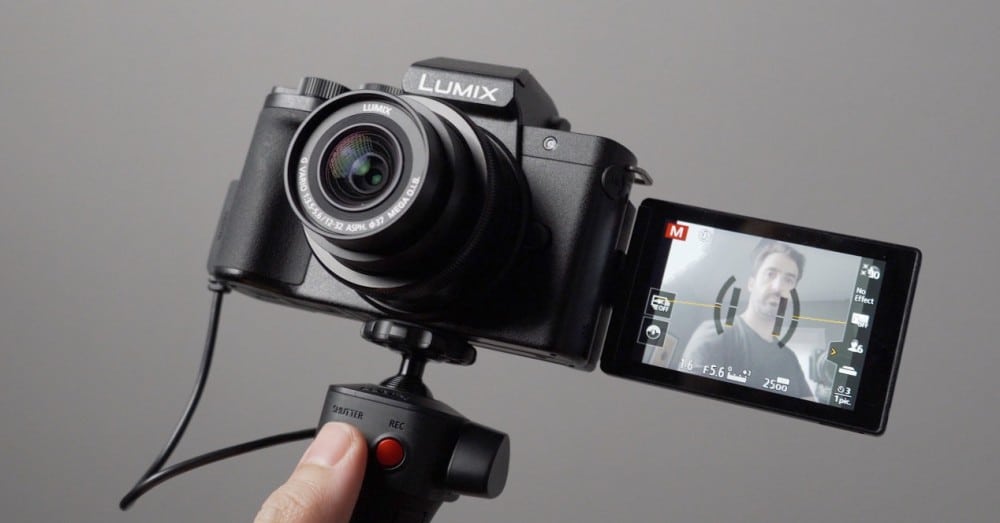 Especially on the issue of not being limited. This is thanks to the possibility of using different types of lenses. Thus, if you need a powerful zoom you only have to change the lens. and do it again if you need an ultra wide angle later.
However, let's start at the beginning, the main features of the new Lumix G100:
Micro four thirds camera with 20 MP sensor
ISO 200-25,600 values
Stabilization system in the body
3 "articulated screen
Video recording at 4K and 30p maximum resolution
Slow motion at a maximum of 1080p and 120 fps
3.5mm external microphone input
Nokia OZO Audio Recording System
WiFi and Bluetooth connectivity
Weight 352 gr
Dimensions 116 x 83 x 54 mm
Once all this is known, let's first see how it is at the design level and then the user experience it offers, the audio and video quality.
Compact and lightweight, ideal to always carry with you
One of the requirements that is often asked of a camera for vlogging is that it be comfortable to wear on a day-to-day basis. In this sense, Panasonic's proposal complies, although it is not the most compact of all the options for this type of use. For example, the Sony ZV-1 is more attractive in that regard.
The good thing about the Lumix G100 is that it offers interchangeable lenses and with the kit lens or a pancake type it is very comfortable and light to carry on a daily basis. It is easy to store in any backpack or bag and you will not notice its weight. But if your recording requires another type of look, you can change the objective and solved.
In addition, being a little larger also has advantages, with a more effective grip and the possibility of having a series of buttons and larger dials. Although in that section, despite having liked the experience of use, taking into account the size an additional dial would have been good with which to be able to make certain adjustments much more quickly.
The good thing is that the buttons in general can be customized and the own touch interface that you access from the articulated screen solves quite well when you want to make quick changes in the settings.
Honestly, it is a camera that is well thought out, is comfortable and weighs little. In addition, details such as the articulated screen or including that mini tripod as standard (with its respective buttons to control recording or taking a photo) are a success.
4K video recording, but with limitations
Speaking of image quality, both photo and video, here again Panasonic demonstrates all its experience. The Lumix G100 is a small camera, but very capable . From the start it is capable of recording 4K video at 30p.
The problem is that the recording is limited in time. The maximum you can record at 4K 30p resolution is 15 minutes , while in FHD at 60p it will be 20 minutes. This is a physical matter, to avoid problems internally. But taking into account how are the recordings for content type vlog, the truth is that there should be no problem.
Another thing is that if you use the camera to record other types of video, you will have to control this issue. Because if not, there may be times when you talk for a long time and then you find out that you only recorded the first 15 minutes.
To solve this problem Panasonic has introduced a visual aid in the articulated screen. When you record yourself on the screen a red frame appears with which you know that the camera is still recording. If you see it off, you will have to start over from where it stopped.
For the rest, it is neither a GH5 nor a G90, so its 20MP sensor offers some limitations. But I leave you with some photos so that you can value for yourself.
Anyway, the strong point of the camera is the video section. Here its different resolutions, slow motion options and the ability to record with the V-Log L profile do a lot. The latter especially because it allows you to get a greater dynamic range from the sensor and obtain more striking results in post-production. This profile comes installed as standard, you do not have to pay for any type of free firmware.
So, as a video camera it is surprising. Although its biggest problem is still in the autofocus system . Compared to other proposals it has improved, but there are still times when it goes completely without much reason. So keep that in mind if you wear lenses with a large aperture, because it will be much easier to lose focus.
OZO Audio, what is it exactly?
Regarding the audio recording, here it must be admitted that it is interesting and at the same time a bit unnecessary. But first, what is this from OZO Audio.
OZO Audio is an audio recording system that Panasonic has introduced in the G100 and was born as a collaboration between them and Nokia. Through several microphones they capture all the sound that surrounds the camera . Although the interesting thing is that it can be configured so that it only picks up the sound from the front, the back or does it intelligently.
In other words, when in Auto mode the camera only captures the audio of the person it is detecting. And if there are two, then it not only focuses on that person but also changes in focus from one to the other. Something interesting when the two people are within the same frame but in different shots.
So, it has its interesting point, ideal if you like to generate that ASMR effect, but it is also true that for a classic production better a canon mic and forget about these things that are possibly making the total price of the product more expensive.
Lumix G100, a great camera for vlogging
The Lumix G100 is a very good camera for vlogging. It is compact and comfortable, offers a very good video quality and in general everything that vloggers usually need. The only problem is that your autofocus system still needs to be sharpened a bit more. If they succeed with future software updates, you are in front of a very capable option. Where the use of interchangeable lenses is its main value.