The arrival of Android 12 brings us more news in the different software layers of the various smartphone manufacturers, in this case we find that OPPO has already released each of the new functionalities that we will see with ColorOS 12 . The best of all is that there are many new features that we will enjoy with this update of the Chinese firm's system.
The mobile device firm has calculated to bring this version of its operating system to some 150 million users around the world. And its goal is for it to be the fastest and also have the longest reach to smartphones in the history of the brand. Of course, it must be borne in mind that, as with each new version, it will progressively reach OPPO phones.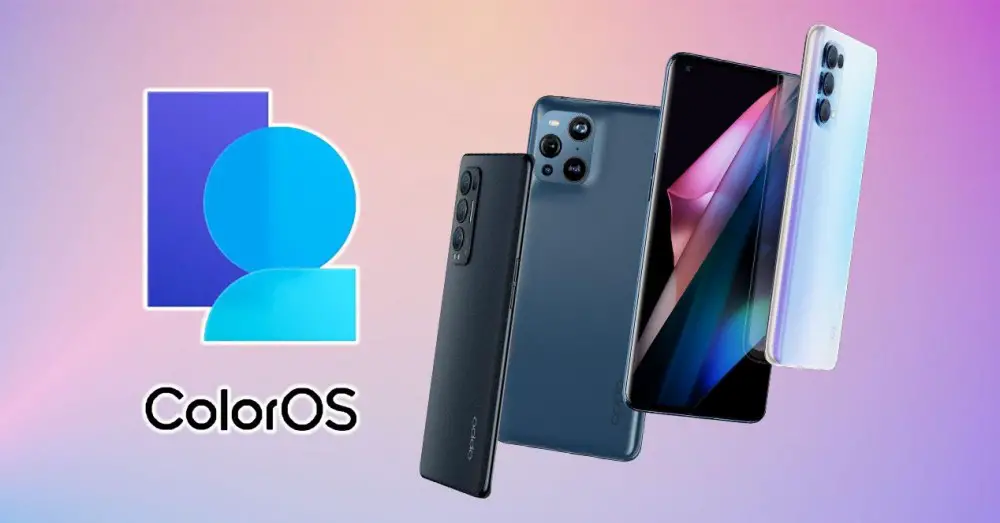 All its news
The Asian smartphone firm has decided to focus the arrival of ColorOS 12 under four fundamental pillars : renewed design, improve the efficiency of smartphones, greater privacy protection and a more fluid user experience. Therefore, it is time to see what they hide within one of these central areas that OPPO has set itself with the arrival of this version of its operating system.
Design changes
With the arrival of ColorOS 12 we will find that the design of this is made even simpler than ever, that is, we will have a cleaner and more orderly layer that will allow users to focus more on the information they are looking for at any time. And, one of the ideas of the brand is to simplify the designs of the entire interface, including the icons of the corresponding applications. The manufacturer's goal has been to give its users a more orderly environment with more space between components. Therefore, we find the following points:
More spacing to reduce the density of the information.
The information will be read more easily thanks to the use of larger fonts and a greater contrast between the text. Also improving the navigation between the menus.
Bright colors have been used to highlight primary information, while dark tones have been used for less relevant information.
OMOJI
Although we will not only see changes in the interface, but as one of the great novelties that the Asian brand brings us, we come across the arrival of the OMOJIS. This has been the name that OPPO has given for its new 3D animated emojis and that we can use thanks to the face capture included in the system itself, that is, its Face Capture technology.
In this way, we will be able to create our own Omojis and personalize our interaction with other users. Therefore, we can add the color of skin, hair, eyes and others that we want, as well as other parts of the face. It can even be used in the Always On Display feature, although it won't be available until ColorOS 12.1.
However, this functionality will not begin to be operational until December 2021. In addition, it will not be available for all countries from day one of its launch. These are the regions that will not be able to enjoy OMOJIS from the first moment, so it will not be available in the beta version either:
Austria.
Belgium.
Croatia.
Cyprus.
Czech Republic.
Denmark.
Estonia.
Finland.
France.
Germany.
Greece.
Hungary.
Ireland.
Italy.
Latvia.
Lithuania.
Luxembourg.
Malt.
Netherlands.
Poland.
Portugal.
Romania.
Slovakia.
Slovenia.
Spain
Sweden.
United Kingdom (England, Scotland, Wales and Northern Ireland).
Always On Display 2.0
Among other novelties in this update, we find that it also comes with a new version of Always On Display (AOD), also known as Always-on display, although this time it has been called 2.0. So, on this occasion, we will have a greater variety of customizations to adjust even more and in a way never seen before this functionality of OPPO smartphones. Of course, you must bear in mind that this functionality is only available in those models that have AMOLED screens .
Accessibility 2.0
Not only do we find an AOD 2.0, but the accessibility section also came with important changes to improve the use of the Chinese firm's smartphones. Not only will we have a clearer and more visible interface , but the functions will be classified into:
Visual.
Audio.
Interaction.
General.
Likewise, descriptions will be given that are more understandable by all types of users, and even a visual demonstration will be given so that all people can learn step by step to use the different functionalities such as TalkBack, Extension, among others.
PC Connect
With PC Connect , a mirroring of the mobile on the screen is achieved to receive calls, copy texts, use mobile apps on the computer screen, among other functionalities. Specifically, this new interconnection functionality between a phone and a computer can transfer speeds of up to 45Mbps from the phone to the computer and vice versa.
Of course, there are minimum requirements for it to work on our computer: that we have a version of Windows 10 or higher, it needs to be compatible with the Wi-Fi Direct function, the network card driver must be from October 2018 or a newer version and supports Bluetooth 4.1 or higher. And, most importantly, it won't be available until February 2022, at the earliest.
Battery panel
Starting with this software version, the information that will be displayed about the battery of the Asian company's smartphones will be more detailed than ever. And all with the aim of visualizing it in full, also showing different graphs so that users can know how much energy has been used.
Also, we will enjoy a battery section with which energy consumption problems can be detected and a function to extend the battery with a single touch. In addition, we have recommended actions to be able to continue saving even more battery and other optional actions.
More efficient options
ColorOS 12 also adds Phone Manager to quickly access essential settings, such as memory savings, system optimizations, privacy options and device security as can be seen in the following images.
And not only this, but it continues to incorporate FlexDrop , a tool that was introduced in ColorOS 11, which was added to increase productivity, as it helps to make multitasking on the smartphone more effective. And, as a last novelty, some gestures are added to the phone such as the possibility of using 3 fingers to translate texts via Google Lens.
Security enhancements
With Android 12 , importance has been given to user privacy , which is why in this version of the OPPO operating system different functions have been included to easily manage our private data:
We will have a privacy panel in which data graphs and the permissions of functions that we have granted will appear.
Indicators that will notify us when the microphone and the camera are used.
Approximate location so that the apps only have access to it and not where we are exactly.
We can make the apps have or not access the microphone and camera permissions quickly from the Quick Settings.
Anti-peeping notifications
With the improvement of the smart sensor thanks to Artificial Intelligence, it has been possible to have the function of ' anti-peeping notifications '. In this way, we will be able to protect our alerts when we are surrounded by people who may come to gossip on the screen of our OPPO phone. When we have this function enabled, the content of the notification will be hidden if the smart sensor detects that someone else, apart from you, is looking at the mobile panel when the message appears.
Animation Engine 3.0
In this new version of the Asian brand's software, animations will be more fluid than before. And it is that, with the 3.0 quantum animation engine, the haptic interaction of the system has been improved through vibrations, physical habits of resistance and rebounding. Optimizing and making more than 300 animations present in your customization layer more realistic.
Booster IA system
With the Artificial Intelligence Booster system, the firm ensures that the operating system offers 12% more autonomy and a consumption of up to 30% less in terms of memory use. To this must be added an increase in the speed of the animations.
Improved game mode
The GPA 2.0 functionality will be for those most demanding users in terms of the 'gaming' world, as it will achieve higher performance without any type of lag or overheating of the terminal. To do this, this tool is responsible for analyzing the factors that cause the smartphone to generate heat, such as battery use and CPU or GPU load, and predicts the different changes that may occur in the temperature of the phone during the next 5 seconds using an artificial intelligence algorithm.
Also, if you predict a rise in temperature, it will take care of automatically lowering the frame rate to a stable range to prevent lag and overheating.
Compatible OPPO mobiles
After having gone through each of the new functions that we will get to enjoy with this version of ColorOS, it is time to discover which OPPO smartphones may have this version of the Asian company's software. In addition, we will also leave you the approximate official dates that the manufacturer has published, since the firm has only given general dates of when they will begin to reach their smartphones:
As of October 2021:
As of November 2021:
Find X2 Pro.
Find X2 Pro Automobili Lamborghini Edition.
Find X2.
Reno6 Pro 5G.
Reno6 Pro 5G Diwali Edition.
Reno6 5G.
As of December 2021:
Reno6 Z 5G.
Reno6.
Reno5 Pro 5G.
Reno5 Pro.
Reno 5.
Reno5 Marvel Edition.
F19 Pro +.
A74 5G.
A73 5G.
From the first half of 2022:
Find X3 Lite 5G.
Find X3 Neo 5G.
Find X2 Lite.
Find X2 Neo.
Reno 10x Zoom.
Reno5 5G.
Reno5 Z 5G.
Reno5 A.
Reno5 F.
Reno5 Lite.
Reno4 Pro 5G.
Reno4 5G.
Reno4 Z 5G.
Reno4 Pro.
Reno4.
Reno4 Mo Salah Edition.
Reno4 F.
Reno4 Lite.
Reno3 Pro 5G.
Reno3 Pro.
Reno3.
F19 Pro.
F17 Pro.
A94 5G.
A94
A93
A54 5G.
A53s 5G.
Second half 2022:
F19.
F19s.
F17.
A74.
A73.
A53.
A53s.
A16s.