There are many options when it comes to contacting your family and friends. You can use your mobile phones, your computer and even your smart speaker. Yes, smart speakers offer more and more possibilities and the Amazon Echo is one of those that allows you to make calls or send messages with Alexa . Do you want to know how and why it is interesting? Keep reading.
Alexa connects you with those who matter most to you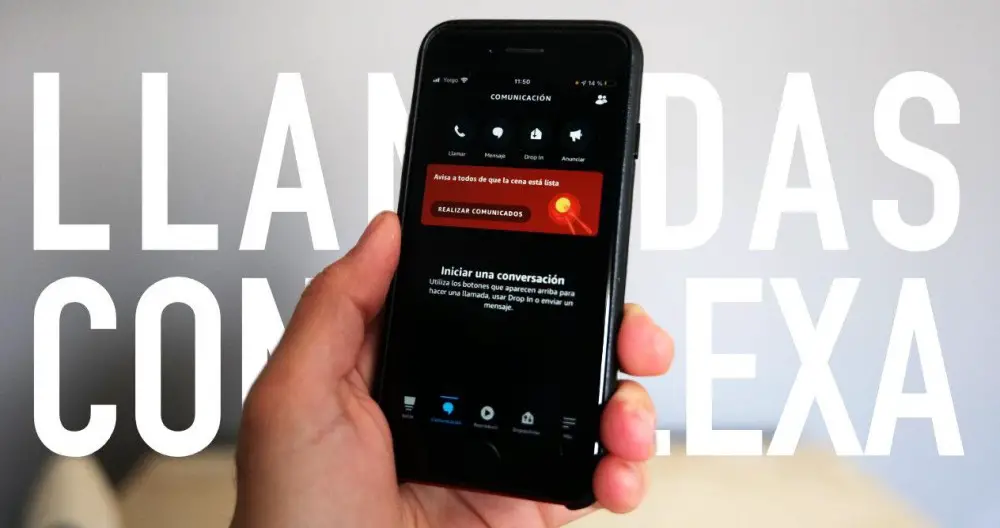 One of the great benefits that technology has brought is being able to be connected with those people who matter most to you. And is that today there are many ways to talk with family and friends from virtually any device and regardless of the distance you are.
You can call, send messages and even make video calls with your mobile phone, with your computer, with your smart speaker and even with video game consoles you can be in communication with other people. However, most of the time you will surely end up turning to your smartphone.
Using the telephone for this action of communicating with others is normal. First of all because of the personal character and the device itself and that feeling of being something more intimate. Second, because it seems much easier and more agile. And thirdly because there are still options that are unknown to many and one of them is the use of smart speakers as communicators.
In particular, the Amazon Echo with Alexa offer communication options that can be very interesting thanks to the wide catalog of models it offers, from those without a screen to those that do, and also because of the prices. So it is easy that many already have an Echo Dot and that even in the same house there are several. Because not only will you be able to send messages or make calls to another user's Echo, but also to your own, and that is interesting so you don't have to go around the house yelling to let you know, for example, that dinner is ready.
Drop In, the Alexa calling feature
Drop In is the feature that allows Alexa to call other users . Of course, in order to call other users, both you and the other person will have had to grant each other permissions. If not, then you will not be able to use this option.
However, before continuing it is important to know how to activate Drop In. To do this, follow these steps:
Open the Alexa app on your mobile device
Go to the devices tab
Now tap on the Echo and Alexa option and then on device
Inside you will see the Communications option, select it
Now in the option that you will see of Drop In enable the permissions
That would be the clearest option, but there is a much easier way to activate Drop In on your Alexa-enabled devices. All you have to do is ask Amazon's voice assistant: "Alexa, enable Drop In on my devices." And in case you want to deactivate it also with your voice: "Alexa, deactivate Drop In".
How to use Drop In
Ok, you already have Drop In activated so it's time to start testing and seeing everything it offers, how you could get the most out of it, what do you have to do to call other users and their devices, etc.
The first and easiest thing is to call yourself. If you only have one Amazon Echo, the way to take advantage of this function is to use your mobile phone as a device from which to call or to which to call. If you are going to use the iOS or Android app, you just have to go to the Communication tab and there click on the Drop In option and select your Echo.
In case you have several Amazon Echos at home and you want to communicate using them, without depending on the mobile phone and its application, then what you would have to do is invoke the voice assistant and ask it to call the speaker in question saying its name. For example, "Alexa, call Pedro's Echo." Here it is interesting that you give each speaker simple names so that it is easier for you to remember.
To be able to call and be called by other users, it is necessary that your contact list is synchronized and that you have the option to allow Drop In activated. You can do these two things very easily by following these steps.
How to activate Drop In
Activating Drop In is as simple as opening the Alexa application on your mobile phone and then doing this:
Go to the Communication section
Tap on the icon that appears in the upper right corner shaped like a doll
Tap on My communication settings
In the Permissions section, activate Allow Drop In
As an option, you can activate or not show your phone number when making calls
How to sync the address book on your Amazon Echo
To add new contacts you just have to do the following:
Open the Alexa app
See the Communication option
Now tap on the top icon to add a new contact
Enter the data and voila, you will have it
If what you want is to import all the contacts from your phone's phonebook, when you are inside contacts, touch the three-dot icon in the upper right, then Import contacts and activate the option to automatically add all the ones you have. If you deactivate, you should know that those that you have already added to the Amazon service are deleted.
How to make group calls with your Echo and Alexa
Along with the option of calling and sending messages to a single user or device, there is also the option of carrying out this type of action in a group . To do this, all you have to do is create a group.
So if you want to do it, follow this step by step:
Open the Alexa app
Go to Communication
Now select Contacts and then Add
There go to Add group
Enter the different members and then tap Continue
Name the group and you're done
Now that you have the group, all you have to do is select it if you use Drop In from the mobile application or say its name if you use voice commands.
Get the most out of calls with Alexa
The possibilities of Alexa as a system that allows calls between users, both individually and in groups, are the same as those of other systems, although with some advantages. The first and most important is that thanks to voice commands it is much easier for certain people of a certain age.
In addition, being able to count on the Echo Show that also introduces a camera and screen means that with a simple "Alexa, call my daughter" it allows older people to start a video conference to see their children and grandchildren.
Then, in your own home it is very useful to be able to send a message to the room where your roommate, partner or children is if, for example, you need something or it is time to eat, have a snack or dinner.
Even when you are away from home, if you need to communicate something, you can do it just by calling or sending a message that will be played on all the Alexa devices that you have configured in your own account.
In short, it may seem like one more form of communication and without much incentive if you already have WhatsApp, Telegram or any other messaging or video calling app, but when you start using it, everything changes and it no longer seems like one more.