Just a few weeks ago macOS Monterey arrived with its version 12.0.1 (they skipped 12.0). However, despite the improvements in this version, a problem is being reported that, among other things, is causing the Mac to move slowly. In this post we explain the exact origin of the problem and what you can do to fix it, even if it is in the form of a temporary patch.
From Intel to Apple Silicon: Everyone can be affected
The first thing you should know is that if you are on macOS Monterey, it will not matter what type of Mac you have, since the problem we will talk about is being reported on all types of computers. It is a common operating system problem that affects computers that mount Intel processors as well as those more recent that carry Apple chips (M1, M1 Pro and M1 Max). Of course, it must be said that despite being a very widespread failure, it is not occurring in absolutely all units.
Excessive RAM consumption without just cause
The RAM in Macs is what causes computers to be slower than usual, since they are overloaded to excessive points in a way that is not normal. Both in social networks, as forums and specialized media have echoed this problem. And it is that just by opening the Activity Monitor you can check this, seeing how the applications are consuming space of the RAM module in an abnormal way.
This fact does not have any clear explanation, since it is clearly seen that it is a system error that is not being able to correctly manage resources . It is usual that there are always some apps that consume more, such as a video or photography application, but it is out of all logic that elements such as the Control Center are consuming practically half of the RAM as we have seen in the light of reports like those of analyst Gregory McFadden.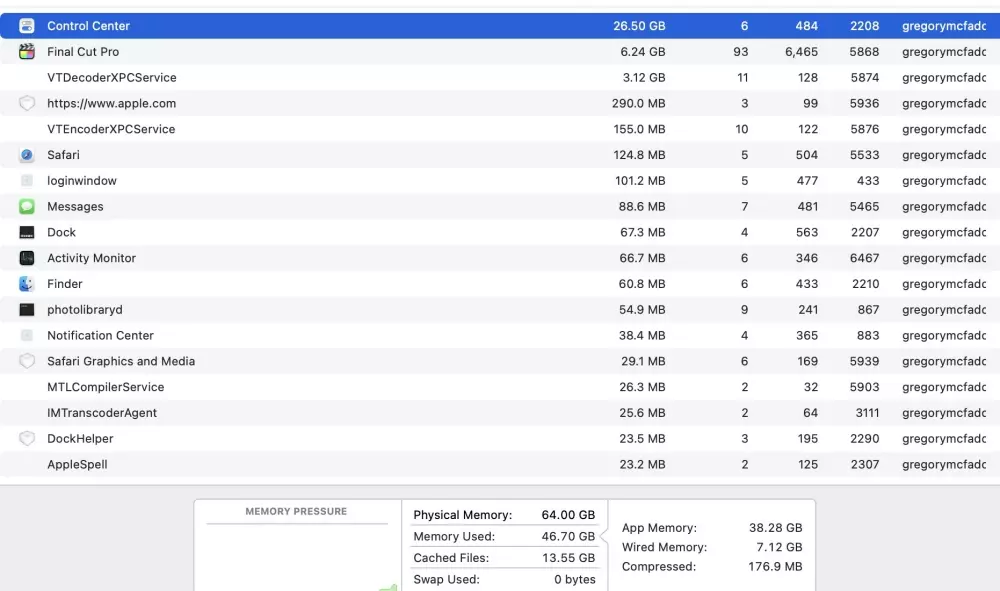 What to do while waiting for Apple to fix it
Given the commotion that this issue is generating and the numerous reports that Apple has received, it is evident that the company is working on a system update that completely corrects the problem and may improve the experience of using a macOS Monterey that, in moment, he has started on the wrong foot. However, it is also understandable that this is a real chore for those who need the Mac for their work and also with high demands.
This update could even arrive this week if we consider that it is urgent. In any case, the Californian company has not yet ruled on the matter in any way, so we do not know the times they are considering to launch this update. And obviously it would be at least strange to think that they are going to delay the solution much more considering that macOS 11.0.1 was released on October 25.
Unfortunately, there are not too many tricks to solve this problem other than the classic tips to free up RAM on the Mac, such as restarting certain processes or launching a tool that acts as a cleaner and optimizes the RAM.