Whether it's for working away from home, studying, or even professional video and photo editing , laptops are a must-have. But, do you know what you should take into account to choose the most suitable one for you? We show you in this guide!
Choosing among the different laptops the most suitable for you can become complicated. There are many factors to consider before buying one, and the potential for error is always there. However, at Topes de Gama we show you what you should consider before launching into this investment. And, in addition, we show you our favorite models . Continue reading!
What should laptops have: key parameters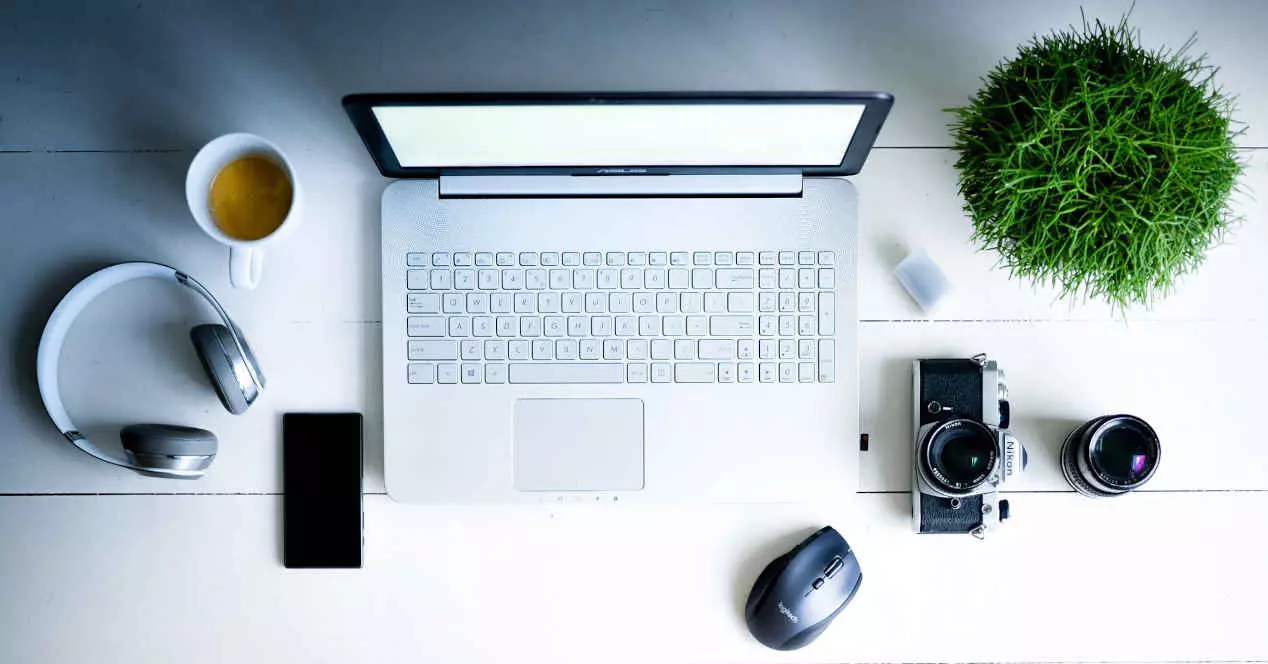 The first thing you should keep in mind when choosing one computer or another is what you are going to use it for . From there, your demands will probably vary a lot. We are going to first give you an approximation of all those parameters that you must analyze in general terms to later point out different specific cases. In this way, you will always be right!
The screen is one of the most important aspects of the computer. You will find different sizes, from 13 to 16 inches, going through 14 and 15. Ideally, you should take into account if you will travel a lot or not. The more compact, the easier it will be to transport. And you'll even find touchscreen laptops, though they're often called convertibles .
In addition, the resolution is also a relevant parameter regarding the screen. The most common is to find computers with HD or Full HD.
After this, it is vital to analyze the weight of the computer in question. The lightest on the market are around a kilogram in weight, but their price tends to be high. If it weighs less than 2 kg you can take it with you anywhere without any problem.
The processor is one of those points that you should consider essential, since it is linked to the price and the power that you will later obtain. It will depend on the use you make of the device, but at least we recommend an Intel i3 or similar.
RAM memory is also closely linked to the processor. It is recommended not to go below 4 GB of RAM if you are looking to carry out somewhat more complex tasks.
If you are concerned about storage capacity, you should look for the disk that you bring with you to be an SSD. In this way, you will get both the reading and writing speed to be higher. We do not recommend computers with less than 64 GB of internal storage, although you will hardly find them on the market today.
The operating system is something very personal and subjective of each one. Computers with macOS have always been recommended for video editing, but the truth is that Windows also offers very good answers in this regard. So it will depend on you. And even a Chromebook can be a good alternative.
Connectivity is something that you should analyze, since you may find that you do not have an HDMI port and you need it to connect to your Smart TV. The most advisable thing in this sense is to look for several USB ports and, at least, one HDMI or VGA.
The battery of the computer is also important, since it is the one that will guarantee you to have more or less autonomy. At a minimum, look for them to offer you around 5 or 6 hours. Although you should know that there are also those that arrive at 10 o'clock.
As for the keyboard , you should see if it is backlit or if it is complete. Maybe you need yes or yes to work with numbers and, in that case, nothing like a full keyboard. However, this implies a larger size.
All laptops come with a camera as well as a microphone and speakers . If you are going to make many video calls, you may be interested in reviewing the MP offered by the camera.
As an added point, you should know that there are computers that have a fingerprint sensor to unlock the user. It is one of the safest methods you will find!
Finally, the price is a vital factor when choosing. It will vary depending on the specifications you choose, the size of the laptop, how recent it is on the market… Don't worry, because we have chosen computers of all kinds!
Work wherever you want with your new computer
As we pointed out at the beginning, the specifications you should look for are going to depend a lot on the specific computer. If you're looking for a device to work with and what you usually do are office tasks, you don't have to be very demanding.
It is recommended that the computer has a fairly light weight, in case you have to travel with it and do not want to be too loaded. Along with this, you may be interested in looking for a good autonomy . There are many computers that are specifically focused on this sector and get up to 10 hours of freedom without chargers.
As for the size , it will depend a bit on whether you prefer to prioritize portability or a large screen. 16-inch screens are the most comfortable, but it is true that they take up more space. Depending on how you travel or move, you may prefer one thing or another.
However, the processor will not be something you should prioritize. With a minimum of an Intel i3 or similar you will have more than enough to surf the internet, edit files or make business calls. It is true that if you use heavier tools, you may have to insist a little more on this point.
Video and photo editing is very demanding
Does your work have to do with video editing or photography at a professional level? Are you youtuber ? In that case, you should know that the investment you have to make to obtain a computer according to the use you are going to make of it is higher. You will need to choose a fairly powerful processor , since video rendering tasks are very demanding. It is recommended to start with an Intel Core i5 or AMD Ryzen 5, although it is much better if you place yourself in the highest range. That is, in Intel Core i7 or Ryzen 7. In the case of Apple , the new MacBook with M1 chip would also be a good option.
RAM memory is closely linked to the processor. If you are going to work with very large files, the ideal is to opt for a RAM memory that is not less than 16 GB. Only then will you ensure that it works in the best possible way. And the internal storage should not go below 128 GB, although if you are looking for superior models, much better.
Although we have not mentioned it so far, the graphics card is another of those components that must be analyzed. It is not important if you are only looking to edit documents or browse the internet, but it is in this specific case. The most recommended cards for video editing are the NVIDIA manufacturer, as well as the AMD Radeon models.
Finally, the screen resolution must be higher than what we have mentioned before. Above all, models with 4K resolution are recommended so that you can appreciate absolutely all the details more clearly.
Laptops for students: simplicity and portability
Are you a student and are you looking for a device for yourself? In that case, you should know that you can find them very affordable and that they meet everything you need. The most common tasks for students are usually editing documents , browsing the internet and consuming content. For that you will not need a very powerful processor or a very high RAM memory.
Yes, it may be interesting that you prioritize both lightness and autonomy, since you are supposed to be looking for a computer capable of accompanying you everywhere. There's nothing like a 1kg computer to slip into your backpack every day without even noticing it's there.
Devices with chromeOS can be an exceptional alternative if the use you are going to make of your computer is going to be only that. They are efficient, fast and offer hours and hours of freedom. In addition, they have the Google application store so you will have access to a large number of different applications.
If you're not convinced, maybe the affordable convertibles will. It will depend, above all, on the final use that you are going to make of your device. So make a list of priorities , take into account everything that we have indicated, now for your new computer!
most affordable laptops
After having carefully analyzed the specifications that you should look for in a computer depending on the use that you are going to make of it, we are going to see models! We are going to start with the most affordable computers that you will find in this guide.
You should know that we have divided them into the best for work and study and the most suitable for photo and video editing. This separation is due to the fact that, as we have seen before, the edition requires a more powerful laptop . The price will therefore be slightly higher despite being affordable
to work and study
We start by looking at the best computers to work and study at a low cost. We have prioritized, above all, that they have a low price and that they are easy to transport.
A Chromebook to take anywhere
Computers with ChromeOS are the best alternative for those who do not want to spend and, at the same time, are looking for many hours of autonomy. In this case, this HP Chromebook has a 14-inch screen with Full HD resolution, and offers up to 12.5 hours of battery life on a single charge.
It is also very light , since it remains in only 1.46 kg. That will allow you to take it anywhere quite comfortably and without having to think about also storing the charger. It is specifically designed so that there is no simple task that can resist you, and that is why we recommend it for all office tasks.
The processor is an Intel Celeron with 2 cores, and it has 4 GB of RAM. As for internal storage , it has 64 GB SSD. To continue with the technical specifications, you should know that the integrated graphics card is an Intel UHD 600 .
It does not have a numeric keypad , but that does not always have to be a negative. Its strong point is that it allows you to access applications from the Play Store and, above all, that it integrates perfectly with the Chrome browser. And, of course, that its cost is less than €300.
15.6-inch Lenovo IdeaPad 3
We now turn to one of the most affordable laptops of the moment. This Lenovo IdeaPad 3 offers a 15.6-inch FullHD screen so you never miss a detail of anything you do. It does not come with a built-in operating system , something you should consider.
The processor is an eleventh generation Intel Core i3 , quite interesting despite being a mid-range. In addition, being accompanied by 8 GB RAM, it is much easier to obtain good performance. As for internal storage, it has a 512 GB SSD . And an Intel UHD Graphics graphics card. That is to say: that we are facing a fairly complete device.
If the numeric keypad is a necessity for you, you should know that this Lenovo does have it. It weighs only 1.65 kilograms, so it is still quite light. The cost will depend a bit on whether you can find an offer or not, but it will be between €400 and €500.
Huawei MateBook with Intel Core i3
The Huawei brand also offers some of the most interesting laptops on the market in this area. That's your MateBook D15 , which has a 15.6-inch screen. Despite that, it has quite a light body! So you will not have problems when traveling with it.
The nerve center of this computer is an eleventh generation Intel Core i3 processor, accompanied by 8 GB RAM and 256 GB SSD internal storage. Thanks to this, you will see that there will be even complex tasks that are easy for you to perform.
It incorporates Windows 10 Home already installed, and has a button so you can log in with the help of your fingerprint . It is a very safe way to protect your computer from anyone who may be around. The autonomy is around 6 hours, more or less the average that this type of device usually offers.
As for the price , it varies between €400 and €600, depending on the offer you find at that time. But thanks to Amazon you can find real gems!
for video editing
Next, we are going to see some models that are focused on editing tasks. These are heavier, so it is logical that the laptops that we must use are more powerful. Despite everything, we have found quite affordable devices!
HP 250 G8: with Intel Core i5
This HP 250 G8 computer has a surprisingly low price considering the features it offers. It has a 15.6-inch Full HD screen where you can comfortably view all the tasks you want to perform. In addition, it has an Intel Core i3 of the most powerful you will find.
To this we must add that it has 8 GB RAM and 256 GB SSD internal storage. That is to say, that the edition will be sewing and singing. Although it is true that there are tasks that will require more time than if you did them with another computer, the cost would not be the same either.
As a note, you should know that you can expand the RAM memory up to 16 GB if you wish. The same happens with the hard drive that can be expanded up to 512 GB SSD.
It has Windows 10 Pro , and has a guaranteed autonomy of more than 5 hours. The weight is quite low, with 1.74 kg, so you can take it with you everywhere. And the price is around €500, being quite affordable.
KUU: a laptop with a fingerprint sensor
The benefits of this KUU are much higher than what we have seen so far. However, so is the price. It has an AMD Ryzen 7 processor , 16 GB of RAM and 512 GB SSD of internal storage. I mean, it's very powerful. It is designed both for editing and for all those who play video games.
Thus, as extra notes that you should know about this computer, it has an unlock using fingerprints . Plus, the keyboard is backlit so you can see the keys even in low-light conditions.
It ensures a long battery life thanks to the technology that it incorporates, as well as the efficiency of the processor. It comes with Windows 11 installed, so you can enjoy the most recent version of the operating system. As for the price , it exceeds €700.
High-end computers: for those who need more!
We now turn to see somewhat more complex models, perfect for those who are more demanding. In this case we have not separated between those that are valid for editing and those that are good for working or studying because they are useful for everything . They are so powerful that you won't be able to fault them. That yes: they are not so affordable.
Lenovo IdeaPad 5
We start with this Lenovo IdeaPad 5, a laptop with a 14-inch FullHD screen . It is small, compact and very light, so you can take it anywhere without any problem.
It comes with Windows 10 Home already installed, and has a powerful AMD Ryzen 7 processor inside . It is accompanied by a RAM memory of nothing more and nothing less than 16 GB. In addition, to this we must add that it has an AMD Radeon Graphics graphics card already integrated.
As a bonus, you should note that Lenovo offers the free upgrade to Windows 11 , so you won't have to buy it separately. Without a doubt, one of the most interesting computers you will find right now and with an autonomy of more than 6 hours . The price, yes, is around €800.
HP Pavilion 15: an Intel Core i7
HP continues to offer very interesting solutions, such as the 15.6-inch Pavilion with Full HD resolution. In addition, it has an Intel Iris Xe graphics card with which there will be no video or photography that will resist you. You will not have to update, since it comes with Windows 11 Home already built-in.
As for the processor , it has the first Intel Core i7 that we have seen in this list. To that we must add a 16 GB RAM memory and an internal storage of 512 GB SSD. You will not need anything else, whether to study, for leisure or to edit videos.
The price is close to €1,000, but continues to remain below this. However, if you are looking for a computer to invest in and that will accompany you for many years, it is a great alternative.
LG Gram: 1.1kg weight
If you are looking for the lightest computer on the market, the LG Gram range is specifically made for you. This particular model has a 15-inch screen and weighs only 1.1 kg. It incorporates Windows 11, since you can update it for free. And its specifications will blow your mind.
First of all, it has an eleventh generation Intel Core i7 processor . But, in addition, to this we must add a powerful 16 GB RAM memory with which you can do practically everything. You will not run out of storage either since it offers 512 GB SSD .
As a key point, we must highlight its high connectivity , since it has various ports, among which you will even find an HDMI. Along with this, autonomy is one of its strengths: more than 18 hours on a single charge.
The price is around €1,500, although we have even seen it on sale at €1,100!
Razer Book: 13.4 inches
If you prefer more compact computers, this 13.4-inch Razer is the best choice. But don't be fooled by its size, because it hides a great power inside! The first thing you should know is that it has a FullHD resolution that will allow you to work with the best quality.
The processor is an Intel Core i7 of the latest generation. In addition, it has 16 GB of RAM memory to provide the greatest possible fluidity. Of course, the internal storage does not drop below 512 GB SSD .
The graphics card it has is Intel Irix Xe, of a very high quality. Thanks to it, you can even play very heavy games with ease. The keyboard is backlit, and it has a totally unique design . Without a doubt, one of the most striking laptops of the moment.
The price is around €1,700, although we have seen how it has dropped to €1,400 on some occasions.
MacBook Pro with M1 Pro chip
Finally, we could not forget to introduce an option for Apple lovers such as this incredible MacBook Pro. It is also the most recent version, the one with the M1 Pro chip inside.
It has a ten-core CPU and a 16-core GPU, the power of which is unmatched today. In addition, it offers 16 GB of RAM and, regarding internal storage, 512 GB SSD.
It's what's inside that makes this computer so special. The power and efficiency that this little computer offers is incredible. Especially if we take into account that it has a very compact size. Autonomy is not far behind either, since it offers up to 21 hours of freedom without chargers.
The price is not affordable, but it is worth it if you are looking for a professional computer. And it is around €2,700 as a general rule, although we have come to see it more affordable thanks to Amazon discounts.
Our favorite laptops
As the laptops we have seen are focused on very different sectors, we consider it appropriate to choose two computers instead of one.
First of all, if we only wanted to work or study, we would definitely go for the HP Chromebook . As we have pointed out, it is ideal for performing all kinds of simple tasks. In addition, the autonomy it offers is unmatched.
However, if we were looking for a more powerful computer, we would opt for the MacBook Pro with the M1 Pro chip. Currently, it is one of the lightest and most reliable that you can find on the market. Also, it offers some of the best editing tools.