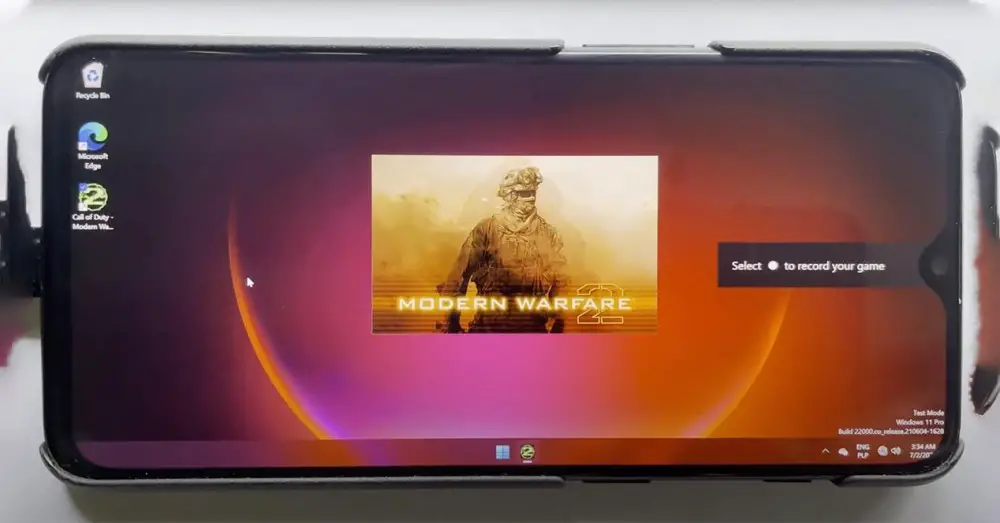 The possibility of bringing Windows to ARM devices has brought an immense range of possibilities for fans of complex and convoluted installations, but in a turn of events, a group of hackers have wanted to go even further, and have managed to install Windows 11 in the OnePlus 6T and Xiaomi Mi 8. But if this was not enough, we must also include games in the equation.
Call of Duty Modern Warfare 2 on Android
The community around Windows 10 for ARM has been working hard to bring the operating system to all types of devices, and considering the possibilities of having a desktop system on a mobile phone, it is expected that the results will be more than surprising.
And unsurprisingly, in a process of natural evolution, hackers have also brought the new version of Microsoft's operating system, Windows 11. The work is the work of the Renegade Project group, and their masterpiece consists of installing Windows 11 on a OnePlus 6T and put games on it. In the videos that you will be able to see below, you will be able to see how games like GTA IV , Counter-Strike Global Offensive , Quake III Arena or Call of Duty: Modern Warfare 2 run without problems
.
In the case of Call of Duty, the performance is acceptable, but you can see jerks that affect the aiming. According to the group, it seems that the GPU driver is not the definitive one, and there are other things that do not work such as WiFi, sound (you have to use Bluetooth output), the data connection, and most sensors. The touch screen, USB, Bluetooth and CPU do work instead.
The group has posted a spreadsheet on Google Drive where they are writing down all the games they test, including performance and whether they work completely or not.
It is necessary?
The task of installing Windows 11 following an endless list of steps and commands may not be especially attractive, much less when the final interface is the desktop and not one suitable for a mobile, but the whole process has its magic. In the end, these challenges serve to demonstrate how far the interest of some users is capable of reaching, and sometimes they serve to visualize new concepts and ideas for the future.
Considering that there is a mobile version of Call of Duty, it is somewhat strange to have to bundle all this to play the PC version, however, being able to play the Modern Warfare 2 campaign on a mobile is priceless.
How do you install Windows 11 on phones?
The requirement for now is to have a Snapdragon 845 processor and install the edk2-sdm845 project, something that will not be an easy task, but with which you will get great results. The list of compatible models at the moment is as follows:
OnePlus 6

OnePlus 6T

Xiaomi MIX 3

Xiaomi PocoPhone F1

Meizu 16th

Meizu 16th Plus

Smartisan R1

BlackShark One

OPPO Find X

Xiaomi MIX 2S

LG G7

Samsung Galaxy S9 +

Xiaomi MI 7

Xiaomi MI 8

Nubia X

Nokia9 PureView

ASUS ZenFone 5Z
You have all the details of the installation in the github profile of the project that we leave you in the source link.