Video editing is an aspect that is more important every day and is more present in the lives of most people. Fortunately, many users have devices with enough capacity at their fingertips to be able to edit videos easily. Therefore, in this post we want to talk to you about a series of applications that will allow you to easily edit videos from your iPhone.
Aspects to keep in mind when editing on an iPhone
One of the huge advantages of editing with the iPhone is that you really have it all in one device . Fortunately, the Apple smartphone has one of the best cameras on the market, so you can always use this device to record the clips that you will later use to make the video. In addition, this device has enough capacity to easily and comfortably edit a video through different applications, which we will talk about in this post.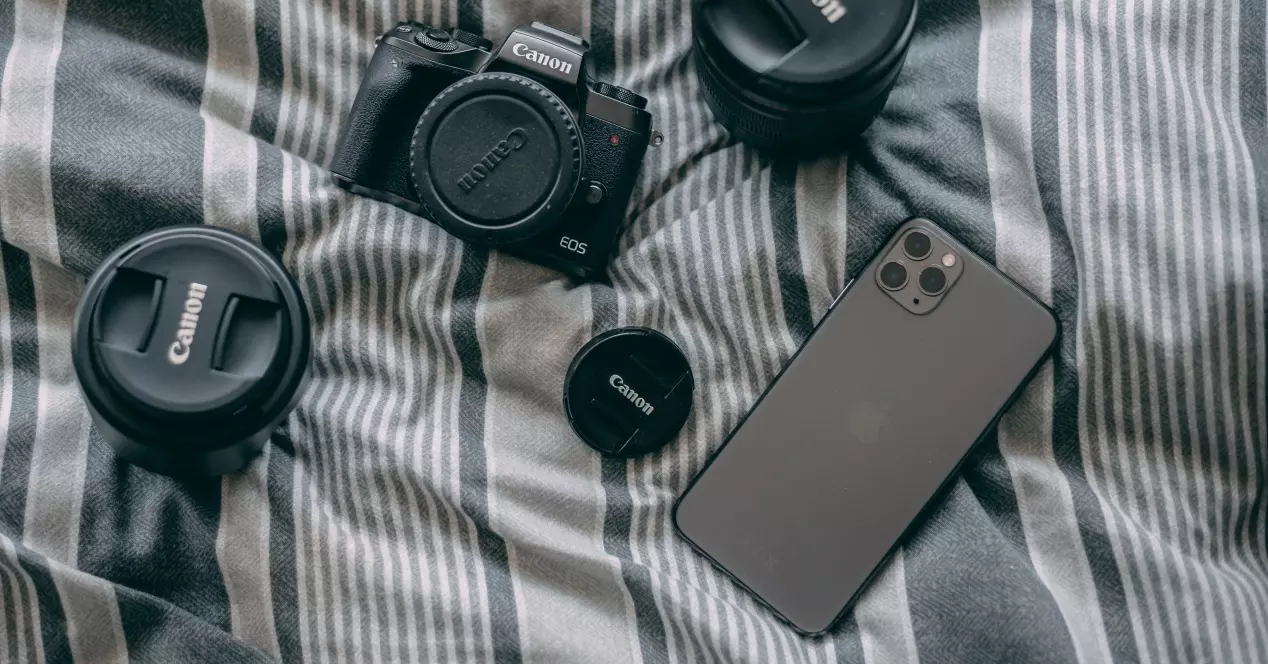 However, not everything is as easy as recording several clips and putting them together, since you always have to take into account a series of very important aspects . Usually, users who use the iPhone to edit videos do so to later share them on social networks such as Instagram and TikTok, where people consume content in vertical format, hence the fact of recording the clips themselves with the iPhone also provides that advantage to have the clips already in portrait format.
However, despite this, the format is still a point to take into account when editing video for social networks. For example, on Instagram there is not the same format if what you want to publish is a Reels or IGTV, or if on the other hand it is a post, since they have different formats. Therefore, one of the aspects that you must always take into account is the optimal format of the platform on which you will later publish your video.
As we mentioned, recording vertically if your video is going to be published in vertical format will save you a lot of time in editing, in addition to that you will know that everything you are taking in the video will be seen as is after going through the editing program. In the same way you have to act if you want to publish your video horizontally.
Slow motion is one of the most striking resources when making a video, however, to be able to do it correctly and for the result to be really attractive, you have to configure the iPhone camera in such a way that it is capable of recording at the necessary fps to later apply the slow motion. On the iPhone you can modify these parameters by following the steps below.
Open the Settings App.
Click on "Camera".
Select "Record Video."
Choose the most suitable option for you. To get a correct slow motion in editing, we recommend recording at least 60 fps.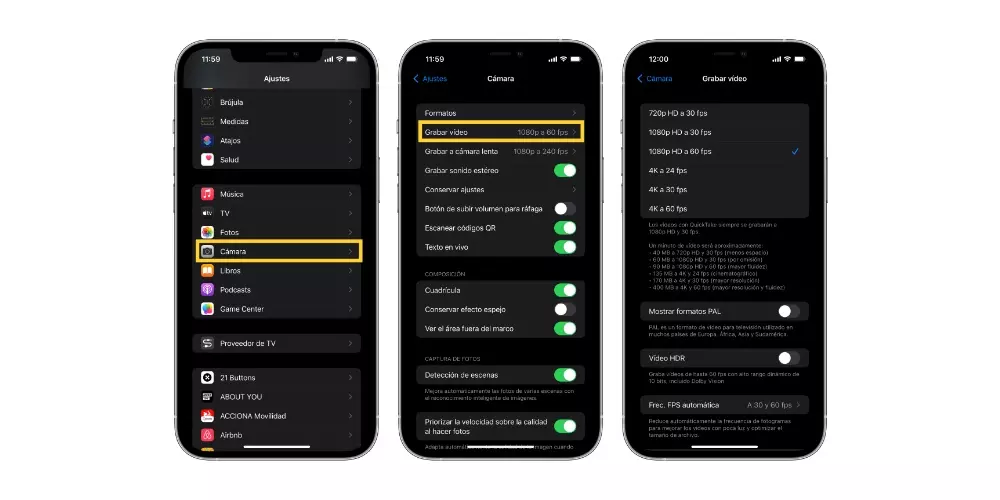 However, you also have the opportunity that the clip you record is already automatically in slow motion, for this you just have to select that option in the camera application itself and the clip you record will be directly in slow motion. In this case you can also modify the parameters in which the iPhone records by following the following steps.
Open the Settings App.
Click on "Camera".
Select "Record in slow motion ."
Choose the most suitable option for you.
Free apps to edit your videos
In the App Store there are many alternatives of applications to carry out practically any task that a user needs to carry out. However, there are always applications that are completely free and others that you have to pay for, either to be able to use the app in its entirety or to be able to unlock a premium feature. We will talk about the latter later, since now we are going to focus on two applications that are completely free.
iMovie
The first app we have to talk to you about is iMovie. Surely if you are interested in video editing you have heard about it on occasion. It is the video editor that the Cupertino company makes available to all users who buy one of its devices, completely free of charge.
Although it is completely free, it is an application that has all the tools that a basic user needs to edit a video. It is a very intuitive and easy-to-use video editor, even for users who have never edited a video, it will be very easy to do it through their iPhone with this application.
VN Video Editor
This application is one of the few quality alternatives that you can find in the App Store if you want to edit video on the iPhone completely free of charge. In addition, one of the points that should be noted is that you will not have to deal with the watermarks that these types of applications usually leave, so you will have a fantastic tool to make both your reels and your TikToks.
The VN interface is really intuitive, so it is an application that can be used without problem from basic users to video editing professionals, everyone can create high quality videos with this tool. It has the basic functions of a video editor, to which we must add great and special effects that will give your audiovisual creation that professional touch to surprise all viewers.
More powerful video editing apps
As we mentioned before, many video editing applications on the App Store are not completely free. And it is the case of which we are going to talk to you next. These apps can be downloaded and used without having to pay a single euro, however, there are some functions that are subject to a payment in order to be used. However, many users do not require the use of these functions and enjoy these applications completely free of charge.
InShot – Video Editor
We begin this category of the post with one of the most popular applications in the App Store for video editing. In fact, InShot is the tool through which many influencers edit their different stories and reels that are later uploaded to Instragram, so it is a guarantee of enjoying a complete and easy-to-use tool.
In fact, if we had to define InShot as a video editor, we could say that it is simple but powerful . It has professional features that will make your videos level up. You can add music, transition effects, text, emojis, filters, background blur, in short, as we said, it has the tools that every user needs to upload attractive videos to social networks.
Splice
If this application stands out for something, it is because of how easy it makes users to edit their videos for social networks. It is a tremendously intuitive application, which makes all users who try it delighted, proof of this are the more than 14,000 reviews that it has in the App Store. We could really say that inside it hides all the power of a desktop editor, but optimized for your iPhone.
It has the main editing tools , so that both the most basic and the most advanced users can carry out everything that their imagination is capable of creating. You can apply filters and adjust the colors of your video, add different slides, adjust the video playback speed to generate that fast camera or, on the contrary, the very attractive slow motion.
VivaVideo – Video Editor
VivaVideo is one of the most complete video editors for iPhone that you can find in the Apple application store. It has more than 800 million downloads worldwide since it is an application that offers everything the user needs, from the most basic who does not want to complicate his life editing a video to the more advanced user who demands more powerful functions.
The simplicity and how easy it is to use this tool is one of the strengths that make users trap in this application. It has mini-tutorials to start editing videos easily so it is perfect for novice users. However, it also has everything that an advanced user needs to edit video such as the timeline, multitrack music, trimming, speed adjustment, scale and background, in short, that all users can edit video with this application independently of your level.
Filmmaker Pro Video Editor
We continue with video editing applications, however, in this case we focus on a more professional audience. In fact, the very name of this app makes it very clear, Filmmaker Pro, an application that brings the best video editing tools to the table so that professionals in the sector can unleash their imagination.
The amount and variety of tools it has is fantastic, you can create and manage unlimited projects , something very useful if you have to edit different videos at the same time, it is compatible with the 4K videos that most models of iPhone. It has the ability to work with an unlimited number of video sequences, audio tracks, voice-overs and text overlays, in short, it has a long list of tools with which to achieve fantastic audiovisual creations.
Videoleap by Lightricks
Videoleaps is a video editing application that has enough power to meet the needs of all users who want to use their iPhone to edit video. It is made both for the most basic users who only need to use the most common tools and for users who do want to go one step further to make use of more sophisticated tools
With this application you can combine clips, add text, effects, everything you need to create spectacular videos. It has the ability to create keyframe animations, compose in chroma, adjust clips to the format you want, all in a completely intuitive timeline, with zoom and with maximum precision.
LumaFusion
LumaFusion is the video editor for iPhone and iPad, no more. It really is the closest thing you can find to Final Cut for both devices, and that's saying a lot since Final Cut is surely the best professional video editor you can use on Apple computers. In fact, it is one of the most used, so if we can consider LumaFusion in such a way, it is because it has a fantastic quality and variety of tools.
In this case, this app is paid , so you will have to go to the cashier if you want to use it, the good thing is that it is a single payment, so once you pay the price you will not have to pay a only euro. LumaFusion really provides all the necessary tools to perform professional video editing on a device as small as the iPhone, that is, without giving up an intuitive and simple interface, so much so that despite being able to consider it a tool for professionals it can also be perfectly used by users who have just arrived in the world of video editing.
Video Studio – Video Editor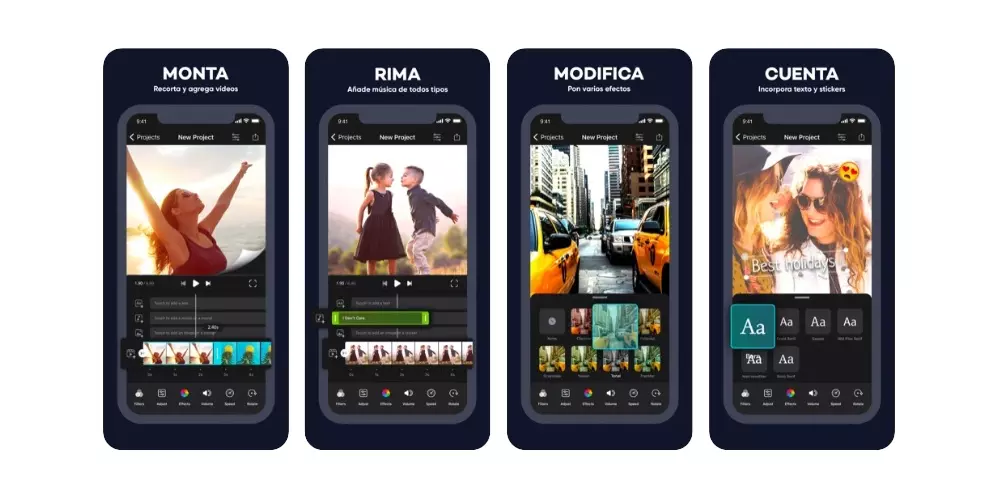 If you want to enjoy a versatile application on your iPhone to edit all the videos that you are going to upload to both Instagram and TikTok, here is a fantastic alternative that delights all users who try it, both the less demanding and those who need it. more advanced tools.
With Video Studio you can easily create your project from various videos that you have on your iPhone reel. It has numerous tools to adjust your video to the format you need, as well as cut, adjust its speed or volume. You can also add music or sound tracks to introduce different voices, as well as incorporate transition effects, filters, emoticons, and texts.
VideoShow – Video Editor
We are going with the last app of this compilation, which does not mean that it is neither worse nor better than the rest that we have mentioned, in fact, as you can see in the App Store, it has a fairly high score as a result of the more than 5,000 reviews that it has received from all the users who have tried it.
This application offers you a great video editing experience since with very few steps you will be able to achieve an attractive result with which to attract the attention of the public on the different social networks. Within the app you have numerous musical recommendations that you can incorporate into your video, as well as make use of the tools that every video editor needs to carry out their ideas.
Of all of them, which one can be better for you?
As we always do in this type of compilation, it is time to tell you, from the writing team of La Manzana Mordida, which of these applications seems the most appropriate to edit video from the iPhone and obtain an attractive result that allows us feel proud of it and share it on social networks like TikTok or Instagram.
As for the free applications that we have discussed, the application with which we feel most comfortable is with iMovie since it integrates perfectly with all of Apple's own services as well as offering an edition that is tremendously easy to carry out. Regarding paid applications or those that have premium functions for which you have to pay, without a doubt, the most complete one is LumaFusion, however, to edit videos in vertical format InShot is the one that attracts our attention the most.