Whenever a user acquires an iPad for the first time, one of the basic actions that they have to know and know how to do is to download applications, since it is the only way to get the most out of this device. In this post we are going to tell you all the ways to do it, as well as we will solve the frequent doubts in relation to this practice.
Steps to Download Apps on iPad
Without beating around the bush, let's go through the different ways that all iPad users can use to download apps from the App Store, which is Apple's application store. Fortunately, there are many and varied apps that you will be able to find, and this is undoubtedly one of the most outstanding points of this device, how well endowed it is in terms of possibilities of use thanks to all the apps that you can to download.
Download free apps
Within the App Store you have different types of applications, those that are completely free , those that you can download for free but then have some paid functions and, finally, those that are paid . In this section we are going to focus on the first two, that is, on the applications that you will be able to download completely free of charge. The steps to carry it out are very simple, and Apple is always characterized by making things very easy for all users of its services and equipment. Below you have them detailed.
On your iPad, open the App Store .
Select the application you want to download or search for it through the app's own search engine.
Click on " Get ".
Enter the password or use Face ID or Touch ID to confirm the download.
Otherwise, click Cancel.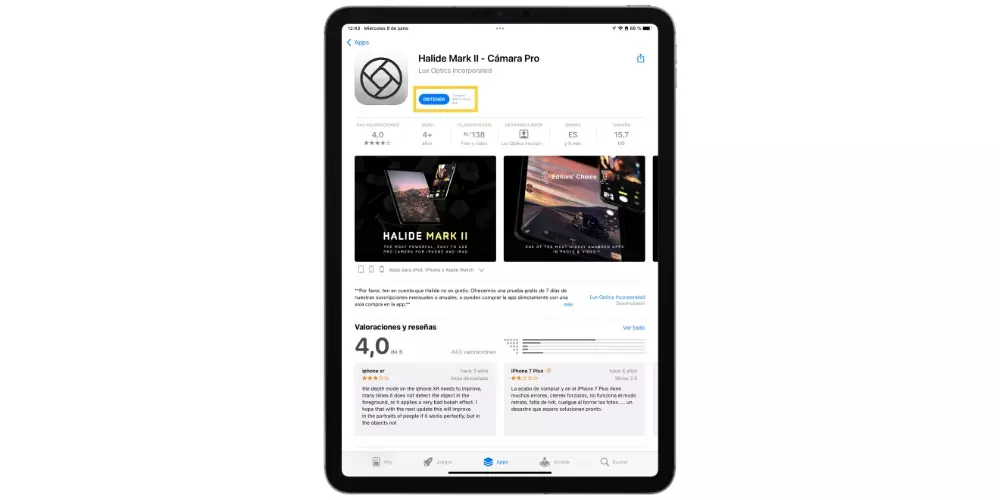 With these simple steps you will have already started downloading your application, and depending on both its weight and your Internet connection, the time it will take to download and install will vary. However, the usual thing is that in a few seconds you have your app completely available on the device.
Paid app download
We have already told you about the steps you have to follow if you want to download free apps from the App Store, now it's time to talk about paid apps. The first thing you have to know is that you have to either have a payment method configured in your iCloud account, or have enough money in the App Store to be able to cover the cost of the application. Once you have this aspect controlled, we go with the steps that you have to complete in order to enjoy the application on your iPad.
On your iPad, open the App Store .
Select the application you want to download or search for it through the app's own search engine.
Next to the app, its price will be shown.
To start the download, click on the price that appears on the screen.
Enter the password or use Face ID or Touch ID to confirm the download.
Otherwise, click Cancel.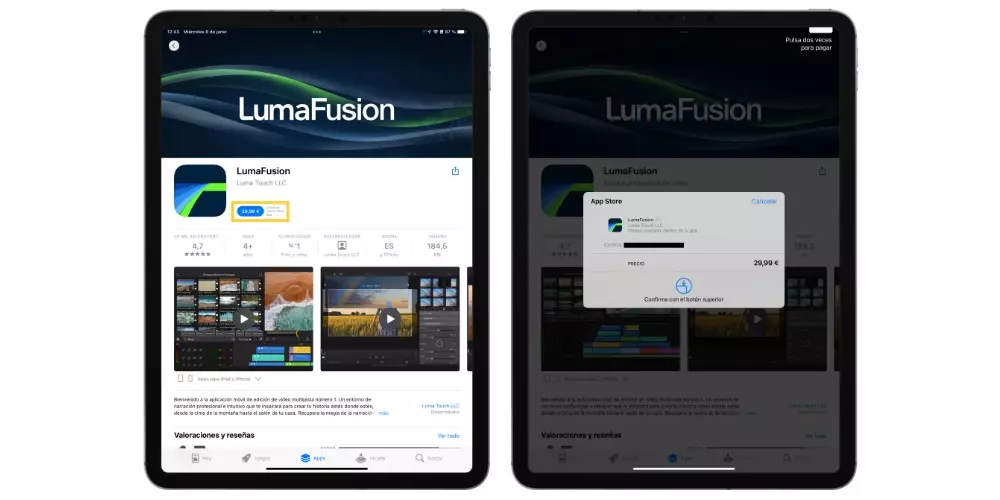 Once you complete these steps, the app fee will be passed to you and the app will automatically begin downloading and installing itself on your iPad. A very important point that you have to keep in mind and that not many users are aware of, is that just as Apple offers you 14 days of trial for its different devices, the same thing happens with the applications, so if in the course of this period of time you regret having bought this application you can return it without any problem and the Cupertino company will refund the full amount.
Download paid apps for free
It's obvious that all the money you can save is welcome, that's why we think it's very appropriate to tell you about a way in which you're going to be able to save a lot of money if what you want is to download paid apps without paying a single euro. This is possible if you have "In Family" configured and other members have previously purchased said application. Although another option is that, if several of the members are interested in a specific app, they can buy it among all of them to share the cost.
Be that as it may, what is really important and that you have to be very clear about is that the Cupertino company allows you to share purchases within the App Store . Therefore, in the same way that the subscription to Apple Music, Apple TV + and other services can be shared in Family, the purchases of paid apps can also be shared. To do this, family members who want to benefit from this have to activate shared purchases within their iCloud profile. To do this, they just have to follow the following steps.
On your iPhone or iPad, open the Settings app.
Tap on your iCloud profile.
Click on "Family".
Select "Share Purchases."
Turn on "Share purchases with family."
Once these steps are done, all purchases of paid apps that a user has made will be available for free to the rest of the members. This is, without a doubt, a very good way to save a good amount of money on applications that can be very useful for all family members.
Tips to consider
Once you know what the steps are and all the ways to be able to download applications on the iPad, we want to tell you some tips that will surely come in handy when it comes to downloading applications, both on the iPad and on the iPhone or any other device of the Cupertino company.
The internet connection you have is vital to be able to download both correctly and in the shortest time possible. Therefore, make sure that the Wi-Fi connection you have is of good quality, or on the contrary, if you are going to download with mobile data, that the coverage is good enough.
Applications take up space within the devices, therefore, it is convenient that you always do a good review of the apps that you have installed, since it may happen that you want to install a new one that you urgently need and you do not have enough space for it.
If you are going to download a paid app, make sure that you have all the payment methods properly configured so that the purchase can be carried out properly.