Surely by now you already have a Bluetooth headset that you use with your phone or tablet, and now, after months of searching and unsuccessful attempts, you have managed to buy a last minute PS5. Since the budget does not give you for more, you will most likely want to use your beloved headphones on the console, but can you? We will try to solve all your doubts so that you can put an end to your problems.
Can I connect any headset via Bluetooth?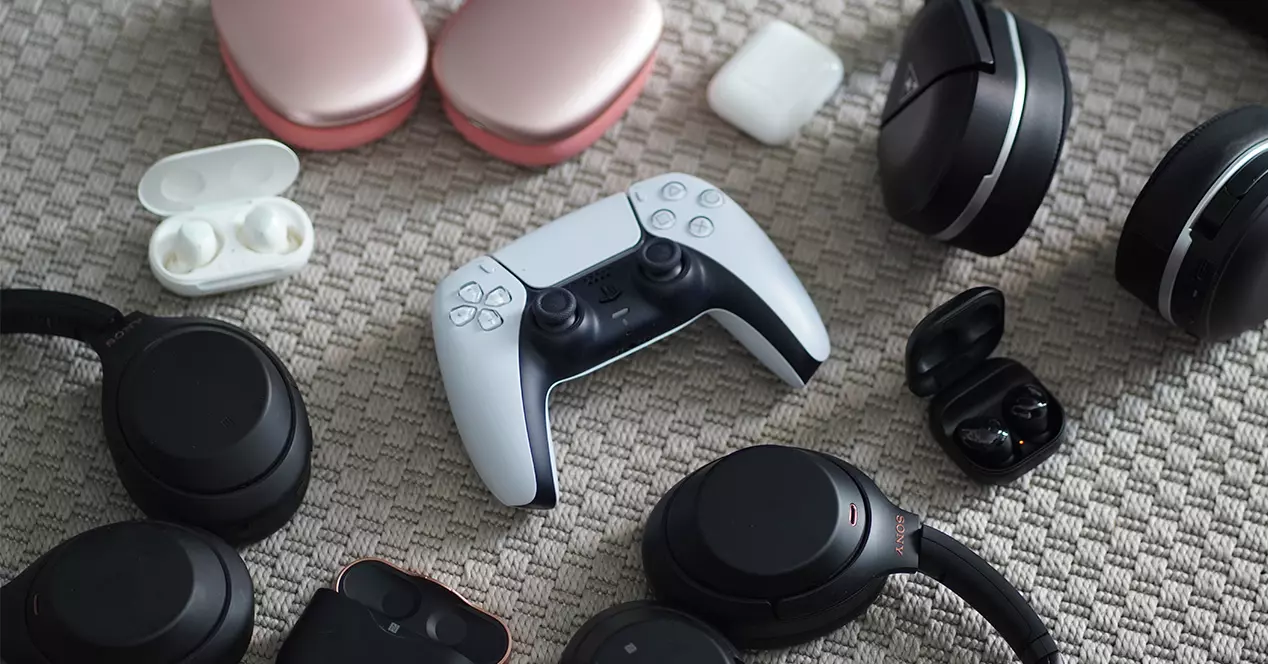 This is where the problems begin. PS5 has a Bluetooth connection. Its control knob is Bluetooth and the connection is available in the system settings, however, the console does not offer Bluetooth audio , so it is not possible to use headphones of this type by default. Not natively at least, as we will need a Bluetooth adapter for the device to communicate with the console.
For you to understand that it is something that is completely locked in the console, the official PS5 headphones include a USB adapter so that they can work properly with the console, so yes, there is no way to connect a headset directly to the console without using a USB adapter. Not even Sony's highly acclaimed WH-1000XM4. These very special and exclusive headphones cannot be paired with the console as standard, so we will need to buy an additional accessory. But let's go in parts.
Official PS5 Compatible Headphones
All models that have the official PlayStation seal (we refer to those manufactured by Sony itself for its console), include a USB adapter that we will have to connect to the console so that they can work. This is the clearest demonstration that reveals the limitation of the system's Bluetooth connection , limited exclusively to DualSense controllers.
The official Sony models that are compatible with PS5 are as follows:
Pulse 3D Wireless Headset
They are the official PS5 headphones. Released alongside the console, they offer 3D spatial audio technology so you can enjoy the ultimate immersive experience with the new console technology. They were in high demand that left them out of stock, but these days they are quite easy to find. They are probably the best PS5 headphones out there.
Gold Wireless Headset and Platinum Wireless Stereo Headset
Legacy PS4 models that are perfectly compatible with the new PS5. Those players who already have them will be able to use them without problems, as long as they connect the adapter that accompanies them to the console. These are backward compatible models, so many users who go from PS4 to PS5 will be able to rest easy.
How can I connect my Bluetooth headphones to the PS5?
On the other hand, if you already have Bluetooth headphones different from the ones we have mentioned above, you will have seen that the situation is not the most favorable, but calm, since there is a solution that works perfectly and that will allow you to use those headphones so expensive that you take care of as if they were your most precious treasure.
The secret is to connect a Bluetooth audio adapter that allows you to link the console with our headphones. It is a very simple and relatively inexpensive solution that will help those who have high-quality headphones to continue using them on their console.
One of the most popular models is the Creative BT-W3 , a small USB Type-C adapter that is perfect for connecting to the front port of the PS5 (also compatible with Nintendo Switch). With the device connected, we will only have to pair the headphones so that everything works perfectly. To do this, we will press and hold the adapter's synchronization button for two seconds and then we will put our headphones in pairing mode, and the link will occur.
The adapter will take care of using the highest quality codec that is supported, going from APTX LL (highest), to APTX HD, APTX and SBC (lowest).
Can I play with a microphone?
The adapter will not be able to capture audio from your headphones' built-in microphone, so in that case you will have to use the included compact 3.5mm plug-in microphone. This microphone connects to the DualSense itself through the headphone port, and then in the system settings you must choose the external microphone option as shown in the image above.
The problem is that many users assure that this microphone captures all the keystrokes we make on the remote, overlapping with the conversation that we are carrying out with our colleagues, so many recommend using the integrated microphone of the DualSense control, which works quite a lot. good and save us from this situation.
How to find the best headphones for PS5
When looking for headphones compatible with PS5, the main requirement that we must take into account is that they have the adapter of yore. If the headset has the integrated adapter, we can even use the microphone that it includes, thus allowing us to play multiplayer games and chat with friends without problems.
Don't look for a wireless headset thinking of buying the adapter separately. It is best to look for the seal of compatible with PS5 and not to complicate things further, since most wireless headphones that are sold on the market with an adapter use 2.4 GHz technology, and not Bluetooth.
Is Bluetooth or 2.4 GHz better?
Both technologies will free you from cables, so in the end you are going to enjoy them in the same way, the issue is whether you want to have exclusive headphones for your console and others for your leisure away from home, or if you prefer to have a single headset and thus save money.
For the second case, you will have no choice but to opt for the Bluetooth models, so in that case you will be forced to buy the adapter for the console, which, as you have seen, is nothing particularly dramatic.