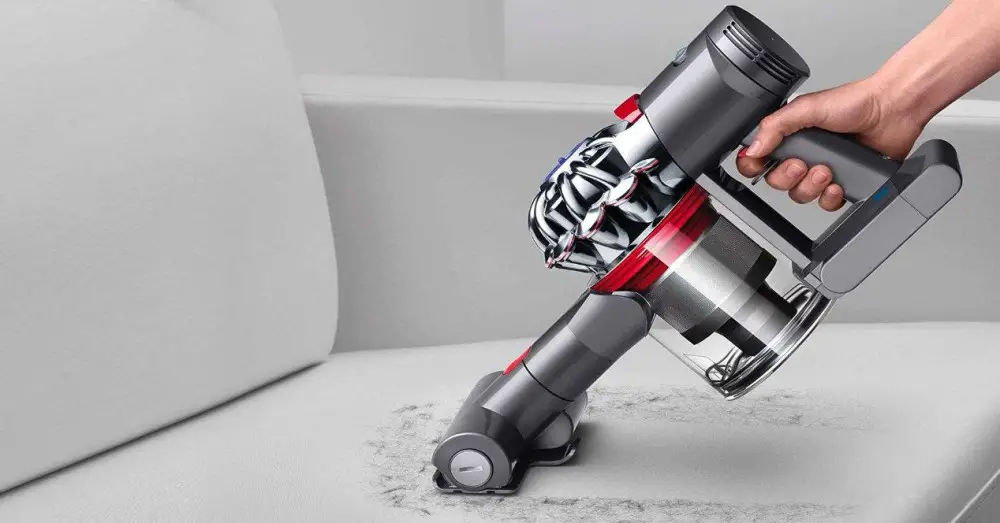 Despite the popularity that roomba-type cleaning robots have gained in recent years, there are times when a handheld vacuum cleaner can be much more effective and practical. In addition to being also faster to clean things that fall accidentally. So let's see how to choose the best handheld vacuum cleaner.
Hand vacuum cleaners
In recent years there have been many users who have decided to bet on Roomba-type cleaning robots . This has caused these types of cleaning solutions to drop significantly in price, making them much more accessible for most and also having better features. Not only at the level of suction of dirt, but also in the cleaning methods themselves, movements, etc.
Even so, for certain occasions starting the cleaning robot is not at all comfortable. Hence, the classic broom is used. But before a broom, our recommendation would be that you get a handheld vacuum cleaner.
These small cleaning devices not only allow you to collect dirt from the floor of the house quickly and agilely, but also the dust that may be on the furniture or even in the car. Although there it will depend that you have a nearby electrical outlet if it is a model with cable or without cable thanks to the incorporation of a battery.
Be that as it may and for the use you want to give it, what is clear is that if you are going to buy a handheld vacuum cleaner, it is important that you read this and make sure that it complies with important aspects, at least with some of them and the best possible way.
Because a vacuum cleaner of this type to clean dirt from the floor and corners is not the same as one that you want to use to get rid of dust accumulated on furniture, pet hair or clean every nook and cranny of your car.
Important features in a handheld vacuum cleaner
Each user values certain characteristics of a product in one way or another according to their own needs, circumstances and even tastes. And although some are important for everyone, such as durability and cleaning power, when choosing a handheld vacuum cleaner you should pay attention to all these aspects.
Construction quality: any product that you acquire and know that it will receive frequent use must be made with the best possible materials depending on its price. In the case of handheld vacuum cleaners even more so, because it is likely that on more than one occasion it will suffer an involuntary blow or fall. So make sure that the plastic is of quality, that it does not convey a sensation of brittleness in important parts such as the garbage disposal area, the cable, etc.
Motor Type and Suction – Here's basically how you manage to suck up dirt. Cyclone-type suction motors are usually the most popular and quite efficient. So that allows for more compact sizes and lower weight, so they are not tiring to use.
Power: related to the previous one, power is key for cleaning to be effective. It is especially important to have plenty of power if you want to collect pet hair that may be embedded in the sofa or any fabric or material that is not flat and where they can be more attached.
Tank capacity: handheld vacuum cleaners, unlike others such as carts that we are more used to using, have smaller sports cars. To have more capacity, they do without a bag, but it is important to know well what you are going to use it for, so as not to have to empty it every few minutes.
Noise level: here again everything will depend on the user, but the truth is that vacuuming with a loud hum so close is very annoying. There are models that are below 60dB in terms of noise and have some grilles for the audio output that do not cause the classic "hiss"
Filters: there are handheld vacuum cleaners with filters that you have to change from time to time. Then there are others that do not need replacement because the included filter itself is washable under the tap
Autonomy: if it is a handheld vacuum cleaner with a cable, you will have no problem because you can use it just by connecting to the electrical current. On the other hand, if it is battery, you have to take into account size and amperage. If not, after a few minutes you will have to put them back to load and it will take longer than it should to do something that should not take up much time
Accessories: finally, if you only want to pick up dirt from the floor, you will need little, but if you also want to do it in hard-to-reach corners, furniture, the sofa or car armchairs, it will be important that you have a good variety of accessories
How to choose the ideal hand vacuum cleaner
Known the main characteristics of a handheld vacuum cleaner, how to choose the ideal model when most coincide in many of them. Well, this is how we would do it and we hope it will serve as a guide in case you are behind one.
The first thing we would look at would be the type of engine and its power . According to this, you can use the vacuum cleaner to get rid of your pet's hair that may be stuck to different fabrics as well as collect particles of greater weight.
The second thing is to see if you need filters or not and if you do need them they can be found easily, without costing you more expensive in the long run than opting for a superior model from the beginning.
The capacity of the tank is also important if you do not want to go to empty it every so often and it would be the third important parameter when choosing a vacuum cleaner. Luckily most offer half a liter of capacity. So there is usually not much problem, unless you want to clean a house
The Autonomy if it is a question of being a model without cable. Something that from the beginning we also recommend that you do so because you will gain freedom of movement and you can even use it to clean the car regardless of whether or not you have an electrical outlet nearby.
Finally, it must be easy to empty and convey the ability to withstand the passage of time well.
The rest of aspects such as design or accessories are rather optional, it is important if you like aesthetic things or want to make certain uses. However, for many accessories that it brings and that even then you do not use as much, the actual cleaning capacity is more important.
Finally, although there are hand vacuum cleaners that are just that, there are also vacuum brooms that can be used as handheld and you may be interested. So consider these possible models as well.
The best handheld vacuum cleaners
As you can imagine, there are a multitude of handheld vacuum cleaners, listing the vast majority of them would not make sense, since you could find them quickly yourself. So we are going to recommend different solutions with different prices and tell you why we find them interesting.
Dyson V7 Trigger
Do not be scared because we start strong, but it is impossible to talk about vacuum cleaners and not tell anything about Dyson solutions. And yes, it is true that they are not as cheap as many others on the market and most would not consider opting for one of them, but it is true that the suction power they offer makes them have very high cleaning capacities. To get rid of that dirt more complicated to collect they are ideal, expensive, but ideal.
Black & Decker Dustbuster
Much cheaper than the previous one, this Black & Decker handheld vacuum cleaner is a very good option for those looking for something powerful without having to invest a lot. With a tank with a capacity of 0.7 L and a powerful motor, it also offers an extendable pole to be able to vacuum those corners or less accessible areas.
Black & Decker Dustbuster Wet Dry
Also from Black & Decker, this model is even cheaper and also somewhat smaller overall, even with the tank size of just 385 ml. Even so, it has the ability to collect liquids with it as a point in its favor. It is not to collect a bucket of water that spills on the floor, but if you suck in a few drops, nothing happens. It is also wireless and that allows freedom of movement. Of course, every so often the filter will have to be changed so that it remains effective.
Xiaomi Compact Handheld Vacuum Cleaners
As expected, Xiaomi could not be absent either. Here the manufacturer offers a handheld vacuum cleaner that, due to its suction capacity, ease of use and cleaning of the tank and its interior, is very comfortable. Although both the autonomy and capacity of the tank is smaller than that of other models and that must be taken into account. Even so, it is true that by design it attracts a lot and is very comfortable because of how little it occupies.
VOSFEEL Z10
This model is one of those that we tell you that being a broom-type vacuum cleaner it can also be used as a handheld thanks to the different accessories it includes. So it can be a good option, not the only one, but one that, because it is wireless thanks to its autonomy, etc., makes it a good option.
Xiaomi Mi Vacuum Cleaner
As with the previous model, although with a higher price and also better features by having greater suction power, this Xiaomi vacuum cleaner can be used in both broom and handheld mode. It is wireless and the noise level is not too high, so it is a great alternative for you looking for a product with good capabilities without having to jump to the Dyson proposals.