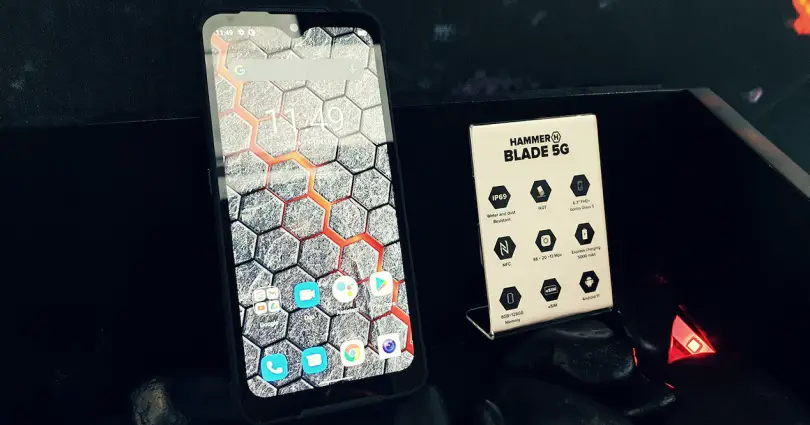 Taking advantage of the absence of the main manufacturers in the market, firms such as mPTech are taking all the eyes of the Barcelona mobile congress. Special expectation has been caused by the HAMMER Blade 5G , an all-terrain smartphone that boasts great technologies and compatibility with 5G networks, being the perfect smartphone for the work environment.
For those who do not know the manufacturer, it is a Polish technology firm that in its catalog has myPhone, HAMMER and techbite brand products. The second of them is the one that precisely brings together off-road smartphones like this Blade 5G that has everything that should be required of a rugged phone, and much more.
A great bomb-proof smartphone
This new mobile developed by the HAMMER brand responds to the needs of customers and the adaptation of "off-road" smartphones to 2021, offering great resistance and performance to match. Not surprisingly, it is, as we have said, the first terminal of its kind that combines eSIM and 5G technology, that is, it does not require a physical SIM card to work and take advantage of the entire data plan.
This model boasts connectivity with 5G networks thanks to the use of an 8-core MediaTek Dimensity processor along with 6GB of RAM, NFC and a 5000 mAh battery with fast charging option. Behind it is three lenses composed of a 48 Mpx main sensor, a 16 Max sensor that helps to take photos in night mode and a wide-angle lens for 13 Mpx panoramic photos. In front there is space for a front camera with a resolution of 16 Mpx. How could it be otherwise, the HAMMER Blade 5G has the MIL-STD-810G military certificate, complies with the IK07 standard and has an IP69 certificate that confirms its resistance to shock, water and dust.
Of course, at the moment the smartphone is not for sale so we do not know its price. What is certain is that you can buy it from next fall.
More phones from mPTech
Although the HAMMER Blade 5G is the most striking phone on the company's stand at MWC in Barcelona, it is not the only phone that has been presented at the mobile fair. The brand has taken advantage of the trip to launch its myPhone S1 LTE and myPhone C1 LTE , two "feature phones" with physical keyboard and a large 2.8 "screen, compatible with LTE and VoLTE technologies.
In addition, they have a smartband, the myBand 4family , designed for use by children and the elderly with a telephone function (with a SIM card slot) that, in addition to receiving and making calls, also provides useful functions to monitor the pulse, blood pressure and trigger an SOS alert immediately.