Social platforms made up of social networks have become an essential element for a large number of users, which they usually access on a regular basis. Whether it's Facebook, Twitter, Instagram or TikTok, it will hardly be that we are not registered to any of them. If we access them from our Microsoft Edge browser, we must know that we can improve our experience in them through the use of different extensions.
Edge is the Microsoft browser developed to become the natural replacement for Internet Explorer. It has been developed in Chromium and among its features it stands out for being compatible with the use of extensions that will help us provide new features when browsing.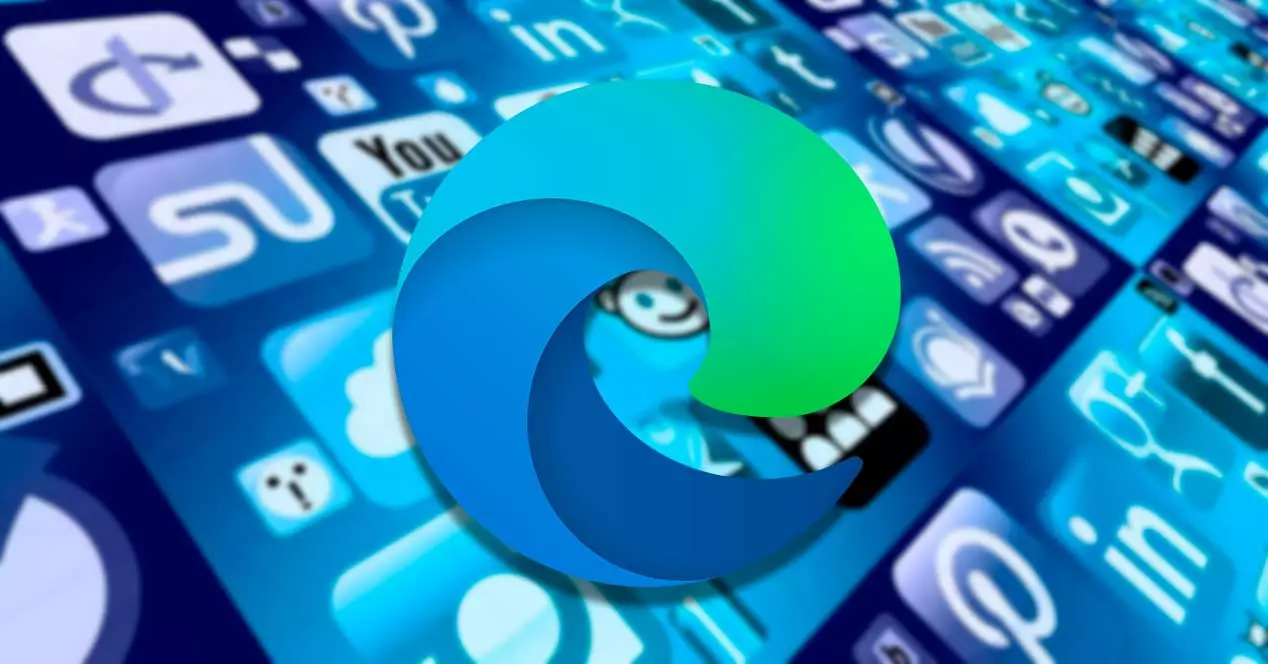 Microsoft has its own Edge add-on store that is still in Beta phase and from where it is possible to download add-ons for the browser. Likewise, having been developed based on Chromium, it is compatible with the extensions available in the Chrome store, which is much larger and has more content.
Next, we are going to see different Egde extensions for social media lovers grouped into different categories.
Facebook
The social network owned by Mark Zuckerberg is the most popular and one of the pioneers. These plugins for Edge will help us improve our experience.
Facebook Color Changer
This plugin for Facebook allows us to change the style of the social network to themes with custom colors . The extension has among its features 24 preset color themes, among which we can find both light and dark themes. We can also create our own custom themes configured with up to five colors. It applies to both Facebook buttons, such as Messenger and Like. In addition, it has additional settings for the user interface such as the possibility of being able to automatically hide both the menus and the chats. We can download it from the Edge store .
Unseen for Facebook Messenger
This plugin for Edge takes care of blocking the sending of read receipts from Facebook. If we don't want our friends to know when or if we have read their messages , this is the perfect extension to block these annoying read receipts. We simply have to install it and we will have nothing to do. The extension hardly takes up any space, since it only takes care of blocking a single line of code to disable Facebook reading clicks. It also has the ability to manually mark a message as read, which gives us complete control over who sees when we've read a message. To use it, simply download it from the Edge Add-on Store .
Twitter
If we are users of this social network, these add-ons for Microsoft Edge can be of great interest and use to us.
Twitter Downloader HD
We are talking about an extension that will be of great help to us to download videos from Twitter for free and with good image quality. It also has support to convert videos from the social network to MP3 and download MP3 audio. Another cool feature is its ability to quickly and unlimitedly download GIFs. And if any user is concerned about their privacy, say that the developers of this extension claim not to collect any user information. The plugin adds a download button at the bottom of the video so that we can download the video in MP4 format or the sound in MP3. Download free Twitter Downloader HD .
SimplifiedTwitter
This extension can be useful if we want to avoid distractions when using the platform. And it is undeniable that Twitter's main drawback is that its interface is loaded with elements that can become quite annoying and that can distract us from the main use, which is none other than reading tweets. That is why this plugin's main objective is to improve our user experience by eliminating all distractions from its design, making it more minimalist. To do this, remove the trend columns, main menu and other elements that we do not use, so that we can focus exclusively on the tweets. Download Simplifield Twitter for free.
Instagram
It is another social network belonging to Facebook and that is also very popular, so these extensions may be of interest to us.
Desktop client for Instagram
This plugin is responsible for providing us with an experience of the mobile version of Instagram on the desktop of our browser. And it is that if we are used to using the web version of Instagram on our PC, we have verified that it is more limited, since the social network itself prefers that we use its mobile application. That is why this unofficial application enables the possibility of using functions such as direct messages, downloads and viewing stories. We can also upload videos from the PC, take screenshots from the Instagram window and download images. Download this plugin from the Edge Store.
instagram downloader
We are talking about a plugin specially designed so that we can download both images, videos and Instagram stories . Among its features, it stands out for working with both images and videos, allowing you to download the stories, as well as a single image from a publication or multiple images in a single ZIP file. In addition, we can perform a massive download of our entire profile. We simply have to use a corresponding download button to be able to download everything we need from the social network. It is possible to download Instagram downloader for free .
TikTok
One of the most popular social networks has gained tremendous popularity in recent years. If we use it regularly, these add-ons can be very useful.
Web for TikTok
By using this plugin we will be able to access our TikTok account from Edge as if we were using our mobile . We will be able to log in, upload videos and watch all the content of the platform in a mobile view. We can also open TikTok links as an app view automatically and download videos. All this with a very low consumption of the computer's resources so that it doesn't interfere negatively while we carry out other tasks. We can download Web for TikTok from the Edge Addon Store .
TikTok download video, audio and cover
As its name indicates, we find an add-on that clearly shows what its intentions are and what it offers if we decide to install it. And it is that through its use we will be able to obtain with just a couple of clicks the download links of TikTok , either of the videos, both with and without a watermark, of audio in MP3 format and the cover in format JPG. If we are regular users of this social network, this extension can help us download everything that interests us with little effort. Download this plugin for free .
Addons for messaging and chats
If we like to chat from our computer, these extensions for Edge can be very useful in our day to day.
Emoji Keyboard
This extension for Edge will allow us to insert emojis in a fun and fast way. The extension is backwards compatible with older versions of Windows 7, as well as older versions of Android. In this way the emojis are displayed in black and white in the case of older systems and in color for systems that support color emojis. Supports iOS, Android, macOS, Windows and Linux emojis. We simply have to copy and place the emojis on platforms such as Twitter, Facebook, Instagram, WhatsApp or any application or site where we can insert text. Download Emoji Keyboard for free .
Emoji keyboard
This add-on for Edge is going to be very useful to help us create and copy emojis to any website , giving us access to more than 100 emojis to be able to insert them in comments within platforms such as YouTube, Facebook, Skype, Yahoo Messenger and chats. WhatsApp and Telegram. By installing it we will have free access to more than 100 emojis. Using this software is extremely simple, since we simply have to click on the extension icon and choose the emoji we want to use. We simply have to paste it in the desired place and thus express our state of mind at that moment. Download this plugin from the Edge store .
Online Web Messenger
If we are lovers of social networks and messaging applications, it is likely that we use them regularly. Each one works independently, so we must be starting its corresponding application or visiting its web page. Well, this complement allows us to group all social network and messaging applications within the same tool, since it supports a wide variety of chat and private messaging services. In this way we can have all our WhatsApp, Telegram, Facebook, Skype, Twitter, Discord, Hangouts accounts, among others, grouped together. Download the extension from the Microsoft Add-ons Store .