It certainly helps to be able to base your iPhone on a base and charge it while you sleep or work, but finding the right base can be difficult. You want something that pairs perfectly with your bedroom nightstand or office desk, while providing simple functionality and an affordable price.
Here is a selection of the best iPhone docks available on the market. We have put together the best deals we have found and found them interesting.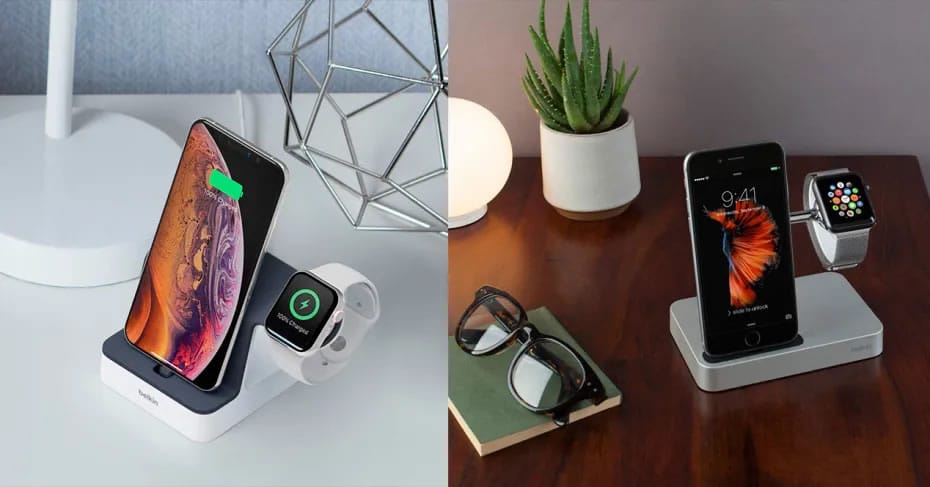 What is a dock?
The  dock of a smartphone or tablet  is a small device where we let our device rest to recharge. It is a way to have it somewhat more protected than simply resting it on the table, while helping us to sort out a bit of the mess of cables that is used to invade modern homes today.
What are you going to use the dock for?
You need to ask yourself the question of what the iPhone dock will be used for:
To use in the office?
Charge it at night?
Synchronize it with your computer?
Have it as a multimedia device (music / videos) while charging?
The criteria when buying one can vary greatly depending on the use that is going to be given. That is why it is essential to analyze the characteristics of the dock to choose, when choosing one.
Points to consider before buying one
As we have already mentioned, we are going to stop at the types of docks that are available for iPhone. Before your purchase, we are going to dwell on the most important characteristics to consider:
"Made for iPhone" Products : Accessories bearing this seal signify that they are part of the official and compatible accessories program for Apple products. This seal guarantees compatibility and quality, which is why it is a key point when buying an accessory.
Compatibility : basically you have to look at the type of connection your device has. Since there are many dock bases, some do or do not have a Lightning connector or a cable of this type  in their box. There are models that are only a support and to which we must add our own cable to be able to use them.
Weight : it is a key section. It should be heavy enough to support the weight of your iPhone without tilting or balancing.
With or without device support : Some docks are only supported by the Lightning connector connection. This is not always the best option, as it may not be stable enough for the device to be supported. Ideally, you should have a back support for support.
Take into account the size of your cover : another important point to take into account. Most people protect their device with a case, and this can cause it to not connect well in the dock.
Other details that add up
Built-in Speakers : Although you may not know it, the first docks that were sold were almost all with speakers for listening to music. They became very popular a few years ago. At present, small speakers and a dock are still being sold to connect your iPhone. The price of these tends to increase.
With Holder for Other Accessories : There are some that are large compartmentalized bases for connecting various accessories. For example, the iPhone and Apple Watch docks have become quite popular. There are even some that also bring support for AirPods.
With wireless charging: if your iPhone is compatible and the dock has wireless charging, it is another good point when choosing one, since you will forget about the cables.
The best iPhone docks you can buy
We have made an extensive compilation of the best iPhone docks that exist on the market today.
Apple Official
The Lightning Dock comes in four metallic colors to match your iPhone. Simply plugging the dock into a power outlet with the Apple USB power adapter (included with iPhone) will charge the battery. You will be able to hear your calls with total clarity hands-free.
Hoidokly
This wireless charging station can charge mobile phones, iWatch and AirPods at the same time, at the same time, and it can work separately.All you have to do is put the devices on the charger, it is a good space saver table decoration
Belkin MIXIT
This dock features a premium design with solid construction, aluminum finish, and a non-slip base. Take advantage of the existing power supply. Includes integrated 1.2 m USB cable.
vcloo
The wireless charger stand can charge your iPhone, Apple iWatch, and AirPods simultaneously. Say goodbye to messy cables, you don't have to have so many long messy cables anymore, keep your desk and nightstand always organized.
Belkin PowerHouse
The wireless charger stand can charge your iPhone, Apple iWatch, and AirPods simultaneously. Say goodbye to messy cables, you don't have to have so many long messy cables anymore, make your desk and nightstand always organized.
Xixihaha
This charger stand saves space by hiding annoying cables and making your desk or nightstand look neat and tidy. The ultra compact aluminum lighting connector ensures complete safety and reliability, its head works with almost all cases.
Lamicall
This is a basic aluminum material bracket. It has great stability thanks to its base with a stable center of gravity. With a suitable height, perfect viewing angle when using Facetime and YouTube. Designed with Hightlight technology. It is ideal for tables, desks in your home or office.
NANAMI
The unique navigation design offers mobility, being able to charge your phone vertically or horizontally, enjoy watching movies and listen to music without interruption while it is charging. Plus, you can answer a call without having to unplug. It is 1.4 times faster than the standard wireless charger, integrated in two coils that offers you a much larger charging area. This Quick Charge 2.0 Wireless Charger will charge your compatible device from off to fully charged in as little as two hours.
---
yootech
Designed with two coils, it gives you a much wider charging area than the general round wireless charging pad, while eliminating the hassle of trying to find the 'sweet spot'. You can charge your phone in any orientation, vertically or horizontally with the perfect angle for your eyes, you can watch movies, listen to music, make calls or send messages without interruption throughout the charging process.
ESR
Just place your device on the charging stand and start charging. The two integrated coils provide additional efficiency. You can see the charging status at a glance, without having to adjust or lift your phone. It has fast charging mode with 7.5W power compatible with iPhone SE 2020/11/11 Pro / 11 Pro Max / XS MAX / XS / XR / X / 8/8 plus with the latest iOS system.