The importance of technology in our daily lives is constantly increasing. In addition, this dependence on information technologies by home users causes many of them to have doubts or problems when using their computers, and as a consequence, they need to be assisted by remote control in an easy and fast way, to solve a problem that can be very simple for IT technicians, but very complicated for them. How can we choose a remote desktop control tool and provide help to our friends, family or professional level?
What to look for when choosing a remote desktop control program?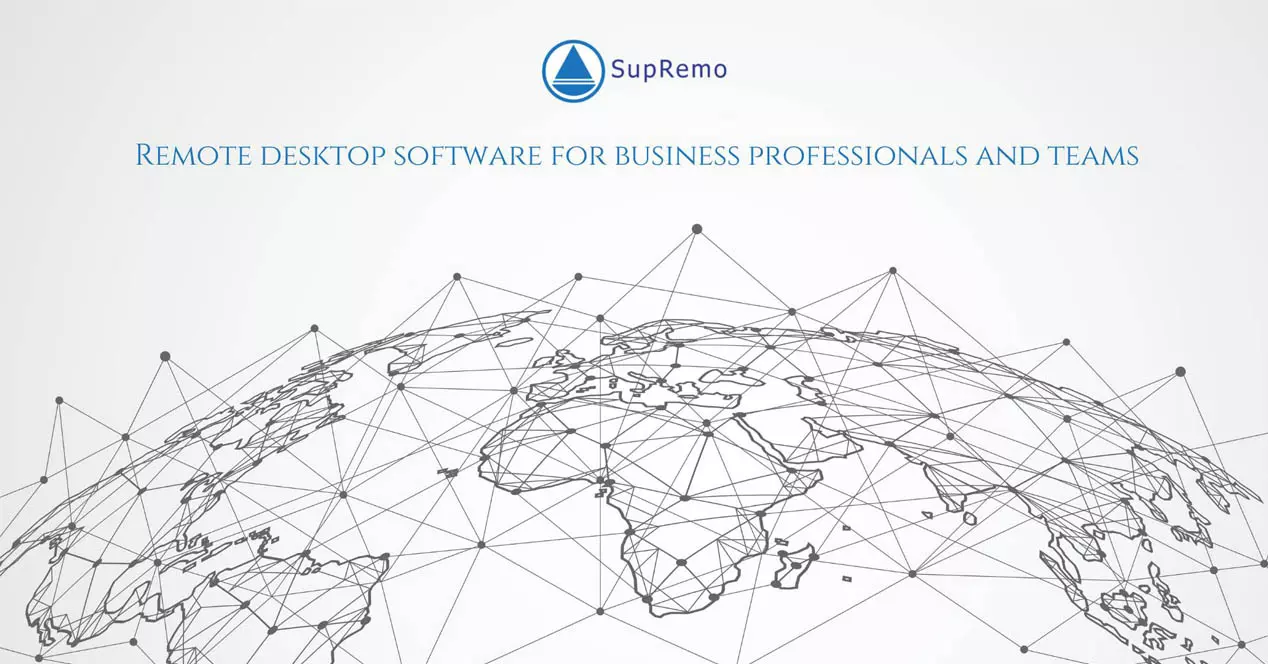 Currently we have a large number of programs to remotely control the desktop of our computer: these tools are very powerful for home users, IT support technicians, and even at the business level to support colleagues without leaving the table. . In this way, we can provide remote assistance quickly and efficiently. We indicate below the fundamental properties that a remote control program has to possess at all. In this sense, SupRemo is one of the software that has been able to integrate both the basic features necessary to control a computer from a distance, as well as an affordable price for everyone.
We are going to see these properties in detail.
Security
One of the most important features is security. It is essential that a remote desktop program incorporates:
A system to limit the number of incorrect passwords that can be entered. If an attacker is able to get hold of our ID, it is absolutely necessary for the software itself to implement a system to prevent multiple login attempts, and thus avoid brute force or dictionary attacks on the access password.
AES-256 end-to-end encryption. It is essential that all data traffic is encrypted, from our PC to the remote PC that we are controlling, in order to provide confidentiality, data integrity and authenticity.
White list of remote IDs . This aspect is very interesting: there are programs that allow us to create a white list of IDs, only the IDs that are in this list will be able to access our computer remotely, in this way, we will be greatly reducing the attack surface.
Technical flexibility
Another very important characteristic of this type of program is that it allows us to carry out unlimited installations on computers or PCs , in this way, the same program can be installed on multiple computers belonging to family, friends or directly in the company, in order to be able to control these PCs and provide remote technical support.
It is also essential to facilitate remote connections to the technical service, for this reason, it is very important to use programs that use reverse connections using your Cloud. This functionality will allow us not to have to open ports on the router , nor will we have to open ports on the firewall or perform any complicated configuration. We will simply have to install the program on our PC with administrator privileges, share the ID and access password, in this simple way they will be able to access our PC remotely.
In the event that you are going to remotely control a PC in a very continuous way, it is important to put the program as a service with unattended access . In this way, when the computer starts up, this program will also start and we will be able to control it remotely. For example, with SupRemo , whether you have the paid version or the free version, the program allows you to connect to the remote station at any time even if there is no one in front of the far computer.
For technical support people it is also very important to have an address book to be able to quickly connect to the different PCs. Through the library, we can also see reports of who has connected, how long and at what time, in addition to monitoring the connection.
Chat, file transfer and remote printing
Other requirements that we consider very important for a remote desktop control program are the possibility of chatting with the person on the other side of the screen, while we control their PC, in this way, we can tell them what we are doing, or warn them that we are going to restart the computer to apply the changes. Of course, the possibility of transferring files between our computer and the remote one that we are controlling is essential in case we need to pass on a document, a program to automate certain actions or any file that we need to provide adequate technical support.
The possibility of controlling a computer remotely and being able to print to a local printer is another quite interesting feature. This is one of the great novelties recently introduced in SupRemo. Thanks to this possibility, we will be able to quickly print the documents, without having to download the file from the remote PC to ours, open it with an editor and later print it, it is much faster to do it with remote printing .
Other functions that we must take into account
If we are a company that provides technical support to home users and even other companies, having a customizable interface with the company logo is quite interesting. There are programs that allow us to put the company logo so that remote users can see which company is giving them technical support. It is also very important how the purchase of licenses is managed, if we have annual or quarterly plans, and even if we want to buy additional configuration options. For home users it is very important to have a free version for non-commercial use, or at least one that is competitively priced enough to purchase a paid license.
Conclusions
As you have seen, we have many requirements to choose the perfect remote desktop control program for our needs. Currently there are many options on the market, some with more configuration options and others with fewer options, some more expensive and others cheaper. Among the most recommended options, SupRemo is one of the remote control programs that best adapts to the needs of consumers and also to their pockets.
Although most users are familiar with Teamviewer as a remote control tool, SupRemo is definitely a very powerful and much more affordable alternative. It offers all the features that both home users and businesses need, without being overpriced. Plus, it's easy to take anywhere and doesn't require any installation, which can be a limitation for less experienced users.