Apple TV is a device that is becoming more and more valuable in homes thanks to how easy it makes everything for users who have an Apple ecosystem. With the arrival of so many streaming content platforms and the presence of these on the Apple device, this has become the place to go for entertainment. However, the experience can be even more positive if you accompany the Apple TV with a great sound system. For this, in this post we leave you several alternatives to take into account.
Aspects to consider
When purchasing a sound system to use with your Apple TV, you have to take into account a series of very important points. First of all, you have to be clear about what type of device you want, since thanks to the different options that exist on the market you can use everything from speakers to spectacular sound bars. That is the first point that you have to assess and think carefully.
The second is the way to connect this or these devices to your Apple TV . As you know, Apple has developed AirPlay 2 technology, which facilitates and enhances the sound experience with all Apple devices. However, many speakers and sound bars are not yet compatible with this technology but they also offer fantastic sound quality. In these cases you will have to connect them in some cases via bluetooth and in others even to the television through which you are going to play the content. Therefore, this point you have to take into account when deciding on one alternative or another.
Use these speakers for your Apple TV
We begin this compilation with a type of product that, in the first place, is capable of offering fantastic sound quality, and that is also the most versatile alternative that you can obtain since, usually, due to its size, it will be a product that you can use. next to your Apple TV, but also next to other devices and in other places. So it seems one of the best options if you want to make an investment to take advantage of it together with other devices.
Sonos One SL Smart Speaker
Without a doubt one of the most prestigious brands in the world of sound is Sonos, in addition, fortunately for Apple users, the range of products compatible with AirPlay 2 is very large, which means a tremendous advantage to have products that offer a So high sound quality and also, in terms of connectivity, are ideal to use with Apple devices.
In this case, this Sonos One SL is a really powerful speaker that has AirPlay 2 technology. Enjoy a compact and very attractive design . It offers two digital amplifiers that are perfectly matched to acoustic architecture and automatic trueplay tuning, so you can tailor the sound to any room. It is also ideal to acquire two identical speakers and put them each next to the Apple TV since they can be connected between them and generate that sensation of immersive sound.
Yamaha WX-021
We changed brands and now we are going to Yamaha, another of the manufacturers that has a great reputation in the world of musical accessories, and a good example of this is this fantastic speaker. At the design level, we can hardly blame this device, since just by looking at it we can appreciate how well cared for all the details, undoubtedly one of the most elegant options.
If we talk about the connectivity offered by this Yamaha speaker, it should be noted that Apple users who have been attracted to it are in luck since it has AirPlay , so they can perfectly connect this speaker to all their devices , including Apple TV. In addition, it also has the possibility of connecting other devices via Bluetooth and Multiroom technology .
Sonos Move Smart Speaker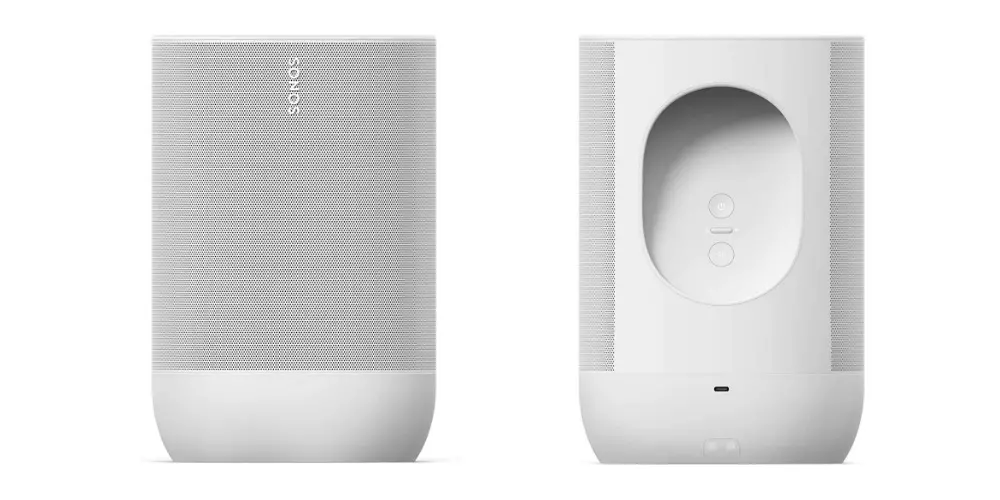 We are going back to talk about a Sonos product, and I already tell you that it is not the last of this compilation, we have already commented that it is one of the manufacturers that puts more and better sound options on the table for all Apple users. Aesthetically, this speaker is quite similar to the Sonos One, but it raises the level a little more, and also the price, as it cannot be otherwise.
At the connection level, Sonos once again offers the best for Apple devices since it has AirPlay 2 . It is a speaker with resistance to water , something that if you are going to use it together with the TV does not have much relevance, but if you are going to want to give it that versatility it offers, it is undoubtedly a point very in its favor. In addition, it also has a connection with Alexa and Google Assistant.
Sound bars, a perfect alternative
We are leaving the world of loudspeakers and are now focusing on solutions designed and developed to consume multimedia content on a television and which, therefore, are the devices best adapted to this type of entertainment. Sound bars undoubtedly raise the level of sound that all users can enjoy with their television, whether to watch a concert or to enjoy any series or movie. Here are some of the best alternatives you can find.
Samsung Sound Bar HW-A430
The first soundbar that we want to talk to you about is, without a doubt, one of the cheapest alternatives you can find and that offer great sound quality. In addition, it is also accompanied by a subwoofer, a combination that will delight all users. Aesthetically they have a very conservative design that will provide elegance and that is very in line with the Apple TV.
Unfortunately, it does not have AirPlay 2 technology , although it really is not a very serious problem since you can easily connect both devices to your television. It has a Dolby Digital 2ch sound, and a power of 270W , bass reinforcement and even a game mode for all users who want to also use it with their console or, why not, with Apple Arcade games on their Apple TV.
Samsung Sound Bar HW-Q600A
We continue with one of the alternatives offered by the Asian giant and that raises the level of the sound bar that we have told you about previously. It has Dolby Atmos , so the sound quality that you can enjoy with this sound bar will be truly incredible. But beware, the sound bar does not come alone, since it also includes another speaker that perfectly complements the sound emitted by the bar.
In addition to Dolby Atmos technology, it also features astonishingly realistic three-dimensional sound so that all users can enjoy cinema sound. This is possible because the multidirectional sound has three channels, of which two are dedicated to Dolby Atmos, and also the subwoofer. This generates an immersive and multidimensional experience.
JBL Bar 5.1 Surround – 5.1 Soundbar
If we talk about sound, a brand that can practically never be absent due to the great audio quality it offers through its different products is JBL. In this case, it makes a sound bar and a subwoofer available to all users to give your Apple TV that power and audio quality that a device with these characteristics deserves.
It offers up to 510W of power without the need for cables. It has surround and wireless speakers that work through a Bluetooth connection, so you can not only use it with your television but also with other devices such as the iPhone or iPad. It has a true 4k connection with three HDMI inputs and one HDMI ARC output so you have the feeling of immersing yourself in your own living room.
Sonos PBASEWH – Multiroom TV Base
Sonos re-enters the scene, in this case with a slightly different product than the ones we have talked about so far. We can really think of it as a soundbar, but the reality is that it brings two products together in one . On the one hand, it works as a sound bar for your Apple TV, but at the same time it also provides a base to place your television , that is, a wonderful two in one.
This product is specially designed for televisions that have a table support, and is also compatible with most television remote controls. It is capable of supporting up to 35 kg of weight . At the sound level, it offers 3 tweeters, 6 mid-range speakers and one for recording with the possibility of creating a 5.1 sound system . It also has the possibility to configure the surround sound channel 3.0.
Bose – Soundbar 700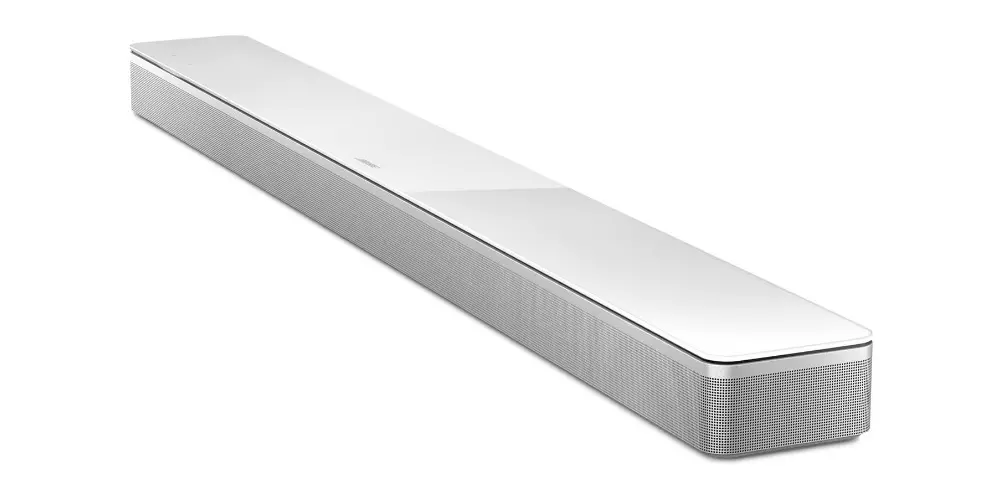 Bose enters the scene. One of the brands that manufactures the best sound products has in its catalog a sound bar that seems like one of the best alternatives you can find to use with your Apple TV. At the design level it is tremendously simple and elegant, you also have it available in both white and black.
This sound bar offers surround sound and deep bass so you can enjoy all the multimedia content you consume through your Apple TV, in addition to the best possible way, through AirPlay 2. You also have Spotify Connect available, as well like Alexa and Google Assistant built in. It has Voice4Video technology which will allow you to control the television with your voice.
Sonos ARC – Smart Soundbar
We had already warned you that Sonos was going to have an important presence in this post and now it reappears with this smart soundbar, the Sonos ARC. Without a doubt, if you want to create a home theater room, this is the soundbar that you have to install next to your television to enjoy the best possible sound experience.
It has a very elegant design that makes it look like another decorative element. Inside it hides eleven speakers that offer a very wide sound field , capable of giving a multidimensional sound, deep and full of nuances. It offers Dolby Atmos, 3D sound, and even voice control.
JBL Bar 9.1 Soundbar
We finish this compilation with another alternative from JBL, which in this case raises the level considerably by offering not only a sound bar, but also accompanies it with a subwoofer and two more speakers to be able to create that 9.1 experience thanks to its JBL Original Pro Sound sound. power without using cables. With this equipment you can create a movie theater in your home.
It has surround speakers and wireless via Bluetooth, so it is also perfectly compatible with both your iPhone and your iPad, in addition to Apple TV, of course. It also offers Dolby Atmos, as well as the ability to connect your Apple devices through AirPlay 2 , something to keep in mind.
Which option sounds better?
As is tradition, whenever we make this type of compilation we want to tell you which of the different options proposed is the one that convinces us the most. Obviously this is a personal opinion of the ITIGIC writing team, which may or may not coincide with yours.
In the first place, if we have to keep one of the speakers that we talked about at the beginning of this post, the one chosen would be the Sonos Move since, in case of wanting to transport it and use it in different environments, the water resistance provides a tremendous tranquility, beyond the fact that the sound it offers is a true marvel. As for soundbars, the product that has convinced us the most is the one offered by Bose with its 700 soundbar , both for the design and for the Bose sound quality.