One of the markets that is in continuous growth is that of smart accessories so that users have the possibility of turning their home into a domotic home. In fact, Apple is one of the companies that is putting the most interest in this concept, therefore, today we bring you a series of smart plugs that are fully compatible with your iPhone.
So you can configure your smart plugs
Some of these accessories have their own app to control the plug in question. However, the interesting thing is to be able to centralize the control of all the domotic elements of the house within the same application, specifically within the House application that you have available in each and every one of the devices of the Cupertino company.
The way to connect these plugs and any device that is compatible with HomeKit is very simple. Of course, before carrying out the process you have to make sure of two very important aspects. The first of this is that you have to make sure that the device is on and close. The second is to check if the accessory you want to connect to HomeKit needs additional hardware for it. This information can be found in the device manual. Now yes, we are going with the steps to follow to connect these plugs to your iPhone.
Open the Home app and click " Add accessory ".
Use the iPhone camera to scan the eight-digit HomeKit code or QR code on the accessory. If you have an iPhone 7 or later and the accessory has a wave symbol, hold the iPhone near it to add it.
As soon as the accessory appears, press it . You may be asked to Add the accessory to the network, if so, click on " Allow ".
Give the accessory a name and assign it to one of the rooms that you have configured in the Home app. This way it will be much easier to identify and control it with Siri.
Press next and then OK .
These are the cheapest alternatives
Among the infinity of options that exist in the market to domotize the house, there are some that have a higher price, and another that have a cheaper price. In this post we want to start by talking to you about the cheapest options that you can find without giving up a minimum of quality.
ONVIS, smart plug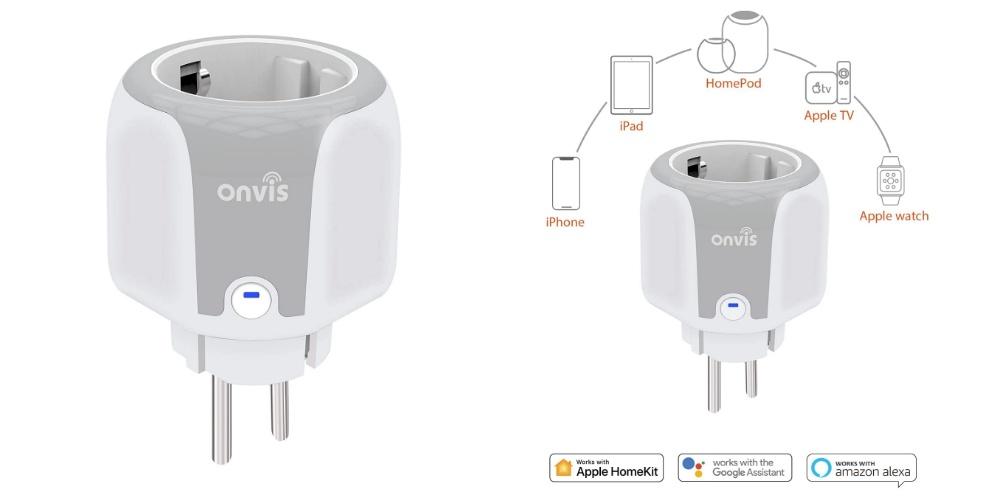 We start with the cheapest option of this entire compilation, which comes from the hand of the maca Onvis . In this case, this smart plug is compatible with both HomeKit and its competition, that is, Alexa and Google Assistant. With it you will have the possibility to turn on and turn off household electronic devices from anywhere, you just have to use the HomeKit application for it.
You can also create different automations and scenes at home . Of course, it is completely controllable through the different Siri commands with which you can communicate with the Apple assistant. To use it, it requires having a minimum version of iOS, specifically iOS 13 or higher. In addition, it supports 2.4 GHz Wi-Fi networks.
Smart Plug Wi-Fi Smart Plug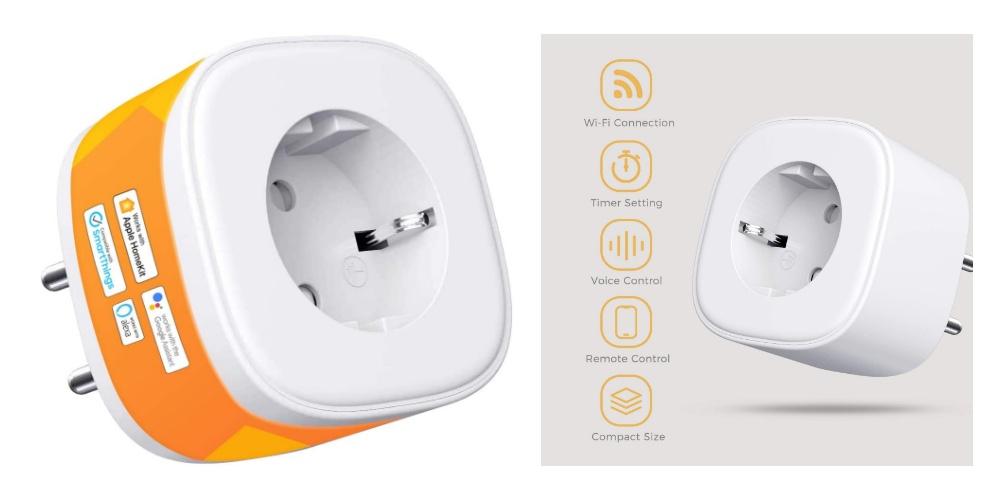 If you want to control different devices that are connected to the current from anywhere, without a doubt this is one of the cheapest options that you will find on the market. From the hand of the Refoss brand, you have this socket compatible with HomeKit, Alexa and Google Assistant .
It has a long Wi-Fi range , provided by the Mediatek chipset that allows this smart plug to achieve a longer Wi-Fi connection range, accompanied by a disconnection rate that is also lower than most of its competitors. Obviously, this plug can be used through the different voice commands that you can use to communicate with Siri and activate or deactivate this accessory.
LEDVANCE Smart socket with Bluetooth
This plug offered by the LEDVANCE brand has a high switching capacity , up to 3680W or 16A . It is fully compatible with Siri thanks to the complete integration it has with Apple Home, hence you can control it through the voice commands that you use to talk to Siri and make any request.
This type of smart plugs is usually attributed to the connection of these with different lights or lamps, however, they are also completely suitable for connecting other types of electrical devices such as electrical appliances, computers, music speakers, or any device that you can plug in. to the current.
Koogeek Smart Plug
From the hand of the Koogeek company you have this smart plug that is fully compatible with both Apple HomeKit and Amazon Alexa or Google Assistant . In this way you can control any device that you want to connect to the electrical network through this smart accessory.
Unlike other smart plugs, thanks to an exclusive function for Apple users, you can check what energy consumption is being made through this device, in order to be able to monitor daily and monthly energy consumption. Without a doubt, a very interesting way to save money on your electricity bill.
Smart Plug with 2 Sockets.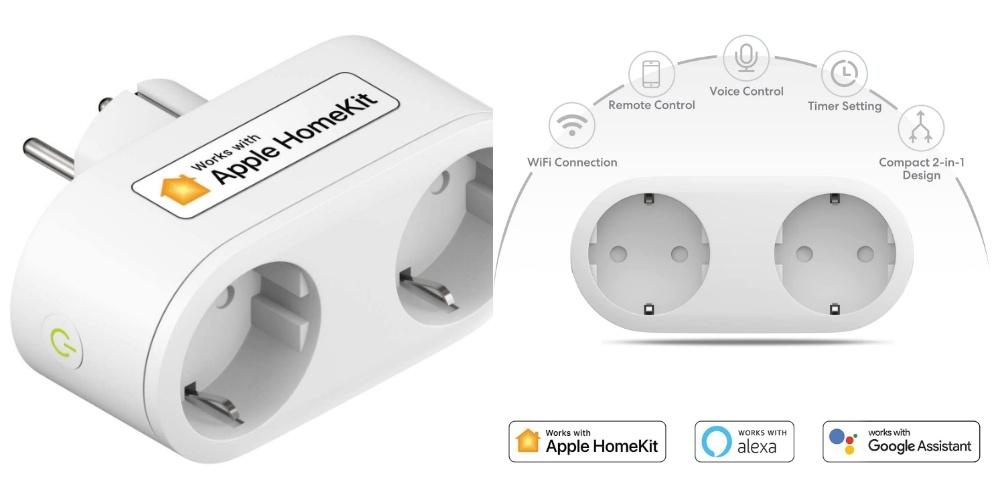 Surely in many of the sockets in your home you need to connect two devices, well, the Meross company has remedied this by offering a smart plug with two sockets so that you can connect two devices at the same time. With the advantage that you can control the two devices separately , that is, you can turn off one and turn on the other whenever you want.
This plug is fully compatible with all Apple devices thanks to HomeKit, in the same way that it can also be used with Alexa, Google Assistant or SmartThings. It has a long range of WiFi connection thanks to the Mediatek chipset. Works with any 2.4GHz or dual band Wi-Fi router.
Raise the bar with these smart plugs
As with most products, there are always cheaper options than others. We have already talked about the alternatives with a lower price, now we want to present you alternatives that go up in price, but also go up in benefits and that are very interesting for certain moments or situations.
HomeKit Outdoor WiFi Socket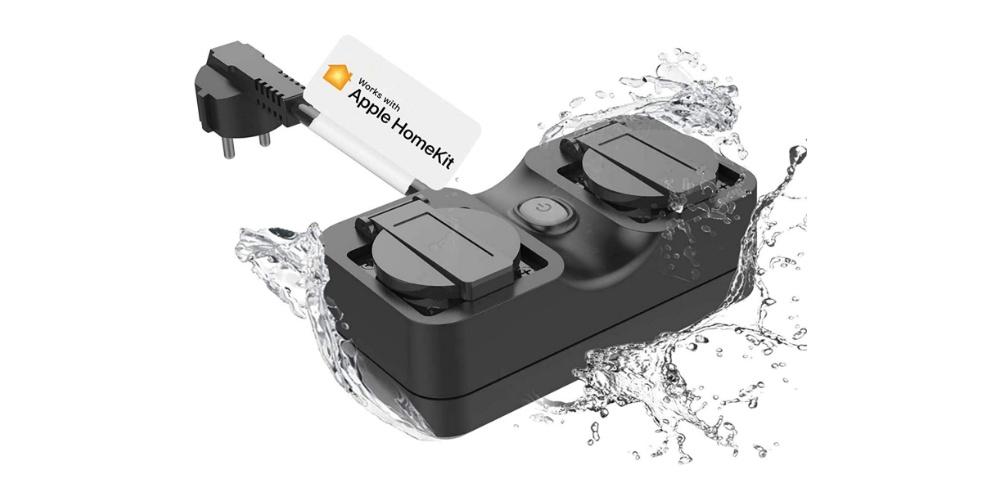 This plug model is designed exclusively for all users who also want to enjoy the convenience of a smart plug in their backyard or simply outside . In this case, the Flysocks brand also offers the user the possibility of controlling said plug from its own application, called eHomelife.
This plug is waterproof , as indicated by its IP44 certification , something essential if you want to place it outside your home and not run any risk. The configuration is really simple, it does not require a HUB and it will only take a few minutes to get it up and running. In addition, it only supports 2.4 GHz Wi-Fi.
Smart Multiple Plug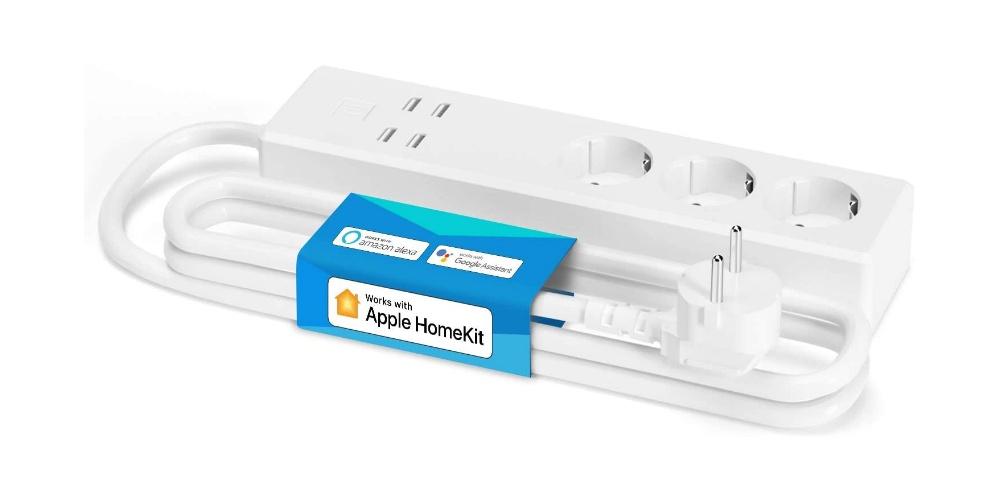 One of the most used elements in a house are the power strips, and of course, the Meross company has wanted to transfer intelligence to these devices so that users also have the opportunity to enjoy a smart power strip. In this case it has three sockets and, in addition, also 4 USB ports where you will be able to charge your devices directly without having to use one of those three plugs for it.
It is fully compatible with both HomeKit, Alexa, Google Home and SmarThings. In addition, you can also control it from the application provided by the manufacturer itself, from where you will be able to verify the status of the plug and even establish a schedule for its operation.
Eve Energy – Switchable Smart Plug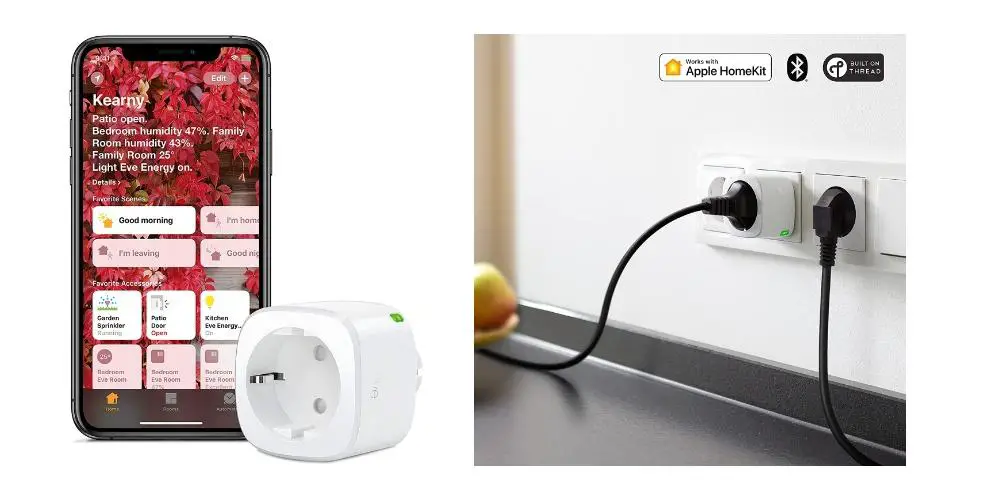 In this case, this alternative comes from the hand of EVE, which provides the user with a plug that, apparently, has nothing different from the ones we have seen so far, but that does have a very useful function if you want to have all the expense of light under control . First of all, keep in mind that this plug is fully HomeKit compatible.
With it you can easily create both automatic schedules to turn a device on or off, as well as being able to control it from anywhere. The interesting thing is that you have the possibility to not only measure the cost of electricity , but also to save a history and view a forecast of the cost based on your electricity rate.
Meross Mini Wifi Smart Plug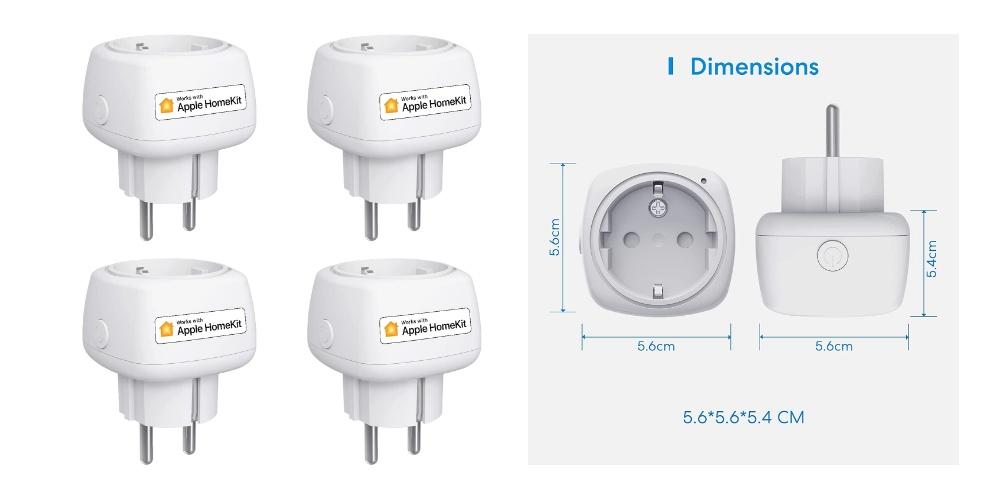 We continue this compilation of smart plugs with another of the options provided by the Meross company. In this case you have a set of up to 4 smart plugs that have a really tiny size , hence their name. Ideal to be able to adapt in any corner of the house without worrying about the space they may occupy.
It is fully compatible with HomeKit, as well as Alexa and Google Assistant. You also have the possibility to control them through the manufacturer's own application, the Meross APP. In addition, you can set the time of on and off the plugs individually, of course, and even synchronize them with sunrise and sunset.
Smart Plug Wi-Fi Smart Plug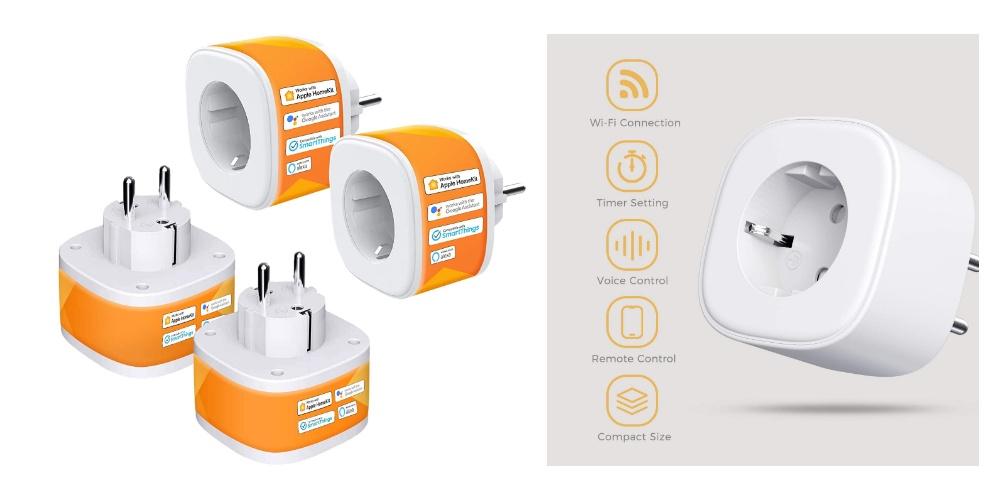 We end this compilation with another alternative from the Refoss brand. These four plugs are fully compatible with HomeKit, as well as with Alexa Echo and Google Home , with which you can perfectly manage all the functions that these smart devices are capable of providing you with the aim of making certain daily tasks much more comfortable.
You can control them from anywhere, either through the Home application on your iPhone or from the manufacturer's own application called eHomelife , which is available for both iOS and Android. It features the Mediatek loT chipset that allows it to achieve a longer Wi-Fi connection range and a lower disconnection rate than most of its competitors.
Which is the best option?
Whenever we make this type of compilation, from the editorial team we want to tell you which is, from our point of view, the most appropriate option for each of the categories into which we have divided these products. If we initially look at the cheaper alternatives, we believe that the best option is the one offered by the Refoss brand with its Wi-FI Smart Plug , given that the quality / price ratio of this device is fantastic.
Focusing now on the alternatives that raise the price because they increase performance or increase the number of plugs provided by the pack, we are left, in this case, with the alternative of the Meross brand, which offers four Meross Mini Wifi Smart plugs with a small size designed to occupy the minimum possible space.