Home automation is increasingly present in the day to day. Much of this is to blame for companies like Apple that have opted to make life a little easier by building an intelligent environment, especially in homes. Therefore, if you want to start making your home a little smarter, you can do it with this compilation of bulbs, lamps and led lights that we bring you in this post.
What options are there for lighting?
When it comes to going to the market in search of smart lighting, there are many options due to the great growth of this sector in recent years. After all, entering the house and being able to turn on the light through your voice or even the light to turn on automatically has led to more and more users being attracted to this technology. Something that manufacturers have taken advantage of by filling the market, as we said, with completely different options.
On the one hand you have the smart lamps, those that you just have to connect to the power and synchronize with HomeKit to be able to use them with total ease. However, one product that is having the greatest success is smart light bulbs. Many of the smart lamps can have a too minimalist look, and many people are looking to keep their lamps for a lifetime, but being smart, something they can achieve through smart bulbs. On the other hand, you will also find led strips, which are undoubtedly a fantastic option to illuminate certain places in the house, and if you are on top of them they are smart, much better.
HomeKit Compatible Lamps
Smart Wi-Fi Touch Night Lamp
The Meross company offers in this case a smart night lamp that you can obviously control through your voice thanks to its compatibility with HomeKit, as well as with Alexa and Google Assistant. You can also interact with it in a tactile way at the top of it, where you can turn it off, on and adjust the light to your liking or your needs.
You can even choose the color of light that it emits, from a warm white light to a wide range of vibrant color combinations. In addition to controlling the light through the Home app, Siri commands or by touch, this lamp has its own application, the Meross App where you can adjust the brightness, color temperature and the color itself from your iPhone.
Xiaomi MUE4093GL
The popular and known to all Asian manufacturer Xiaomi has in this case a lamp that they have focused on placing it on the bedside table in your bedroom. It has a power of 9W and of course, as it could not be otherwise when it is in this compilation, it is compatible with HomeKit, so you can control its use from your iPhone through the Home app or also with simple commands. voice through Siri.
It has a very wide range of colors, in fact you can choose between 16 million different colors with which you can configure this fantastic lamp. Of course, parameters such as brightness are also fully configurable to adapt the light to the needs of each user. Finally, it should also be mentioned that it has its own application to be able to use it from your iPhone.
Philips Hue Play Light Bar
One of the manufacturers that offers a higher quality product in this sector is Philips. It is a company specialized in this type of product with tremendous experience and that has also wanted to add, and in what way, to the world of smart home automation. In this case, it offers a high-quality light bar that is obviously compatible with HomeKit, but also with Google Home, and Amazon Alexa.
It has energy efficiency class A. It is the most versatile product that Philips has in its Hue portfolio and stands out for having a truly compact design. It has a configurable color temperature that goes from 2000 Kelvin to 6500 Kelvin, with up to 16 million colors and the ability to synchronize the light with the music that is playing at that moment, with a movie or even with a video game. via Hue Sync.
Smart Wi-Fi Night Lamp
We continue with another alternative from the Meross company that also has an aesthetic that is relatively similar to the option we have discussed above, but adapted to a significantly smaller size. This smart lamp has the energy efficiency class A + and is of course compatible with HomeKit as well as Alexa and Google Assistant so you can use it in the most comfortable way for you.
In this case, it has two color modes, on the one hand a warm white light, and on the other the bright colors offered by this lamp. It is also compatible with its own Meross App through which you can control the light, adjust the brightness and temperature and which is obviously compatible with iOS and Android.
Smart bulbs
Philips Hue 2 Pack Smart LED Bulbs
In the smart bulb market we also find Philips, in this case with this pack of 2 Philips Hue bulbs that are ideal to place in any lamp to transform it into a smart lamp that you can control through your iPhone and of course, to through Apple's famous voice assistant, Siri. You can also control them through its application, being able to use up to 10 bulbs, and 50 if you have the Philips Hue bridge.
They have a color temperature that can reach up to 2,700 kelvin. It is also compatible with other smart systems apart from HomeKit, such as Amazon Alexa and of course Google Home, so this option from Philips is ideal for all those users who want to start making their home a little smarter.
WiFi Smart Multicolor LED Bulb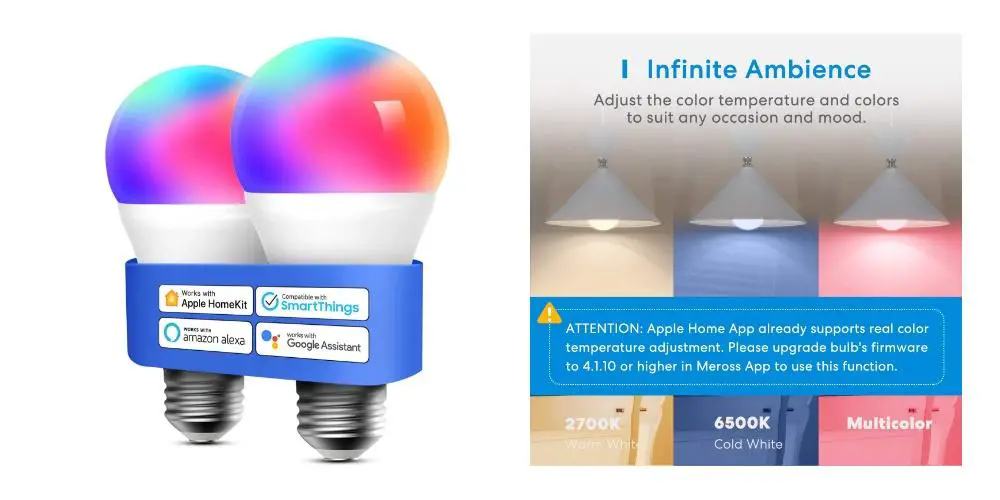 We go with another pack of two smart bulbs, in this case from the Meross brand. These bulbs are fully compatible with the main smart systems such as Apple HomeKit, Amazon Alexa or Google Assistant, so you can use them in different ways, either through voice commands, through the manufacturer's own application that you can install on your iPhone, or also, through the Apple Home application.
These bulbs will allow you to adapt the light to the environment you want to create in each room, you will only have to adjust the brightness of them, the white setting, creating a warmer or colder light and of course, the choice of the color itself. the light from these bulbs. Plus, they work with any 2.4GHz or dual-band WiFi router.
Refoss WiFi Smart LED Bulb
Competition between different brands is always beneficial since, after all, the one who wins is always the user who is interested in acquiring a product of this type. That is why we bring you this pack of two smart bulbs from the Refoss brand. They are fully compatible with Apple HomeKit, Amazon Aleza or Google Assistant so the user will have the whole range of possibilities to use these two fantastic bulbs.
You will be able to create on and off schedules to be able to adapt its use to certain times that you establish and not have to worry about turning it on or off. They have an energy consumption of only 9W, which corresponds to the brightness of a 60W bulb. Its color is fully adjustable and the connection is very reliable given its compatibility with any dual-band or 2.4 GHz Wi-Fi router.
Philips Hue White – Set of 3 LED bulbs
We finished talking about smart bulbs with this pack of 3 bulbs that Philips offers but that also includes the famous Philips Hue Bridge that gives you the ability to control up to 50 bulbs within your home. In this case, these bulbs stand out thanks to the white color that they are able to offer, specifically because of the warm white light that is ideal for relaxing.
Of course, they are compatible with HomeKit, as well as Amazon Alexa or Google Home. In this way you can control the lights through voice commands with which you can interact with Siri, also through the iPhone's own Home App or even with the Philips application that is available for iOS.
Led strips to connect to HomeKit
Eve Light Strip – Smart LED Strip Light
Led light strips are a really interesting option to set certain places in the house in a different way. In this case, the EVE brand provides this smart led light strip that has a wide spectrum of both white and color light, with 1800 lumens and with the ability, obviously, to be able to adapt the light it provides to the user's need. in every moment.
It features a premium triple diode architecture capable of illuminating with a capacity of 900lm per meter at 4200 kelvin. You can control them from your iPhone, through its application or also, of course, through the different Siri commands that you can use. It is also fully compatible with HomeKit adaptive lighting that causes the light to change based on the time of day.
Osram Smart + Apple HomeKit Flex
It is a product that has been designed and created exclusively for Apple HomeKit. This 180 cm long striped Led strip has the possibility of controlling the color and regulating it through HomeKit either using the different voice commands with which you can interact with Siri or with the Apple Home app itself.
Of course, it has different customization and configuration options, so you can choose the color you want the lights to take, its intensity, brightness and temperature, that is, everything you need to generate the environment you want through light and without having to touch anything at all.