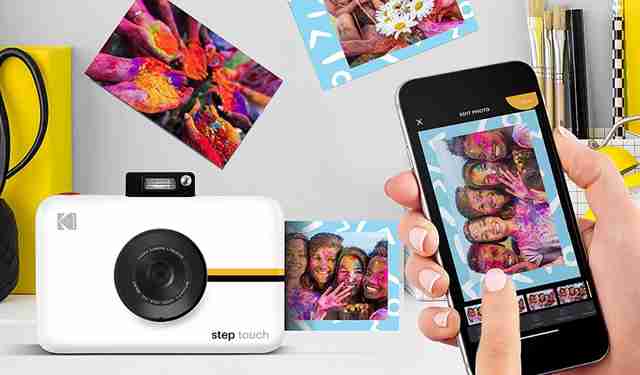 Our mobile is completely full of photos. Either all those that we take out on a day-to-day basis or those that are sent to us by different routes, it is easy to have thousands of images scattered through the different albums and folders of our terminal. It is rare and to make mass copies of these photos to put them in the classic albums. But that does not prevent that the pleasure of printing the photos does not remain latent.
Like everything that has a retro air and mixes technology, portable printers have become fashionable. They can be carried very easily in any bag or pocket and allow us to instantly print any memory. Taking a photo and giving it to a friend or family member or not missing the opportunity to immortalize a key moment, are the keys to your success. There are users who want them to fill their fridge with printed souvenirs. Others, on the contrary, are beginning to make their own physical albums, since they can also be an excellent gift when the time comes.
Portable printing plus camera
Portable printers don't have much of a mystery. A file can be sent by bluetooth and the printer will detect it and then proceed to print it, after paper loaded in its deposit. However, one of the most interesting twists and turns has been to integrate a camera to these printers. In this way they become a kind of hybrid where it is no longer necessary that they only receive the photos, since they can frame them themselves and print them at the moment.In this field there are many brands and models, like the ones we will show you below, but you can imagine that legendary houses like Kodak, Polaroid or Fujifilm are more than present with several options. In no case will we find sensors with large megapixels as in mobile phones, but they will be more than enough to achieve surprising results in many cases.
Portable camera printers
Kodak Mini Shot 2 Retro
This Mini Shot digital camera from Kodak makes it easy to take photos instantly, print them and share them with anyone or upload them to your favorite social networks thanks to the Bluetooh connection. It is compatible with Android and iOS and has 4Pass technology, which prints all photos in seconds and with premium quality with an image size of 2.1 x 3.4 ″ / 5.3cm x 8.6cm. It is also made waterproof, dustproof, fingerprints, so it is perfect to take it to the beach or to other environments where we may have a mishap.
KODAK Step Touch
Another great option is the KODAK Step Touch, a small footprint full-color printer. In addition to having Bluetooth to print photos from our mobile, it has its own 13 megapixel camera, which can also record video in FullHD resolution. It's as simple as point, shoot and print and we'll receive 2 ″ x 3 ″ prints in no time. Photos are clear, bright, colorful, and covered with an extra layer of protective coating to prevent smudges, tears, and water damage.
HP Sprocket 2 in 1
HP also has its own pocket-size color photo printer. The HP Sprocket 2-in-1 is ideal for printing small-format images anywhere. They hold a load of up to 10 sheets with a size of 5.0 x 7.6 cm. Your camera has a 24mm lens and has its own application for adding effects, retouching or enhancing shots before printing.
Polaroid Mint
One of the favorites is the Polaroid Mint, which has three color modes, and offers operation as simple as point and shoot. It allows about 40 prints per charge and also supports microSD card of up to 256 GB. It stands out for being extremely thin at only 2.5 centimeters. In that case, its own camera reaches 16 megapixels and has a charging system through a microUSB port with LED indicators.
LG Pocket Instant
The LG Pocket Photo Snap allows you to capture moments and get quality prints instantly. It allows activating an Auto-save mode so that all the photos are automatically stored in the gallery, in addition to printing others from the mobile via Bluetooth.
Polaroid Snap
Another good option from Polaroid, which has a touch screen and an integrated 10 megapixel camera. In this way we can shoot and print photos without ink or toner thanks to ZINK ZERO INK technology. The 2 x 3 sticky paper copies are also water resistant, tear proof, smudge proof and dry to the touch.
Fujifilm Instax Mini LiPlay
We are facing the LiPlay is the first hybrid instant camera within the Instax Mini line. It has a screen to be able to see the photos before printing them and choose the ones that we like the most. It also allows you to add sound to photos with the "record and convert to QR" function.
KODAK Smile
The Kodak smile also has several options including its powerful 10 megapixel camera, an 8mm lens with autofocus. It can make HD quality photo prints on 5 x 7.6 cm photo paper with adhesive zink backing.
Lifeprint – Instant Printer
We are facing one of the most ingenious options on the list, since this Lifeprint portable printer allows our own mobile to connect and act as a camera when we need to take a snapshot. The printer uses only ZINK film, allowing for a low environmental impact printing process and taking 2 x 3 photos. On a single charge it allows up to 20 prints.
Thermal camera printer
We finish the list with this small camera printer, which also does not require ink to print. It has a 2-inch color display screen. Print instantly either the photo that we have decided to take instantly or by connecting with our device. In addition, it is very small and with a camera it is small in size and has a lanyard to make it easier to transport.