The trend of recent years has led to the massive acquisition of wireless headphones. Both the main Android mobiles and iPhone no longer take into account the classic 3.5mm jack to connect our helmets. In the case of the iPhone, the Lightning port is a small obstacle for those who want to use the method of yesteryear. Luckily, the market found the solution a long time ago with adapters that allow us to get our favorite headphones back out of the drawer.
Wireless technology is here to stay, but if you ask sound purists, a large majority will say that they still prefer to listen to music with a wired headset. Manufacturers have been eliminating this option, but we can always use a special accessory to continue having this option . In the case of the iPhone, the good news is that we are talking about very cheap accessories, but we must always take into account some considerations such as the quality of the audio or the material used in its construction.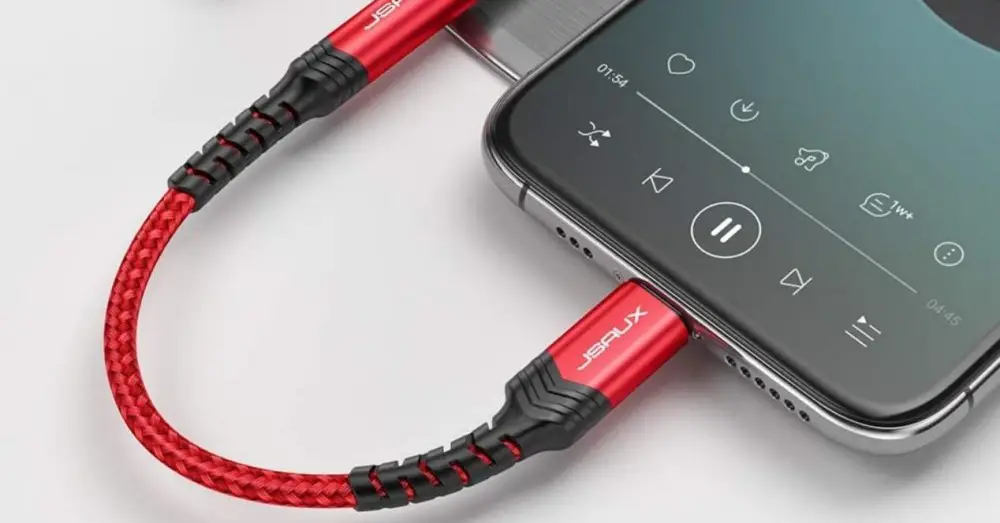 The right adapter
It is important that we are sure that the tool corresponds specifically to a precise adaptation of Lightning to 3.5mm Jack. On many occasions, we will find vendors who advertise iPhone compatibility, but will actually offer us a USB-C output. Once we have this clear , we can find adapters with greater or lesser quality and not only in the audio capabilities, but also in the quality of the cable material that acts as a link between both connections. In addition, in some cases technologies such as the noise reduction DAC chip are integrated, which must also be taken into account. All the options that we show you below meet the minimum quality standards and are available at a good price.
Lightning to 3.5mm Jack Adapters for iPhone
JSAUX Adapter
This is a quality adapter that has the 24 bit / 96KHZ smart DAC chip. It features noise-suppression and interference-free technology for quality sound quality. In this case, the cable can withstand 10,000+ bending tests to achieve more durability over time.
UGREEN Adapter
Perfect adapter cable to connect 3.5 jack headphones to the port of our iPhone. It is compatible with all devices that have a Lightning connector with iOS 10.3.1 or higher, such as iPhone 12 / 12Pro / 12 Mini / SE 2020/11/11 Pro / 11 Pro Max / XS Max / XS / XR / X / 8 / 8P / 7 / 7P / 6 / 6P / 6s / 6s PlUS. Also, iPad / iPad Mini / iPad Air / iPad Pro (Lightning connector). Quality is guaranteed as it is made of high-quality aluminum alloy enhances anti-interference ability and built-in enameled copper and PVC cover to ensure stable sound transmission.
[2Pack] Headphone adapter
We may have an iPad in addition to the iPhone, or we simply want to have a replacement adapter (they are susceptible to getting lost), but the truth is that this pack of two will suit us like a glove. The manufacturer ensures quality sound thanks to a 100% copper wire core offering non-destructive digital sound quality. The 3.5 mm headphone jack part supports up to 48 kHz and 24-bit audio output so we will have a natural sound without distortion.
UNBREAK Cable Adapter
This adapter is Apple MFi certified, so it not only supports listening to music, but also cable control function such as microphone, volume control, pause and play functions. It is made of an ultra-resistant material and has the Hi-Fi DAC chip, which adapts perfectly to all devices and provides stable and high-speed signal transmission.
Auxiliary Cable ENVEL
Good price and quality is what this Envel cable offers, which has a high quality gold-plated 3.5 mm audio connector and DAC sound chip. We are talking about a 1 meter long cable with a premium quality textured and flexible aluminum head. This guarantees its resistance in daily use.
Headphone Adapter for iPhone
With this option we will have an inexpensive cable that offers great quality, being compatible with all iPhone from iPhone 6. It is made of a high quality material, with capabilities to avoid interference thanks to its high transmission speed. It offers high resistance to daily use and connects without any additional software.
Lightning Jack Adapter
Excellent high quality adapter, MFI certified and offering stable and high speed signal transmission. In its manufacture, the daily wear of the constant connection and disconnection in this type of device has been taken into account. Both its cable and the ends offer great durability.
Headphone Jack Splitter Adapter
In addition to connecting the headphones, we can have space to charge the iPhone at the same time. For that reason we leave you with this solution that does the same function but with that extra. The charging current is 2.1A, the speed increases 1.5 times, and the audio cable has an internal upgrade chip, which can read data quickly to ensure stability and stability.
Syncwire Adapter
Another great quality cable is this lightning to 3.5mm jack adapter that is MFi certified . In addition to listening to music, it is enabled for other functions such as listening to music, volume control, pause and playback. To ensure its strength and stable sound transmission, it is made of high-quality aluminum alloy and nylon braided wire material, embedded enameled copper, and PVC sheath.
Apple Dual Lightning Adapter
We finish this selection with a double adapter that allows you to connect from Lightning to 3.5 mm with the: iPhone 12/12 Mini / 12 Pro / 12 Pro Max / 11/11 Pro / 11 Pro Max / XS / XS Max / XR / X / 8 7 6 Plus, 6th generation iPod touch, iPad Mini / iPad Air and iPad Pro. They have been certified by Apple to meet the rigid requirements of iPhone and ensure a complete and secure connection. To ensure their strength, they are made of nylon braided cable, built-in enameled copper, and PVC sheath.