MacBooks are computers that are not exactly cheap. This means that you are always looking for a way to keep it protected from any accident that may end up. One of the most delicate parts is the keyboard, since contaminants can be introduced under the different keys preventing typing. That is why it is recommended to install a series of keyboard protectors to avoid this setback. In this article we show you the best options.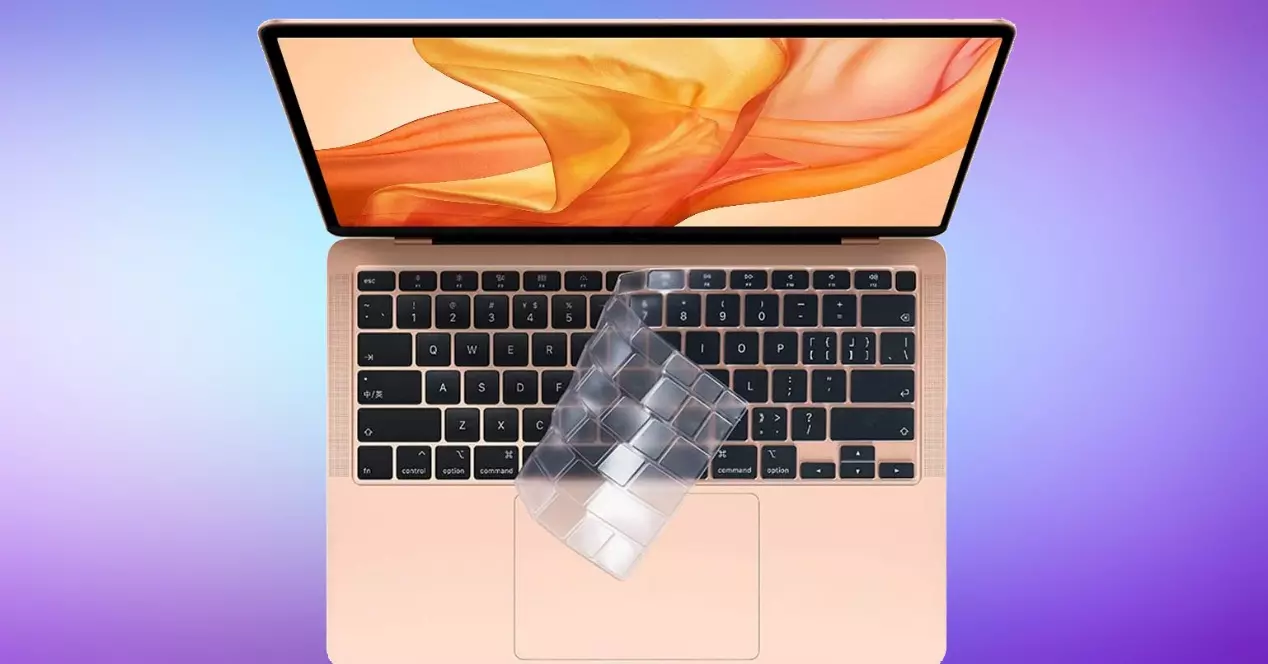 What to look for in these types of protectors
In the market you can find numerous keyboard protectors that perfectly fulfill the basic function, but you have to take into account some characteristics to choose the most suitable one. Specifically, there are many characteristics that can be looked for in this type of protectors that are summarized in the following points:
Design: Although a keyboard protector can be seen as a really simple accessory, you have to take into account the difference in design. Although in general you can find models that are transparent, there are also others that have different colors and even varied fonts.
Ease of cleaning: although these protectors also have the mission of preventing dirt from reaching the keys, the dirt will also remain on this surface. That is why you should buy those that are easily washable to be able to remove them easily.
Compatibility: keep in mind that each of the MacBook sold has very different physical characteristics. That is why there is no universal protector and the correct compatibility should always be sought by observing the serial numbers specified by the manufacturer on the product's own website.
The best options for your keyboard
If you are looking only for a protector for your keyboard, we show you the best ones to provide the protection you need to prevent any contaminant from getting under the keys.
MOSIS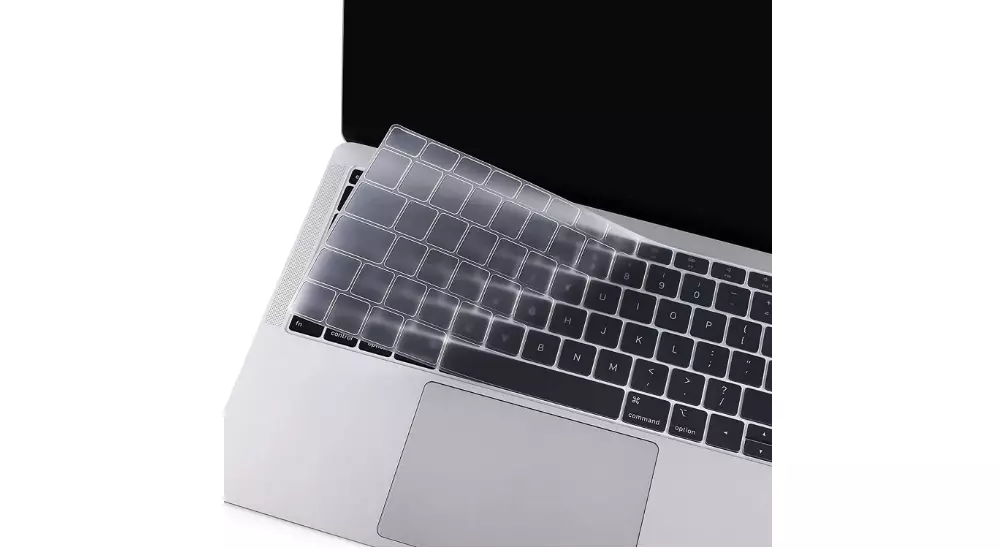 This keyboard protector is compatible with the 13-inch MacBook Air. Provides full protection with the European layout keypad thus preventing damage from dust spills or key wear. In this way, the fact that the keys stop working due to the entry of waste under the different keys can be avoided at all times. This is a fairly common bug in butterfly keyboards.
It is made of premium engineering grade silicone and is also ultra-thin at 0.3 millimeters. In this way the protector will not damage the screen when it is closed and it will also make it possible to write comfortably. It is flexible, washable, easy to apply and to disinfect. Available in many colors and designs to give your keyboard a unique style.
EooCoo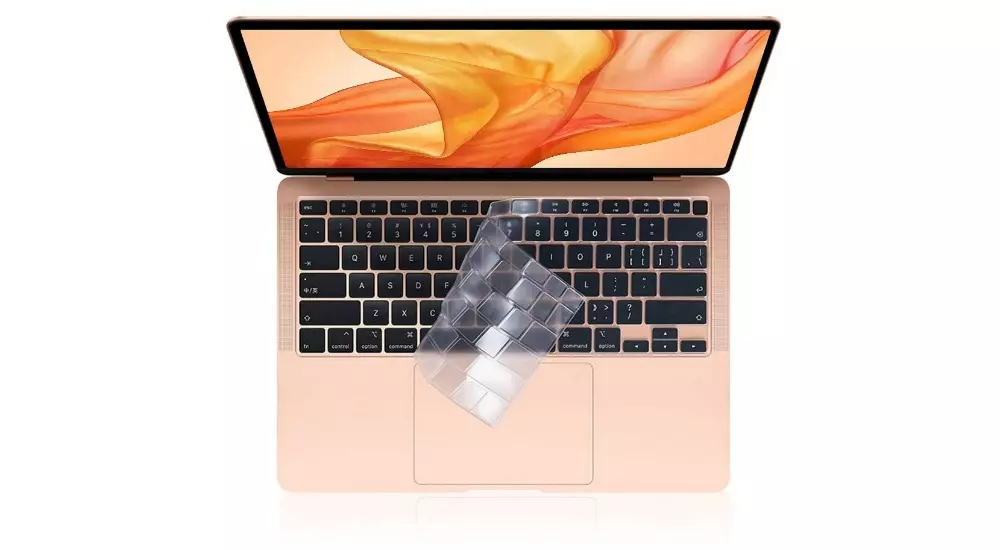 This protector model is available for MacBook Pro and MacBook Air in different sizes. The only drawback is that the design is unique, being totally transparent and not being able to find different designs to give a new style to your keyboard. It is water and dust resistant providing complete protection against dust or liquid spills. Additionally, key wear will also be prevented over time.
It is made of high-transparency, engineering-grade TPU materials that are 0.12mm thick to prevent screen damage and make writing easier. The transparency makes the backlit keys shine clearly and the keyboard cover is completely washable so that it can be disinfected when necessary as a lot of dirt can accumulate.
MyGadget
Available for select MacBook Pro and Air models. It offers premium protection since we are dealing with an opaque cover, being an accessory perfectly designed to protect the surface and the keys of the computer, increasing its durability and being calmer while you use it on a day-to-day basis. It offers a thin and comfortable layer of waterproof gel that allows the passage of light but keeps the keyboard free of dust and protects the keys from scratches or scratches.
The shape it has will give the feeling of skin on each key to have the softest touch possible. In this way, there will be a non-slip interaction that is compatible without affecting sensitivity. Constructed in polyurethane being flexible, light and modern helping with the cleaning of the keyboards. In addition, there are different colors in this case that is opaque to give a new style to your computer when you are using it.
Kwmobile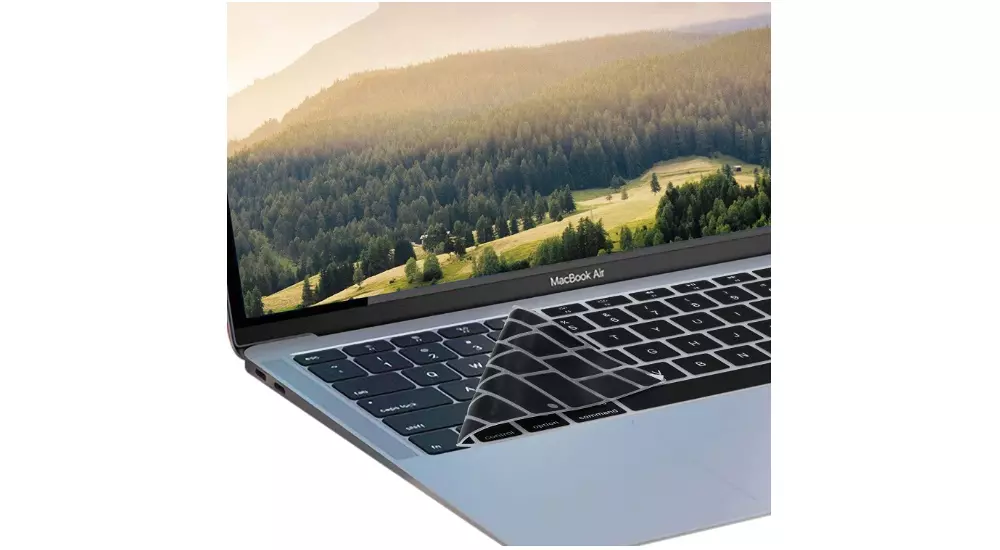 Compatible with 13 "MacBook Air. The definitive protector to end the dirt of the Mac protecting the keyboard from the small particles and finger marks that can be given. It is not necessary to remove the thin sheet of the keyboard to be able to type making it possible to type perfectly. In some cases, this cover must be removed every time you want to start writing, but it will not be in this case.
It is really practical, since it is completely with the keyboards of the Spanish distribution including the ñ. Made of thin, flexible and non-slip silicone. This makes it easy to remove for disinfection whenever necessary. Also, if you are a person whose hands sweat while writing, you will not see how your finger slips, which is undoubtedly something really annoying.
i-Buy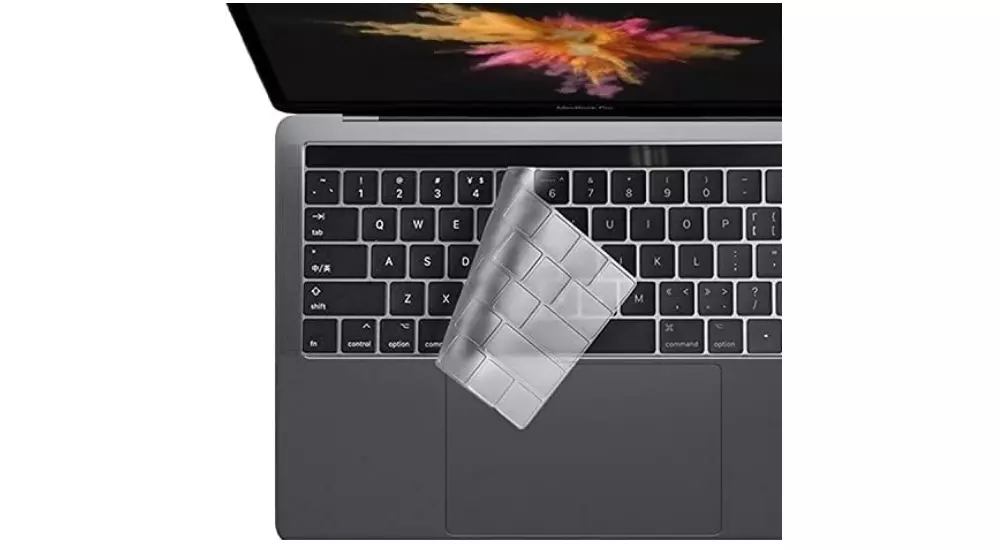 Compatible with 13 and 15-inch MacBook Pros that have a Touch Bar on the top. It is built in TPU material so it is quite light and thin being almost invisible so that you do not even appreciate that you have it installed. It is resistant to high temperatures to prevent it from deforming over time.
It is water and dust resistant to provide complete protection against dust or spilled liquids. This makes it ideal since the keys are really sensitive to any type of residue that can accidentally get into the mechanism itself. In this way, over time you will not see how it ends up spoiling, which can become a big problem. Available only in clear white.
Combine your protector with a Mac case
In the event that you want comprehensive protection for your MacBook, you can find different packs that include a housing to fully protect it.
TECOOL
This brand offers practically universal compatibility with all MacBooks on the market today. It offers a housing available in many colors and also only transparent. In this way, the design of the computer will always be visible to everyone, not hiding it behind a case that is opaque. The Apple logo will also always be visible, since even if it does not light up, it can be viewed without any problem.
But the really interesting thing is that this brand offers comprehensive protection by adding a transparent keyboard protector. This makes it possible to see the keys and pass through the light in order to work also at night. It is also made of silicone so that it can adapt correctly to the keys making it possible to have a perfect touch.
INESEON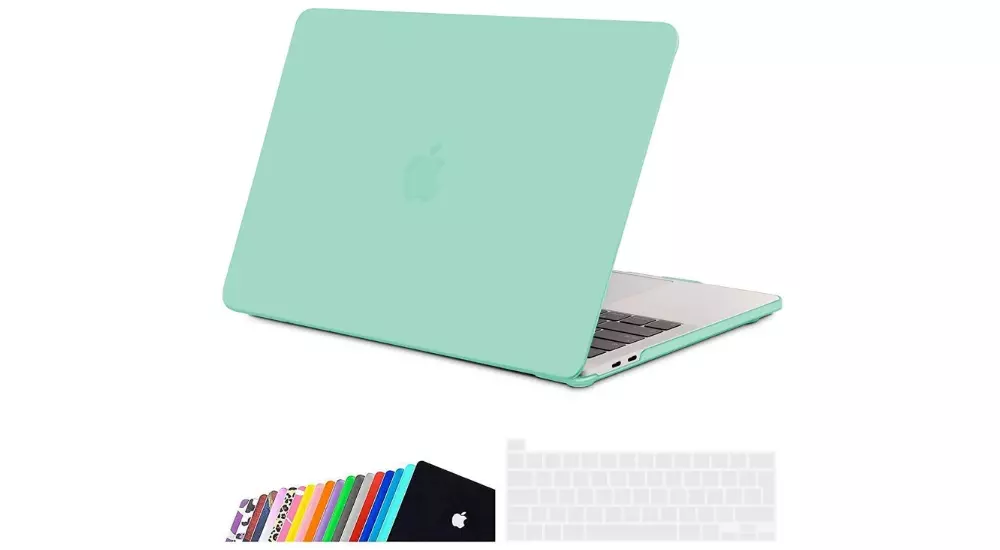 This case is compatible with 13 "MacBook Pros, so the main emphasis should be on checking the serial numbers in order to make it fit. The content of the package includes a transparent hard plastic casing or also available in other colors such as pink or green. You will have to decide if you want the design to be seen or not to choose between an opaque or transparent case.
In addition, a keyboard cover made of the highest quality materials is added. It guarantees protection against contaminants such as dust and also liquids. Like the case, it can be found in different colors so that it is totally personalized to your most particular tastes. This makes it possible to combine the keyboard with the case in general.
GVTECH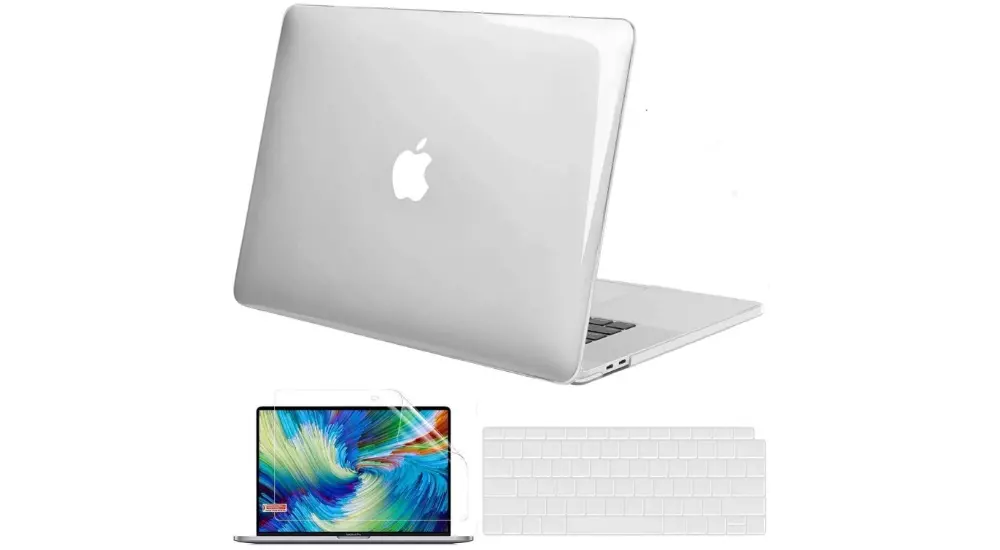 Compatible with 13-inch MacBook Pros from 2016 to 2020. This case is designed to adapt perfectly to the structure of the computer in order to avoid that they can end up obstructing the ventilation outlets. This keeps the computer from overheating too much, helping the MacBook to always stay cool by not affecting the internal components.
The case is constructed of high quality hard plastic while maintaining an ultra slim design. This means that no weight is added to the overall device as it is lightweight. It will protect the MacBook from the bumps and also the scratches that can be given while transporting. In addition, it includes a transparent keyboard cover and a screen protector that prevents scratches.
OZADE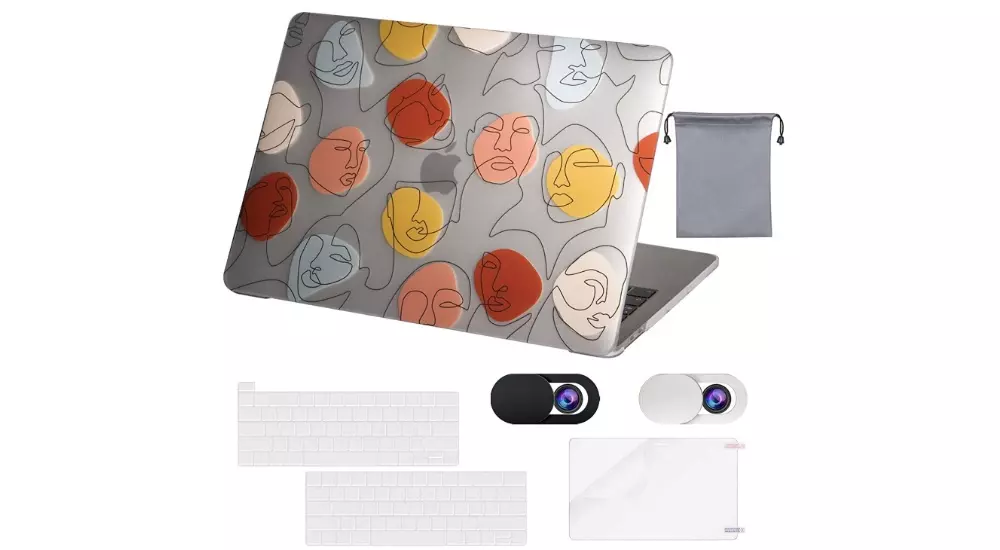 The definitive pack to protect your Mac computer. It includes everything you need to have everything under control in different computer models, both Air and Pro. It has a cut-out design that shines through the case, so you can comfortably access all the ports that exist. It is easy to install and also to remove as it has a housing in two sizes.
In addition to the case, it integrates a keyboard protector and also the trackpad to avoid scratches that can occur when transporting it on a day-to-day basis, being very easy to remove, clean and reinstall them. In addition, to guarantee the security of the camera and also privacy, two protectors can be found in total, preventing it from being damaged by blows.
KEROM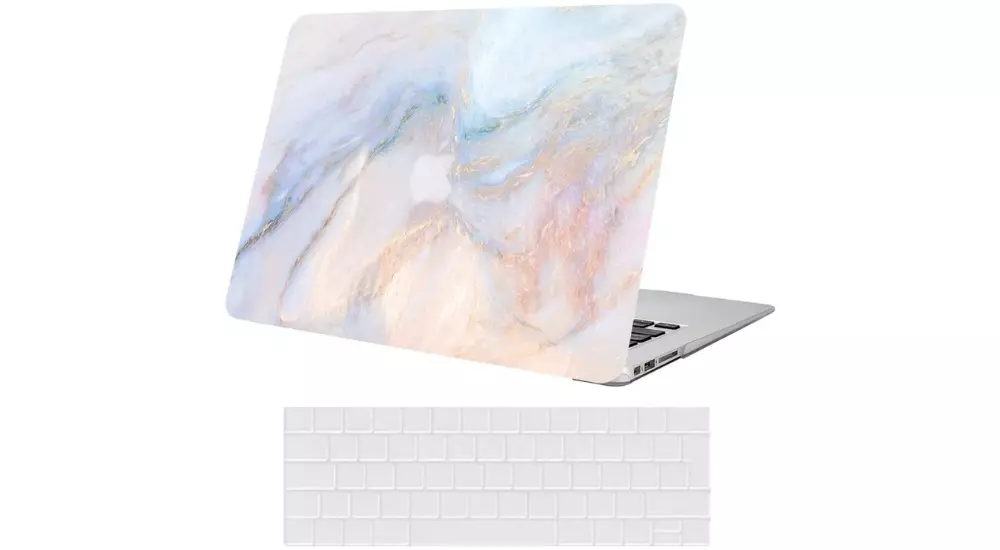 This brand offers both case and keyboard cover for numerous MacBook models and also in different designs. It is made from high-quality, durable polycarbonate material that contains a rubber oil coating to give a smooth exterior texture. It gives you a soft grip and prevents slips, scratches, falls among many other damages.
To achieve comprehensive protection, you can use the keyboard protector that is included in the pack itself. Built in transparent silicone to be able to enjoy its design and see what each of the keys is. It will not affect the writing you are doing at any time and it will also prevent you from having a layer of grease on your keys since this cover can be easily removed and cleaned.
The most recommended
One of the brands that offers the most confidence with their keyboard protectors is MOSISO . Built in top quality materials to always allow it to be perfectly adapted to the keys. It is available in different colors so you can find maximum customization. It can even be found with some skins, especially if you are a video editor you will end up thanking it.
But as we have previously commented, it may be the case that you need to have comprehensive protection. Not only with the keyboard but also the rest of the components in general to avoid breaking the Mac when it hits a surface. That is why we recommend the OZADE brand as it has, in addition to a case, also a protector for the trackpad and even the camera, making you protected against impacts and also to safeguard your privacy.