In 1981 Donkey Kong was launched, an arcade game that quickly became a success. Now, forty years later and with several more installments released to the market, this character is still a bit unknown to some. So let's talk about the first enemy of Super Mario and what for us are the five best Donkey Kong games.
Donkey Kong, the first enemy of Super Mario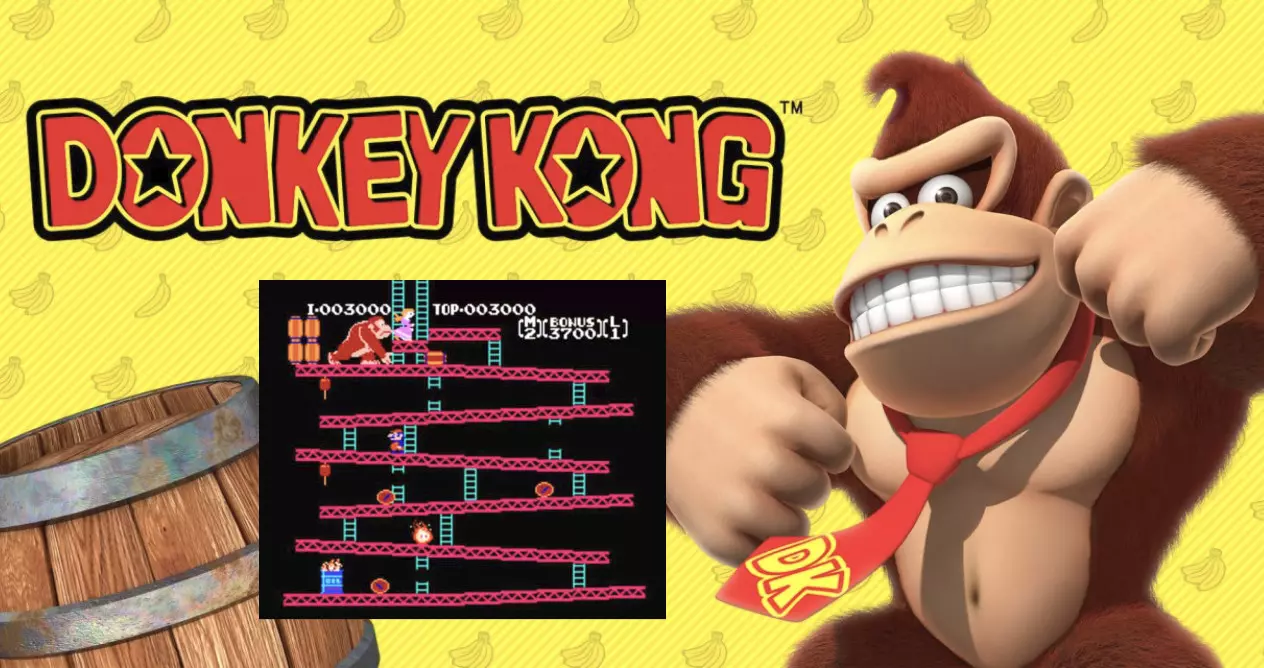 In 1981 an arcade machine was launched , which in a matter of a very short time became a success, it was Donkey Kong . Its author was none other than the now legendary Shigeru Miyamoto. The reason or reasons that led it to become a mass phenomenon? Well, for many it was none other than offering a game that broke all the rules of the moment.
Four years before its release, Shigeru Miyamoto came to Nintendo. At that time the company was dedicated to selling toys, but had already begun to explore the video game market. Miyamoto had studied engineering, so the then president of the company commissioned him to design both the cabinet and the promotional art for the new video games they had been creating.
These titles (Sheriff, Space Firebird and Radar Scope) had great success in Japan, but not in the rest of the countries where they were also released. So once again, Nintendo CEO Hiroshi Yamauchi relied on Miyamoto to lead the new video game development department that he had created in order to launch solid proposals for the American market, where other companies such as Namco or Taito were having much more successful than them.
This is how it could be said that Miyamoto took his first steps in video game development despite not having technical knowledge on the subject. Although for some it was precisely the reason for its success. Lacking an experience that could limit knowing what could or could not be done, I imagine different things, as much as Donkey Kong.
As if it were a comic strip, Miyamoto's idea was that of a little man who would have to jump while climbing to the top of a stage where there was a gorilla, one who had captured his girl. Yes, that was Donkey Kong and that Jumpman over time would end up becoming Super Mario, the current maximum representative of what Nintendo is.
Donkey Kong's empire
Since 1981 Donkey Kong has been one of the most recognizable characters in the world of video games, although some did not know that it was the work of Nintendo or that he was also, as we said before, the first enemy that Super Mario had in front of Bowser.
Now, after forty years of existence, the games based on the character have been many and practically all the company's consoles have had a delivery. Some of them have been more mythical and valued than others, but in general all have preserved that attractive point. Of course, in some he went from being the enemy to the protagonist.
The best Donkey Kong games
The list of Donkey Kong titles is very extensive, from 1981 when the arcade version was released until now forty years have passed, so there are a lot of titles that you may not have played. These are all:
Donkey kong
Donkey Kong Jr.
Donkey Kong 3
Donkey Kong Jr. Math
Donkey Kong Jungle Forever
Donkey Kong Country
Donkey Kong Country 2: Diddy's Kong Quest
Donkey Kong Country 3: Dixie Kong's Double Trouble!
Diddy Kong Racing
Donkey Kong 64
Donkey Konga
Donkey Konga 2
Donkey Kong Jungle Beat
Donkey Konga 3: Table-Houdal! Haru Mgitate 50 Kyoku
Donkey Kong Barrel Blast
Donkey Kong Country Returns
Donkey Kong Country: Tropical Freeze
Mario vs Donkey Kong: Tipping Stars
Donkey Kong (Game & Watch)
Donkey Kong Jr. (Game & Watch)
Donkey Kong II
Donkey Kong 3 (Game & Watch)
Donkey Kong Circus
Donkey Kong Hockey
Donkey Kong (Game Boy)
Donkey Kong Land
Donkey Kong Land 2
Donkey Kong Land 3
Mario vs Donkey Kong
Donkey Kong: King of Swing
Mario vs Donkey Kong 2: March of the Minis
Donkey Kong: Jungle Climber
Mario vs Donkey Kong: Minis March Again!
Mario vs Donkey Kong: Mini-Land Mayhem!
Mario vs Donkey Kond: Minis on the Move
Mario vs Donkey Kong: Tipping Stars
How many of these games did you know? Surely not as many as you would think, although it is normal. They are forty years of Donkey Kong, so it is logical for platforms that you have not had to be unaware of the existence of proposals launched. Even so, if we had to choose the best ones, possibly our TOP 5 would be this one.
Donkey Kong (1981)
The original title is essential, it is the game that not only every fan of the saga should play, but also every user who likes video games and the reasons are many. Still, the main one is that it is very fun and even addictive. And no, it is not as simple as it might seem at first. You have to have enough courage to know when to move forward, jump, etc. in order to achieve your goal that is none other than reaching the top.
With the possibility of playing it through emulators available for a wide variety of platforms, not doing it is something that has no justification.
Donkey Kong Country (Super Nintendo, 1994)
The second game that you cannot miss and that you should also play, also because as the previous one is easy to enjoy through emulators, it is Donkey Kong Country for Super Nintendo. At the time it was quite a revolution, especially for the use of pre-rendered graphics that gave a unique image quality at that time. Of course, the gameplay and the variety of levels cannot be ignored either. It is simply a great game.
Donkey Kong Jr (1982)
Another of the classics of the saga is Donkey Kong Jr. This completely changed from what was seen in the original game and became an action title where this time if you controlled the little gorilla who had to overcome different dangers with in order to get to where Mario is to steal the keys to open Donkey Kong's cages.
Donkey Kong 64 (1999)
Honoring the change made by the Nintendo 64, this Donkey Kong title showed a 3D environment like that seen in other games for that platform. A somewhat different game and that is why it may attract attention and be one of those that should, at least, be tried.
Donkey Kong Country: Tropical Freeze (Nintendo Switch, 2018)
Available for Nintendo Switch, Donkey Kong Country: Tropical Freeze is one of the most recent titles in quotes since it was launched in 2018. With the advantages provided by the Nintendo laptop, this game retains that platform essence that you like so much.
The next Donkey Kong game
If you are a fan of Donkey Kong , you may have your own favorite games from the series and it could even be that you are not able to keep just a few and like all of them. So you can share your own top.
Likewise, seeing the success of the saga, it is logical to think that it does not end here. The latest rumors placed the development of a new game that would arrive and would be developing the same team in charge of creating Super Mario Odyssey. So we will have to be vigilant. Because having turned forty now, what better time to announce it in a Nintendo Direct.